Inside Viktor Orbán's war for Index, Hungary's most influential news website
Zoltán Fekete-Szalóky, the editor-in-chief of the popular news website Index, sounded tense and jaded at the same time.
In the spring of 2021, at the end of a long working day, he spoke on the phone in the evening with a journalist who was outraged that Fekete-Szalóky had rewritten an article that day and removed parts that were critical the government. The journalist indicated having moral concerns about this and also objected to the fact that the editor-in-chief had not even told the journalist that he was interfering with the article.
Fekete-Szalóky, known to his colleagues as Fezó, first told the journalist in an irritated tone that if there was a problem with what had happened, the journalist should feel free to quit. Later, however, he changed to a more friendly tone and said that he had personally interfered with the journalist's article because he had become tired of personally telling the reporters what to rewrite in their stories. "I sit down, I correct it, I get the rebuke from where I need to get the rebuke and we move on quietly," he said, without specifying who he gets criticism from for problematic articles.
According to a recording obtained by Direkt36, Fekete-Szalóky also spoke in the phone call about the political and economic environment surrounding Index. He said that Index, which he said was in a difficult market situation, had received financial support from Lőrinc Mészáros, a friend of Prime Minister Viktor Orbán who in recent years had become one of Hungary's wealthiest people thanks to lucrative state contracts.
"There was only one person in Hungary in the last seven months who could give money to Index, or who gave money to Index. That person is called Lőrinc Mészáros," said the editor-in-chief. He did not reveal details of the financial transaction in the call, but at one point referred to it as a "loan".
Fekete-Szalóky warned the journalist to be careful with news about Mészáros and his then partner, Andrea Várkonyi, because of this. "If we dig into Lőrinc Mészáros and Andrea Várkonyi all the time, there will be no one who will put money into [Index]. That's the story," said Fekete-Szalóky.
He also talked about the special considerations that apply to the news that might negatively affect the ruling party Fidesz. He said, for example, that stories referring to József Szájer, a prominent party member whose career ended with a sex scandal, can be published but should be placed lower on the frontpage.
The recording is an unprecedentedly strong piece of evidence of how Index, once Hungary's most popular news site, has come under the influence of Viktor Orbán's government and its allies.
Although this is a relatively recent phenomenon, Index has been in the grip of powerful forces for a long time. For more than ten years, it has been the toy of oligarchs, which put the editorial staff under pressure that was constant, albeit with a varying intensity.
This pressure led to the implosion of Index in the summer of 2020 when the whole newsroom resigned in protest of outside interference. It is now owned by a businessman with close ties to the government and the newsroom is led by Zoltan Fekete-Szalóky, who had worked for a government-financed outlet before joining Index. Even though the site has lost some of its audience, it is still among the most popular digital news outlets with a daily reach of around 800 thousand unique visitors.
Direkt36 has spent months investigating how Index came under the control of pro-government forces. This story is based on internal documents, audio recordings, and interviews with nearly 50 people who either directly participated in the events or have close ties to those who did. Many of the sources asked for anonymity but their accounts, supported by the documents and recordings, helped us to uncover previously unreported details about how the attacks against Index unfolded in recent years.
But to understand the whole story, first we must go back more than a decade. It was then that Index was put on a path that made its fate almost inevitable.
I. THE BANKER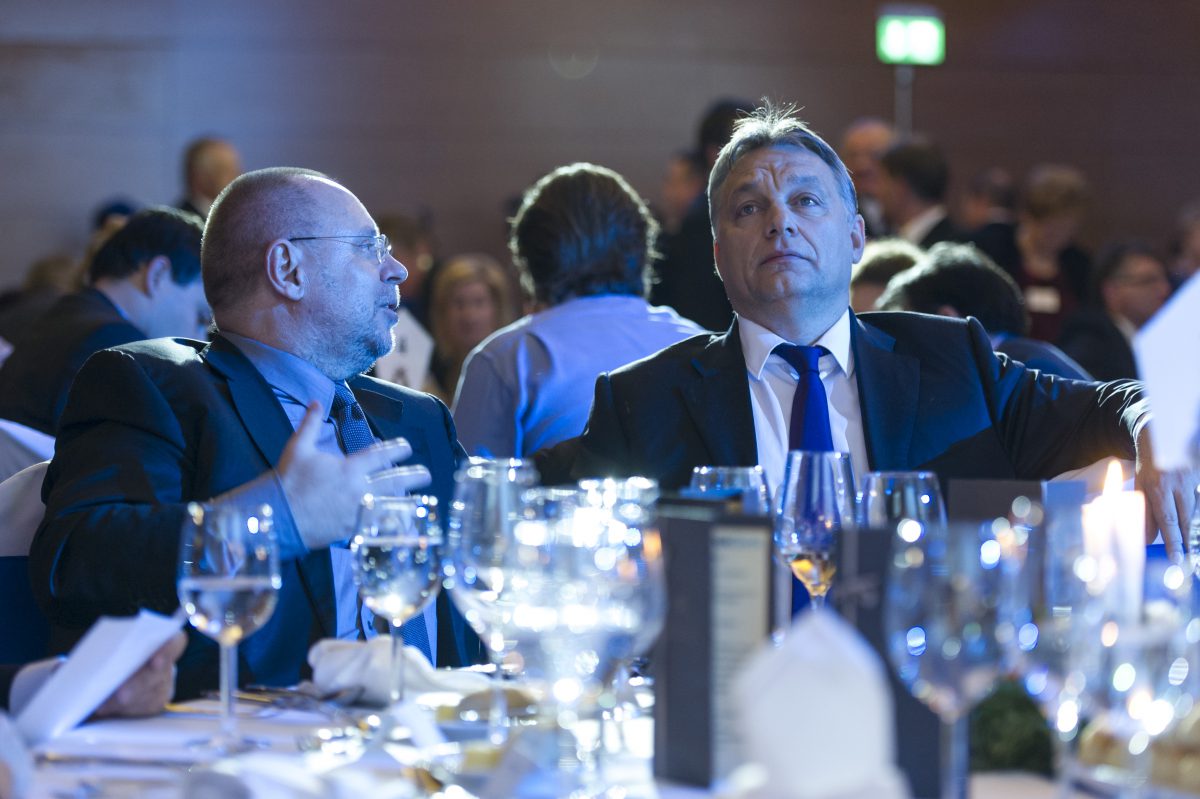 On the evening of 22 May 2009, Zoltán Spéder appeared before a largely unknown audience. It was Index's tenth birthday party on the A38 concert boat, and the billionaire banker gave an introductory speech to the editorial staff of the news portal he owned.
Although he gave a rousing speech about how good Index is and what a great job its journalists do, it was not well received by the audience, many of whom were already somewhat inebriated. Spéder, wearing casual clothes and speaking in an informal style, was apparently trying to come across as an easygoing person but the journalists felt that it was contrived. The awkwardness reached its climax when Spéder asked from the stage which the biggest news outlet was. In response, some of the newspaper's staff, known for their wry humor, shouted back "Origo", the name of Index's biggest rival. According to several participants, Spéder did not receive any applause at the end of his speech.
The first meeting was not very friendly, and the relationship did not become more cordial later either. The banker, who had no previous media investments and had spent most of his career as a top executive at OTP, Hungary's biggest and politically well-connected bank, was greeted with suspicion at Index. The fact that Spéder had a reputation for being a difficult person did not help either. And although he spoke in a warm tone at the A38 party, the staff of Index soon got to know his less amiable side.
Once, for example, an Index employee tried to enter a section of the company together with Spéder, but they could not go through because the door was under construction and the company pass cards did not work. "Spéder asked the mechanic kindly at first if it would be possible to let us in now and then continue with the installation, but the mechanic said that was not possible. Spéder then started banging on the door and shouting that he should be let in after all," recalled the employee, adding that the mechanic did not care about the shouting and continued with the work.
Spéder also frequently raised his voice in meetings with his subordinates, although some noted that this was a deliberate tactic on his part.
"It was typical of him that one moment his head would be red from shouting, and then he would turn to you and start talking to you nicely," said a former colleague.
As another source put it, Spéder was "always looking for what worked" and if confrontation didn't help, he would switch to something else.
Many of his subordinates feared Spéder, but also admired him for his intellect. "He's a genius. His memory, his thinking in structure is outstanding," said one former employee. Another pointed out that Spéder "always did his homework" and "if he sat down to talk to you, he always knew everything, he gathered all the information available in front of him." According to a former employee, people came to him for meetings every ten minutes from 8 AM until the evening, "and in the ten minutes you were there, he was absolutely sharp."
Spéder's impressive intellectual skills were matched by a high level of mistrust. He didn't even trust his own company's IT systems, so he rarely used company email and held face-to-face meetings on almost every issue, with written material sent to him on thumb drives. No one was allowed to bring their phones to the meetings he participated in. He even told Index editors to switch off the mobile phones when he was in a restaurant with them talking about the extra money for weekend work.
Although Spéder quickly established himself in the media market, his ambitions were much bigger than being a news outlet owner. He had previously made a name for himself in the business world by playing a key role in the modernization of OTP, a formerly state-owned company that had its roots in communist times. According to people close to him, he was driven to prove that he could build a banking giant on his own, without Sándor Csányi, his former boss at OTP. "Zoli thought that they built OTP together with Sándor, but he only came second. He had an inferiority complex towards Csányi," recalled a former business partner of Spéder.
After leaving OTP in 2007, Spéder acquired a significant stake in FHB, then a smaller bank, and spent much of his time building it up. But this period was not favorable for the banking business. The global financial crisis of 2008 hit the Hungarian banking sector hard, and FHB Bank, which was heavily involved in mortgage lending, was particularly in a difficult situation. Spéder's bank has therefore needed state support several times, first in 2009 under the socialist government and then, according to press reports, when Viktor Orbán was in charge as prime minister after 2010.
It was at this time that the pressure from Spéder on Index intensified. As Péter Uj, the news site's co-founder and editor-in-chief, said in a podcast interview years later, it caused "a huge stir" when Index published a critical piece about Orbán's first and unsuccessful trip to Brussels. The newly inaugurated prime minister wanted to get the European Commission's permission to relax Hungary's budget, but he was rebuffed. "Orbán went to Brussels for a slap on the face," said Index's headline, which infuriated Spéder. According to Uj, the owner suggested that the author of the article should be fired, and a system should be set up so that he can immediately intervene in such headlines. (Uj has now told Direkt36 that the system suggested by Spéder was not implemented.) To illustrate the way Spéder put pressure on him, Uj also noted in the podcast interview that once when he was on holiday, he woke up to see that he had 47 missed calls at 3 am from Spéder.
Uj shared these experiences with only a few people in the newsroom at the time, but the journalists sensed that he was under pressure.
One journalist recalled that Uj gave signals by "coming out of his office and shaking his teacup on his tray, showing how distressed he was."
In autumn 2011, Uj left Index, and although rumors were already circulating in journalistic circles that the news portal was under political pressure, neither he nor his successors, first Zsófia Mészáros and then Gergely Dudás, spoke publicly about this. In April 2013, Dudás told the magazine Kreatív that "I don't think there is anyone who can seriously believe that any kind of pressure has been felt at Index in recent years." In the interview, he was also asked "what are the stories that the Index cannot write about", to which he replied that "there are no such stories".
Under Dudás, Index did indeed publish stories that were critical with the government, but there were also increasing signs that the independence of the news site was not complete. The cases of interference became so numerous that some members of the staff started to collect them, and in March 2016 they shared their findings with the whole newsroom.
"Recently, there have unfortunately been several reports of interference that violated the Index's self-regulatory ethical guidelines, the code of ethics for content providers and media law," the letter said, noting that 21 such cases had been reported. The list of cases from 2014 and 2015 includes some that were more commercially motivated (poorly read articles were left on the front page too long at the request of the advertising department), but also some that concerned political issues.
For example, according to the list obtained by Direkt36, an article about a cartel investigation concerning the father of foreign minister Péter Szijjártó was held back and was only published after the 2014 local elections. A scene that showed Orbán being angry with a local mayor had to be cut out from a 2015 video. Index rejected an interview offer from the business partners of Orbán's son-in-law István Tiborcz, even though they wanted to talk about their joint company with Tiborcz, which was in the spotlight because of official investigations into its suspiciously won state contracts. The reference to Orbán's son-in-law was also removed from the headline of one of the articles on this topic.
Dudás' response to the letter was that "there are cases on the list that are the result of misunderstanding and miscommunication, but there are also undoubtedly cases that cannot be defended." He added, however, that "these are typically minor matters, minor amendments, and do not affect the newsroom's freedom to write anything and everything, as it has always done."
Dudás now acknowledged to Direkt36 that he had been under pressure from Spéder. He said that the owner generally tried to pressure him with arguments that they would be trampled by the authorities if they did not make concessions in certain cases. Spéder also suggested to Dudás that the family of Viktor Orbán should be treated with special care. However, this was not a full prohibition to cover them. According to Dudás, the guidance from the owner was more along the lines that the Orbán family could be covered "in justified cases", but that the newsroom should "be smart." (Spéder did not respond to our inquiry.)
According to Gábor Miklósi, one of the editors who collected the cases of interference, Dudás "took it really badly" when he was confronted with list, but then "he became tougher and realised that this could not continue." Interference became less frequent, but in the meantime the political situation around Index had also changed a lot.
By mid-2016, Spéder had fallen out of favor with the government. The banker, who had known the government's key officials, including Viktor Orbán, since the collapse of communism, had played a central role in the prime minister's efforts to build a new banking group. By 2016, however, trust in Spéder had faded. According to press reports at the time, he had risen too high and his critics in government convinced Orbán that his influence had to be cut back. Spéder became the target of an aggressive smear campaign from the government's propaganda machine, and the authorities launched several investigations against some of his business interests.
These investigations did not directly affect Index. There was, however, another development that had a very serious impact on the news site. It turned out that a long-standing rumor that Lajos Simicska, the powerful oligarch who had turned against Orbán, had a role in Index, was true.
II. THE OPTION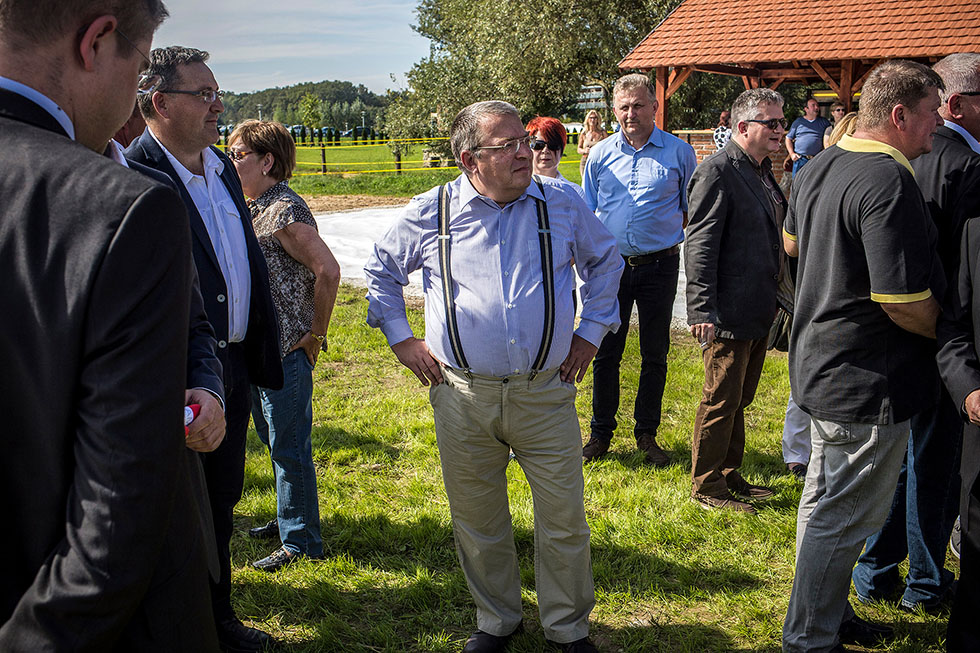 With a serious face, Lajos Simicska arrived at his office in Radóc Street on the Buda side of the Hungarian capital, on 20 June 2016 for his media companies' usual Monday morning management meeting. For once, the oligarch did not start the meeting with a discussion of the state of affairs at his companies but started talking about Index.
Simicska and Orbán were friends and allies for decades, and they turned Fidesz, the party that was founded as a youth organization on the eve of the regime change, into Hungary's dominant political force. Orbán led the charge on the frontline of politics, while Simicska worked behind the scenes to build a media empire that supported the party. Their alliance ended in 2014 over apparent power struggles, turning Simicska into one of Orbán's most formidable enemies.
At the June 2016 meeting Simicska told his associates that someone leaked information to him from a Fidesz leadership meeting that Orbán had decided to take Index under government control.
He did not reveal his source but said he can prevent Orbán's move because he had an option contract to buy Index. He also said that he was aware that there would probably be strong protests from the Index staff if he were to become a shareholder. "He said that if he left it in his name, the Index kids would run away, but that's not the aim, it's to keep doing what they're doing," recalled one of the participants in the meeting.
Simicska also said at the meeting that he would issue a statement on the matter. The next day, his newspaper, Magyar Nemzet, published an article stating that "yesterday, Lajos Simicska said at a closed-door management meeting that it is not acceptable that one of the country's leading internet news outlets should be controlled by Orbán and [his spin doctor Árpád] Habony.
At the time, Simicska did not publicly give any indication that he had an option for buying Index and that he intended to use it. However, through an intermediary, he contacted the editorial staff of Index to share some details about the situation. He asked one of his confidants, Sándor Csintalan, a presenter at his television channel Hír TV, to reach out to the news site.
Csintalan called András Dezső, then a prominent journalist at Index, and told him that Simicska had an option for the news site, which he would use. He also said that Simicska would look for a way to keep himself away from the outlet because he was "not stupid enough to take the Index in his name."
Dezső called editor-in-chief Gergely Dudás later that evening and shared what he had heard from Csintalan. Dezső also spoke to Dudás in person in the newsroom the next day, and Dudás told him that Spéder had admitted that Simicska did have an option. The editor-in-chief also received information from the management that the option could be announced as early as the beginning of the following week, so he called a meeting for Sunday 26 June for the senior and political journalists.
They met at the entrance of St Stephen's Park in the fashionable Újlipótváros district of Budapest and then sat down in a nearby café to talk through the situation. Here, Dudás said that an announcement on the option and its execution was expected but asked everyone not to take this as official information for the time being, as anything could change. In the course of the discussion, the participants eventually agreed that even if an announcement was made, they would not immediately resign, but would demand that the owners take steps to preserve Index's editorial independence.
In the end, nothing happened on Monday or the days that followed, and no announcement were made by either Simicska or Spéder. One of the reasons for this, according to one of Simicska's associates at the time, was that the oligarch had many details to discuss with Spéder, but was unable to reach him during this period.
"Simicska was laughing and telling us how Spéder was scared as shit" the source recalled, adding that the meeting participants were joking that Spéder "must be hiding under the bed waiting to be detained."
The ongoing legal proceedings and the attacks by the government media have indeed taken a heavy toll on Spéder. He told several of his associates at the time that he felt his life was in danger. Although, according to one senior employee at the time, Spéder still believed for a while that he could save his empire by "working or restructuring," by the autumn of 2016 he had lost almost all his major companies. He sold his stake in FHB Bank and BIF, a major player in the Hungarian real estate market, and was replaced by people with ties to the government. He was left with essentially only his media group.
While Spéder was preoccupied with the attacks on him and the economic retreat, Dudás made some attempts to rescue Index from its predicament. He approached Hungarian billionaires independent of the government, asking them whether they would make a takeover bid for Index or stand behind the editorial staff if the news site collapsed. He also tried to persuade Spéder to sell Index to some foreign professional investor.
These attempts were unsuccessful. On 20 April 2017, it was announced that Lajos Simicska had exercised his option for Index and immediately transferred the news site to a foundation called the Hungarian Development Foundation. According to the statement issued at the time, the foundation was necessary to "continue to ensure" the "independence" of Index. Simicska thus had no direct ownership stake in the news outlet, although he did not completely take his hands off it. One of his confidants, lawyer Ajtony Csaba Nagy, appeared on the board of Index.hu Zrt., the company that publishes the news site. The CEO of Nanga Parbat 17 Zrt., the company that set up the foundation that owned Index, was also one of Simicska's old colleagues, Marianna Tóth.
In the new ownership structure, the most important positions were however held by a man named László Bodolai, who was not linked to Simicska but stood closer to Index. Bodolai was the owner of the company that set up the foundation, he was the curator of the foundation, and, after the announcement, he became the chairman of the board of Index.hu Zrt. as well.
Bodolai had been a lawyer at Index for more than a decade and a half, so he was well known to everyone at the company and in the newsroom. He represented Index in libel lawsuits over articles, a job he performed effectively according to most journalists. The lawyer, known as Bodi to his friends and colleagues, was himself interested in journalism. He published regularly in various newspapers and had a program on Radio Tilos, a community radio station in Budapest. He also sought out the company of journalists at Index, sometimes treating them to trout he had caught himself or pheasants he had shot.
Although his babbling and occasional stuttering made him seem to many as a shy character, he also had an adventurous side to his life, which he liked to show off. Not only did he regularly talk about his fishing and hunting experiences, but also about his adventures as an airplane pilot. He occasionally made references to his early career in the counter-intelligence intelligence service, the National Security Agency (now the Office for the Protection of the Constitution). According to his CV, this was a short stint as a lawyer in 1994, but years later he would still boast at Index that he had been at the wedding of a secret service officer. On another occasion he would tell a journalist about information he had heard from a friend working for the national security services.
This man, who was liked by many in the newsroom but who had not previously played any leadership role, was appointed to a key position at Index in 2017. "The independence of journalists […] will be guaranteed by me," Bodolai told the weekly Magyar Narancs at the time.
In reality, however, Index's independence was already severely limited. As it turned out, Simicska had an option only for the company that published the Index news site, Index.hu Zrt. This company employed the editorial staff, however, a media business needs a lot of other professionals to operate besides journalists: IT developers, advertising managers, accountants, and others.
All these capacities remained in the company still owned by Spéder, then called CEMP. Crucially, CEMP had exclusive rights to sell advertising space on Index. This meant that the news outlet received the money for the advertisements on its site from CEMP. However, Index.hu Zrt. paid a significant part of this back immediately to CEMP, for example for providing the IT or accounting services. The news portal therefore entered this new period with the editorial independence guaranteed in principle, but not the commercial freedom of the company. In this respect, the power, for the time being at least, remained with Spéder.
III. THE TRANSITION
For years, Index's editorial office had been in an office building at Buda side of Árpád Bridge, next to the busy Route 11. One day in the autumn of 2017, Attila Tóth-Szenesi, the news portal's editor-in-chief, and Zoltán Spéder met at the entrance of this building. The former banker did not want to talk in an office or any kind of interior space, so they walked among the houses of the nearby residential area.
Tóth-Szenesi, known by his colleagues as TSZA, took over as a veteran political journalist and editor of Index after the previous editor-in-chief Gergely Dudás left the paper in May, shortly after the Simicska deal (but not because of it, according to his statement at the time). Tóth-Szenesi reluctantly accepted the post and made it clear that he wanted to concentrate on the news rather than on company affairs. He told Bodolai, who was the chairman of Index.hu Zrt., that he did not want to have any contact with Spéder either. But Bodolai kept pushing Tóth-Szenesi, and in the end he met with Spéder in the autumn of 2017.
Walking around the buildings of the nearby residential area, Spéder made it clear that he was in fact still in control of the news outlet. Spéder had stated that he, not the foundation, actually owned Index, although the businessman did not specify what, if this was true, was the mechanism by which he owned it. However, it was clear from the meeting that he had in-depth knowledge of the internal affairs of the news portal. At one point in the conversation, Spéder pulled out a sheet of paper with the names of Index's freelance writers and their fees next to them. He asked Tóth-Szenesi who these people were, and then said that there was no money, so this kind of spending had to be reined in.
The editor-in-chief had already been aware of the financial difficulties even before the meeting. Essentially, it was up to CEMP, owned by Spéder, to decide how much money Index had, and at this time the budget had become tighter than before.
"Suddenly there was no money for anything, such as replacing people who were leaving, for promised salary rises, or the kind of reporting trips we used to have," recalled Attila Tóth-Szenesi.
The independence of newsroom was more complete, especially compared to the situation a few years earlier, but they still had conflicts with people close to power, such as the pro-government historian Mária Schmidt who had been Orbán's advisor and still maintains close ties to influential members of Fidesz. Bodolai told senior Index executives in a 2018 internal email that he had received "weekly threats" from Schmidt, and in a public interview since then he reiterated how the historian had told him that she would "mop up Index with me."
Schmidt now told Direkt36 that she never sent messages to Bodolai and that she does not know him. According to a source close to her, the historian had long hated Index, which she considered too liberal, although she was pleased when László Szily, a prominent Index journalist, wrote a blog post in 2007 about how pretty Schmidt's legs are.
The relationship between Schmidt and Index was also special because the editorial office was based in a building of BIF, a real estate company partly owned by the historian's family (Schmidt inherited the company from her late husband, a politically well-connected real estate investor). Index's staff suspected Schmidt's antipathy towards them behind the fact that the air conditioning and the water were suddenly switched off in their offices in 2018. Their suspicions were further fueled when they were told by maintenance staff that the shutdown affected only their floor. However, BIF now told Direkt36 that the shutdown was not a message to the editorial staff. "The maintenance of the air conditioning was a pre-planned normal and regular operational activity, unfortunately it coincided with the toilet malfunction, which we repaired as soon as possible," the company wrote.
In summer 2018, a conflict also arose around an article about Spéder, which the editors perceived as external pressure. At the end of July, a piece was published about businessmen who used to have good government connections but then fell out of favor. The article was prompted by the indictment of Tibor Kuna, whose communications company had previously won several high-value government contracts. The story's lead paragraphs also mentioned Spéder as another example of such people who fell from the top. The former banker's name was also among the tags at the top of the article, along with "corruption."
Spéder was outraged by this and threatened legal action. Direkt36 has obtained an exchange of letters according to which the executives of Index.hu Zrt. – President László Bodolai and CEO Botond Andacs – wanted the editorial staff to comply with the request to remove Spéder's name from the article. The editors initially said no, claiming that they had not given in to more serious legal threats than this in the past and that they believed the management was only being so tough because of Spéder.
Eventually, after more than two weeks, the editors agreed to remove Spéder's name from the article but put a note at the beginning that the story had been changed. Readers who clicked on a link there could find out that Spéder was previously included in the article, but his name was removed because they did not want to give the "false impression" that he was involved in the corruption practices detailed in the article.
Spéder, however, did not have much time left around Index. In September 2018, it was announced that he had sold his company CEMP-X Online Zrt., basically divesting his entire media empire, including the companies that had exclusive contracts for Index's advertisement management and other background work.
The move was not unexpected. Fidesz won the 2018 parliamentary elections by a huge margin, and Lajos Simicska, another player in the foundation construction around Index that had been set up a year earlier, had already withdrawn from his fight with Orbán months earlier. He closed some of his media outlets and handed the rest over to people close to the government. It was expected therefore that Spéder, who had already been heavily attacked by the government, would not retain his position in this sector for long.
There were two buyers for CEMP: Gábor Ziegler, who had worked for the group for many years as a sales manager, and József Oltyán, who had worked in the communications market for many years. Their arrival was greeted with suspicion within Index, partly because neither of them had a solid economic background that would have explained how they could buy the company that had a turnover of hundreds of millions of euros a year and was consistently profitable.
In Oltyán's case, political connections were immediately an issue, since the announcement of the transaction mentioned that he was a member of the board of a county organisation of the Christian Democratic Party, the junior coalition partner of Fidesz. This connection was widely covered in the press at the time, but there was another, less visible but perhaps more significant, connection to government circles.
Oltyán, the publisher of a trade magazine of the construction industry, had long had close ties to influential figures in the sector, including László Szijj, whose company Duna Aszfalt had received several large state contracts in recent years and had worked with the companies of Viktor Orbán's friend Lőrinc Mészáros. Oltyán told about his relationship with Szijj to executives at CEMP. It was also Oltyán who sent a message to the management of Index when a photo of Szijj was accidentally included in an article that was not about him.
Oltyán declined to give an interview, but when asked in a brief phone conversation about his relationship with Szijj, he said that as the publisher of a construction magazine, "I have a wide range of personal contacts in the Hungarian construction industry, but they are business-based." (Szijj did not respond to our request for comment.)
Although CEMP stressed that the transaction did not affect the operation of Index's editorial staff, in fact it was a move that further weakened the already fragile independence of the news outlet. Ziegler and Oltyán not only bought Spéder's companies, but also purchased from Bodolai the company Nanga Parbat Zrt. which a year earlier had set up the Hungarian Development Foundation, the owner of Index.
As Bodolai later told the video outlet Partizán, he was the owner of the company only on paper, and it was Spéder who had given him the money to set up the firm. According to Bodolai, it was "part of the deal" that the Ziegler and Oltyán would also get Nanga Parbat, so that they would have "some influence on Index" through the company that controlled the foundation.
With the deal, and especially with the involvement of the politically connected Oltyán, speculation increased that this may be a direct precursor to the government taking control of Index. Journalists of the news site were also concerned, and on 1 October 2018 they launched a crowdfunding campaign, calling on readers to support Index
"so that we can be less dependent on CEMP, which was bought with who knows what money."
They also set up an online barometer and said that if they ever feel that they are under political pressure it would show that Index's independence is in danger.
They also said that they did not dare to plan for the long term "because you never know when your life will be made more difficult." However, it turned out that Index was left in peace for almost another year. It was only then that government figures decided that it was time to make a move against it.
IV. BEFORE THE STORM
In the final weeks of the campaign leading up to the 2019 local elections, politicians from the governing Fidesz party sent disgruntled messages to Index's journalists. They complained that the news portal gave a lot of space to the scandal surrounding Fidesz politician Zsolt Borkai's sex video but was silent about the video footage of Socialists allegedly snorting cocaine and talking about corruption. The journalists tried to prove to them that this was not true with photos of the front page showing that they reported the cocaine case in the same way, but this did not impress the governing party's politicians.
The opposition did unexpectedly well at the polls, and, according to Fidesz sources, the prevailing view among party leaders was that the independent media was to blame for that. "Index was mentioned prominently in these criticisms," one source recalled. It was not surprising, then, that a decision was taken after the elections to bring Index under tighter government control.
This intention had been on the agenda at the highest levels of Fidesz for years.
Simicska acquired the option to buy Index when he was still a close ally of Orbán. According to sources familiar with that transaction, the move was intended to wrest the news outlet out of the hands of Spéder, who was already closely tied to the government because of his banking deals. With that, Index would have become part of the pro-government media conglomerate that Simicska had spent years building.
As Direkt36 revealed in a previous investigation, Index was a topic of one of the last conversations between Orbán and Simicska before their split. The meeting took place in April 2014, after Fidesz had another landslide victory at the elections, and this was when Orbán made it clear to Simicska that he wants his own people to oversee the pro-government media empire. Orbán also specifically asked Simicska to close Index, which he controlled through the option.
Simicska, angry with Orbán for trying to marginalize him, refused to give up Index. By autumn 2019, however, the situation had changed dramatically. After Orbán's 2018 election victory, Simicska had handed over all his companies to pro-government interests, and Spéder had also sold his Index-linked companies. The group of companies that had financial control over the news portal (meanwhile renamed from CEMP to Indamedia) was linked to government circles through one of its owners, József Oltyán.
There was therefore no longer any obstacle to institute tighter political control, and the government was essentially just waiting for the opportune moment. According to sources in contact with relevant government figures, tactical considerations were behind the decision to start the process after the 2019 local elections. They thought that even if there was a scandal, it would die down by the 2022 parliamentary election and, as one source put it, there would be "no brouhaha" during the campaign.
In the months after the 2019 autumn elections, there were already some events that gave the editorial staff a sense that something had changed around them.
At Index's year-end Christmas party, Bodolai told some senior editors that he might not last long because of the pressure on him. He did not give any details, but it was also an ominous sign that there were more and stronger objections than before from the business empire of Lőrinc Mészáros, the prime minister's friend, about articles about them. In the autumn of 2019, for example, the Mészáros group complained about an article in the economy section of the site that was still in the making, and the journalists had not even contacted them. It was particularly unusual that they were bothered by a specific wording, which they could only have known about if they had access to the text in the editorial content management system.
Other episodes also suggested that unauthorised persons could have access to Index articles from outside. Bálint Szalai, who also worked in the economic section, went to a house party in early March 2020 where several members of Fidesz's youth organisation (Fidelitas) were present, whom he had known from before. When one of them noticed that Szalai was there, he started reading an Index article from his phone. This article had also not been published at the time and was only available in the editorial system. The Fidelitas member did not reveal how he had access to the article, but Szalai and his colleagues then decided not to upload articles to the internal Index system in advance and started communicating with each other through alternative channels instead of the company email.
In the meantime, tensions over articles about Mészáros' businesses continued to rise. A particularly sensitive topic was the case of the Mátra Power Plant, which was bought by Mészáros's empire and its partners from foreign owners in 2018. Shortly afterwards they took steps to sell the loss-making power plant to the Hungarian state. Index journalists working on the issue were told by management that articles about the plant should be treated with extra care and always checked with lawyers.
This kind of caution sometimes had a paralyzing effect on Index. When the government announced on 26 March 2020 that the state would indeed buy the power plant from the Mészáros family for a certain amount, Index's economic section produced a quick article on the financial significance of the deal, which appeared to be disadvantageous for the state. Miklós Jenei, the section editor, wanted to publish the piece on the same day, so that readers would not only be presented with the basic news, but would also get a comprehensive picture of the deal.
Instead, however, a lengthy correspondence began between among top editors and executives about whether the Mészáros companies should be asked for a reaction, and if so, exactly what they should ask and how long should they wait for a response. Some people did not understand why they should wait long for an answer, as the article they had written was not new information, but an analysis of an already published news item. Others said that if they expected a response, they should wait for it. The article was finally published a day later.
By then it was also clear that it did not make sense to wait for a comment.
The Mészáros group responded only that they were not entitled to comment on the matter and called on Index to refrain from using "insulting epithets" in the forthcoming article.
At that time, Szabolcs Dull was the editor-in-chief, who held the post since December 2019. Dull, who had previously worked as a political reporter, was appointed as a result of a long-planned change of leadership. The previous editor-in-chief, Attila Tóth-Szenesi, who took the position reluctantly in 2017, grew even more tired of the job. Dull was chosen as a possible successor after he had gained management experience as head of the sports section, and the change took place at the end of 2019. Dull took up the post of editor-in-chief after the editorial staff's vote of confidence.
Dull, unlike his predecessor, was not only interested in journalism, but also in what was happening with Index as a business. He was soon confronted with a change in this regard. In March 2020, it was revealed that József Oltyán was leaving Indamedia, the company controlling Index's finances, and was replaced as owner by Miklós Vaszily.
This was seen by many as a worrying sign, not only at Index but also in the wider circles of the media independent of the government. Although Oltyán also had government ties, he was not nearly as prominent a figure in this milieu as Vaszily, who played a key role in building the Orbán government's media machinery as the top executive at various propaganda outlets.
Vaszily had previously had a good reputation in the private media sector. At the beginning of his career, he was involved in building one of the most successful online business publications, Portfolio, and later became CEO of Index. He left it in 2009 after a conflict with Spéder, and a few months later he was head of Origo, another major news portal. A major setback in his career and reputation occurred when Origo came under political pressure under his leadership, resulting in the departure of a significant part of the editorial staff (including the author of this article and several Direkt36 staff) in the summer of 2014.
According to people who knew him at the time, he took it very badly when he was portrayed in the news reports as one of the main culprits of the events. Vaszily seemed physically broken at the time and cried several times when talking to friends about what had happened. According to an old colleague, he found it particularly difficult to cope with the fact that "the community he had been part of had turned against him."
Vaszily has since become tougher. "Miklós now just laughs when he is attacked in the press," said an old acquaintance who is still in touch with him. According to the source, Vaszily was once advised to hire a PR professional to improve his image, but he brushed it off, saying "what's the point if I don't read what they write about me."
Meanwhile, in government circles, his expertise is clearly appreciated. First, he was appointed top manager at MTVA, the company that controls state media, then he became chairman of TV2, which is now in pro-government hands, and has also appeared at several other Fidesz-linked media companies. He is said to have access to Viktor Orbán and is in regular contact with Antal Rogán, the powerful chief of staff of the prime minister who oversees media affairs in the government.
Vaszily's arrival was thus greeted with serious concern at Index.
"What the actual fuck is the president of TV2, the former head of MTVA, doing in the immediate vicinity of Index?," wrote a senior editor in an internal correspondence.
Several journalists suggested that the independence barometer needle of Index should be moved to signal that the site's independence is in danger. However, Dull and others said it was too early to do so. They argued that as long as there is no outside interference in what is covered by the portal and who works in the newsroom, there is no reason to change the barometer.
"We can only move the needle once, so you have to think carefully about when that should be," the editor-in-chief told his colleagues. It only took a few months before they felt it was time.
V. THE NEEDLE
On a Sunday afternoon, 21 June 2020, Szabolcs Dull created a new Facebook group called "Index Staff 2.0," where he included all members of the editorial staff. He explained that he was communicating in the group because he no longer trusted Index's internal mailing system. He also said that the fate of Index "had unfortunately become terminal, despite all our countermeasures and precautions."
Dull wrote that a few days earlier, at a meeting of the board of directors of Index.hu Zrt., a "chilling concept had been presented about the future of Index." He referred to a plan to outsource some of Index's sections to various companies, with journalists essentially becoming external suppliers to Index.
"The concept, no matter how we frame it, would mean the disappearance of Index's editorial staff. We would no longer be a newsroom," Dull wrote.
The idea came from media entrepreneur Gábor Gerényi, who had appeared around the news outlet a few months earlier. Gerényi, known in professional circles only as GG, was one of the original founders of Index, but later became marginalized and left the company in early 2012 to focus on his own media companies, first Mandiner and then Azonnali, which he co-owns with Péter Ungár, an opposition politician and son of Mária Schmidt, the pro-government historian. However, Index continued to play a prominent role in his life, as shown by his 20-part, book-length account on his blog of how he saw the news site's history.
Gerényi had known Vaszily well from his time at Index, and when Vaszily became the owner of Indamedia in March 2020, Gerényi got the opportunity to play a role in the life of the portal again. He was invited by Indamedia, together with his old friend Zsolt Erdélyi, an advertising expert known by his nickname Superman, to be advisors at Index.
Bodolai told Dull in April 2020 about Gerényi's appointment as an advisor. This was met with disapproval at the portal, whose staff did not understand why another company was sending advisors to Index. They also found it problematic that the owner of a rival news site, Azonnali, had been asked to take on the role.
It soon became clear that the two sides do not get along. Index's executives felt that they were being lectured by Gerényi and Erdélyi, while the consultants were annoyed by what they saw as the Index staff's lack of openness to new ideas. In one of the meetings, Erdélyi told Dull to stop grimacing. In another one, he clashed with Index's strategic director, Zoltán Szabó, because they had differences of opinion about the effectiveness of a campaign to promote the news site.
Index's management had been aware that the news portal needed a makeover. Back in as early as 2017, Szabó sent the senior members of the staff a summary of a meeting that he had organized with influential media market players, who had told him that Index's "old shine had faded" and the site's "distinctive voice" had disappeared. Later, it was a warning sign when, on the day of the 2019 local elections, Index lost the race for traffic to 24.hu, which was more professional in its presentation of the poll results.
Partly as a response to these problems, Szabó prepared a long-term, 125-page strategic plan by the end of 2019. This not only dealt with strengthening Index's market position, but also with the necessary internal organizational changes. In the meantime, Index has regained its position of market leader, with the outbreak of the coronavirus epidemic further strengthening its lead over its competitors. There was a day in March 2020, when Index set a record, with more than 1.7 million visitors on a single day, outperforming other news portals.
However, the new advisors thought that was not enough and stuck to their own proposals. Although they had some ideas for content (for example, that the portal should give publication opportunity to cultural projects), the conflict escalated over an idea that would have affected the organization of Index. This was the proposal to outsource sections, later known as the Gerényi-plan. The idea was that Index's editorial team would consist of only a small team of frontpage editors, who would have the power to buy content not only from the outsourced sections but from other media outlets as well. According to Gerényi, this would have made the operation more cost-effective and could have led to an improvement in the quality of the content. Gerényi made no secret of the fact that he would have liked to see his own site Azonnali become one of the suppliers as well.
The first step of the plan was implemented. At the end of May, the contracts of some 20 staff were rewritten to include a new front page editor job in their job descriptions. They would have been the ones who, if the plan had gone ahead, would have formed Index's editorial core. Because nobody told them about the true meaning of the changes in their contract, this move did not cause a major uproar. Soon afterwards, however, the rest of the plan became clear, and this led to an explosive situation.
On Thursday, 18 June, the outsourcing plan was on the agenda of the meeting of the board of directors. Alongside Dull, the board included CEO András Pusztay, both of whom had already made it clear to the chairman Bodolai, that they had been against Gerényi's idea. The board also included Gábor Ziegler, one of the owners of Indamedia, and Botond Andacs, Indamedia's CFO (and Index.hu Zrt.'s former CEO). So, it was to be expected that, despite the protests of the Index executives, the plan would not be so easily swept off the table.
At the meeting, Gerényi presented his plan, and Pusztay also spoke about the cost-saving measures he would take. In the end, the board, with the support of the Indamedia members and Bodolai, passed a resolution that delayed the decision. Under the resolution, Pusztay was asked to work with Dull to develop an "operational concept" for the next board meeting in a week's time, and to consider Gerényi's plan alongside Pusztay's own proposals.
When, a few days later, the editorial staff changed the independence barometer and the press started to report on the alleged threat to the independence of Index, Bodolai was trying to calm tensions in the editorial staff by citing the half-hearted nature of the decision. He stressed that the decision only stated that Pusztay and Dull must examine elements of Gerényi's plan but did not say that it was compulsory to adopt it.
However, in the preceding days, certain developments had indicated to Dull and Pusztay that there were strong vested interests behind the plan and that it should be taken seriously.
On Wednesday, the day before the board meeting, Dull and Gerényi sat down in a Budapest café to discuss the outsourcing plan. Direkt36 has obtained an audio recording of the meeting, which shows that Gerényi spoke openly about the political considerations behind the plans to restructure Index.
Asked by Dull why the implementation of the outsourcing plan was so urgent that it had to be started within a month, Gerényi said:
"That part is politics. There's a fucking impatience, because Index has been very very naughty."
He added that by this he means that he believes that Index makes many professional mistakes, which "go to the same direction," typically harming the government side. As an example, he said that in one of the debates at that time between opposition mayor Gergely Karácsony and Balázs Fürjes of Fidesz, Index gave more space to Karácsony's position. Dull acknowledged that mistakes do occur, but stressed that Index publishes 140-150 articles a day, and with such a volume, errors are bound to happen.
The editor-in-chief later returned to the outsourcing issue and asked specifically why "Antal Rogán wants Index to be in eight companies," meaning why this restructuring is in the interest of Viktor Orbán's chief of staff. Gerényi replied: "That is not good for Rogán. What is good for Rogán is that I told him that the restructuring I propose would guarantee the quality of Index. And he accepted it."
Dull asked what would happen if the outsourcing plan was not implemented, to which Gerényi said that he thought the company would implement it, but "if not, there won't be [Index]". (Direkt36 has asked Gerényi several questions, for example about how he knew what Rogán's interests were, but he gave no substantive answers to these. Rogán did not respond to our questions.)
It was not only Dull who received signals these days that the outsourcing plan should be taken seriously, so did Pusztay. The next day after the board meeting, on Friday morning, there was a meeting with Miklós Vaszily in his office at TV2, where the outsourcing was discussed again. Bodolai and Pusztay were present, along with Gábor Ziegler and Vaszily as owners of Indamedia. Gerényi, the mastermind of the outsourcing plan, was also there.
According to sources familiar with the details of the meeting, Pusztay and Gerényi had a heated debate about their ideas for the portal. Vaszily also spoke up and, in a tough tone, suggested to Pusztay that he wanted him to draw up the plan by Monday, days earlier than the original Thursday deadline. Pusztay stormed out of the room without giving a clear answer. Later, he told Dull about Vaszily's request, thus Dull knew about the mounting pressure on them.
Meanwhile, Bodolai sent contradictory messages to the editorial staff about the situation. He told some people that the Gerényi-plan had been brushed off the table, while he also said that at least the culture section could be outsourced. Even on Friday, after the board meeting, he still told Dull that they needed to accept some kind of deal on outsourcing.
According to people who know him, Bodolai has this somewhat meandering behavior in difficult situations. As one of them said, Bodolai's motto is that "we will outmaneuver" such situations. He was clearly trying to follow a similar tactic in the crisis over the outsourcing proposal as well by telling the staff that the plan can be averted by the right moves.
Behind the scenes, however, he himself took desperate steps that showed that he saw the situation in a much darker light.
VI. THE COLLAPSE
A few weeks before the board meeting on June 18, Bodolai spoke to one of his old acquaintances who had good international political connections and told him details about the vulnerability of Index vis-à-vis Indamedia. They also discussed plans about how international help could be organized to ensure the independence of the news outlet. They raised the possibility of finding foreign investors or drawing the attention of European decision-makers to the predicament of Index.
To bolster their efforts, Bodolai's acquaintance brought in a Hungarian academic, who was experienced in media matters and also had diplomatic connections. In the days before the board meeting, the three of them consulted about the options they had for saving Index. According to the academic, Bodolai made it clear that he was hoping for a major political solution. He repeatedly said that "Let's ask the Germans for help," because he thought the Germans could influence the Orbán-government, "so let's try to persuade them."
The academic's impression was that Bodolai, who was speaking in disarray and was apparently in a panic, did not have clear ideas about this. He was just reading the news and simply concluded that only the German political and economic elite could influence the Hungarian government, the academic said.
Bodolai told his two helpers about the upcoming board meeting on the 18th of June. He asked them not to tell anyone anything until it was over. Although he later tried to present the meeting for the editorial board as an occasion that managed to avert the threat to Index, he sent a completely different message to his helpers that day.
He told them the danger was still there. His helpers sent out a pre-prepared summary to Western European diplomats and politicians about the pressure on Index and the important role the portal had in the Hungarian public sphere. (Both helpers told Direkt36 what happened in unison and in detail, but Bodolai claims he remembers certain details differently. For example, he thinks he did not say that they should ask the Germans for help, although he added that he could not recall every word of the conversations.)
The international rescue operation basically ended almost as soon as it started. Bodolai's helpers had calculated that it would take at least several months to organize a diplomatic lobby operation or even to try to find foreign investors. However, after the independence barometer of Index was set to "in danger" on Sunday and Hungarian and foreign news outlets started reporting about it, events sped up.
On Monday morning, the day after shifting the barometer, a companywide meeting was held in the editorial office of Index, where, according to a recording obtained by Direkt36, Bodolai told the journalists that they had "shot at a sparrow with a canon." He thought they had moved the barometer unnecessarily, because by then the danger had already been gone.
According to Bodolai, Gerényi told him on the weekend that he would not continue working as a consultant and would also cancel the outsourcing plan. Bodolai said he had also told Dull about this at that time, but at the meeting, Dull retorted that it hadn't been so obvious.
According to Dull, he told Bodolai that he wanted to see the withdrawal of the Gerényi-plan in writing, but this was not fulfilled, and in the meantime he had also heard from Pusztay about the new, earlier deadline for preparing the document the board decided about. Dull, who was studying in law school at the time, threw in the Latin proverb "verba volant, scripta manent" (word goes away, writing remains), arguing that from all this he concluded that the outsourcing was not at all discarded.
Nevertheless, the shift of the barometer and the tense situation around Index had an impact. The outsourcing plan was removed from the agenda, which Gerényi himself confirmed a few days later on his blog. However, pressure on Index didn't go away. It was still there, only this time in a different form.
A tangible sign of this was that at the beginning of July, Szabolcs Dull and other leaders of the news site did not receive their salary in the usual time. In a meeting around these days, Indamedia's chief financial officer, Botond Andacs, told Index's management that this was simply because there wasn't enough money in the company's account. He said less money was flowing into the Index's account these months than it cost to run the newsroom.
This in itself was not unusual, as the advertising market tends to work cycl,ically and advertisers have always spent less at Index in the summer months. In previous years, Indamedia, which had an exclusive contract to sell the Index's ads, pre-financed Index's costs in these months, so it transferred the amount needed to operate even if there wasn't enough advertising revenue to do so. They knew that later, for example in the Christmas advertising season, the missing money would flow in anyway.
Indamedia, however, has made it clear that they did not want to do that this time. They argued that by shifting the barometer Index had created a situation that was causing economic damage to the news outlet. Andacs said at a meeting in July that several media agencies had indicated that campaigns could be cancelled due to the turbulent situation surrounding the news site.
He also added that the leadership of Indamedia is upset because the Index story had put the owners in a bad light as well. As Andacs put it, Ziegler and Vaszily were now seen as "hoofed devils who don't want to give money to the Index."
One of Andacs's suggestions for resolving financial problems was an austerity plan. His proposal was to mark the two weakest people in each section of Index and then look at how many of them need to be fired to achieve the necessary cost reductions. That would have meant that about 10 people, nearly 10 percent of the whole staff, would have been put on the list of people in danger of firing.
While Index's executives acknowledged that there were journalists who were not working effectively, they also said that in the current tense situation firing even one single person could blow up the editorial office. Strategic director Zoltán Szabó argued at one of the meetings in July that it was not possible to explain to people that such a move would happen for purely economic reasons, and that it would "rather mean that Inda[media] put political pressure on the editorial office." Other Index leaders also pointed out that several austerity measures had already been introduced in previous months. Back in March, several journalists were laid off and later the money given for extra work over weekends was also cut, which decreased the overall salary of many employees.
Andacs indicated that they could return to the exact way of cost reduction later, but he made it clear that Indamedia's main problem was the issue of the barometer. According to them, the market situation around the company would not be resolved until it was reset to show that Index is independent. As he said in one of the meetings:
"To begin with, I don't want to see that fucking barometer on Index's page."
During these weeks, Index seemed to be a very troubled place from the outside: articles about the site's problems continued to appear on the front page, and the confusing picture was compounded by the fact that the company was left without a CEO. Pusztay announced his departure in the days following the instructions he received from Vaszily. Zsolt Ződi, a friend of Bodolai who was called in to replace Pusztay, resigned after only a few working days, claiming that he realized: the work at Index would have been a "task too big" for him.
At the same time, there were surprisingly calm and constructive discussions between Bodolai and the editorial staff about the conditions under which the newsroom would have set the barometer back. These demands were mainly aimed at making Index less vulnerable to Indamedia. The newsroom staff wanted to see exactly what kind of contracts Indamedia and Index had, and they also wanted to get an insight into what services Indamedia was billing to Index for and how much. They hoped that this would improve Index's position vis-à-vis Indamedia.
One of Bodolai's proposals was to set up a supervisory board. At a meeting on June 24, three days after the barometer needle was moved, he told representatives of the newsroom that this body had strong powers because its members could access all internal documents and not only criticize the board of directors' decisions but also make their concerns public. Bodolai said the staff could nominate members to the supervisory board, and when Dull asked him if the "current editor-in-chief" could be a member, he replied that "it's possible." This was significant because Bodolai had removed Dull from the company's board of directors just two days before, claiming that he had released confidential information from the board meeting about the outsourcing plan.
The editorial staff liked the idea of the supervisory board, but then Bodolai started to make changes. Just over a week later, at another meeting, Bodolai told the staff that, contrary to his previous promise, the editor-in-chief could not be a member of the new board. He also announced that Indamedia would delegate a member to the new board as well. Staff members were shocked to hear this, as they thought that this body's responsibility would be exactly to control the relationship between Index and Indamedia. Bodolai, however, said "this is the only way I can solve it" and then added that Indamedia wanted to be present on the board because they were distrustful towards the editorial staff.
However, the supervisory board, and therefore the restoration of the barometer, was not completely off the agenda. On July 20, Bodolai once again held a meeting with representatives of the newsroom, which took place in a calm, almost friendly atmosphere. It started with them joking that Dull had been stung by an insect that that made him spill coffee on himself, and Bodolai remarked that there were spots on his clothes because he had been eating tripe.
At this meeting, Bodolai came up with a compromise proposal about the supervisory board. He stressed that Dull still could not be a regular member but he could be present at the meetings with consultancy rights. Bodolai asked the staff to consider this option. He said that if they accepted it, the supervisory board would be able to "stand up in two minutes."
Representatives of the editorial staff asked him several questions about how the board would work in practice, and then the discussion concluded with an agreement that a written note would be prepared, which would then be sent to the entire editorial staff.
However, this never happened, the note was not finalized and the dialogue on resetting the barometer did not continue either. Two days later, on the 22nd of July, Bodolai announced Dull's firing, which he explained in an official statement saying that "the editor-in-chief had no way of stopping or controlling internal processes which adversely affected the market situation".
Dull now told Direkt36 that Bodolai was visibly shaken at the time of his firing, he even started crying, and hinted that it had not been his own decision to fire him.
"He asked me to understand that it wasn't personal, that he was forced to make this decision" Dull recalled, adding that Bodolai did not say who forced him to decide about the firing.
Bodolai, however, recalled that he was "determined all along" the meeting and did not cry. "No one forced me to fire Dull, it was my own decision I made because he deceived me regularly, and he apparently wanted to destroy Index behind my back" he added.
Bodolai was undoubtedly upset when he met with the representatives of the newsroom later that day. When asked why he had fired Dull now, as they had been discussing resolving the situation just two days before, he replied: "Something broke in me." He added that the situation at Index had become unsustainable and therefore he considered it necessary to fire Dull. He did not specify what had changed compared to the situation two days earlier.
One journalist raised the question whether he had fired Dull under pressure from Indamedia, but Bodolai denied this. He was also asked if he would stand in front of the editorial staff to share his decision with them. He replied that he would not because he could no longer "mentally" bear it and did not want certain people yelling at him. He asked the remaining top editors – Attila Tóth-Szenesi, Veronika Munk and János Haász – to direct the news site jointly.
They refused to do so. On Friday, all three of them handed in their resignations, and they were followed by more than eighty other employees – so almost the entire editorial staff. "We have been saying for years that we consider two things to be a prerequisite for the independent operation of Index: there should be no external interference in the content appearing on Index or in the composition or structure of the editorial staff. With the dismissal of Szabolcs Dull, the latter condition has been violated," they wrote in a statement. They added that "we cannot view his expulsion as anything other than an open attempt to exert pressure".
This marked the end of an era in the life of Index. But its story was not over as the grip of the pro-government owner soon became even stronger.
VII. THE NEW INDEX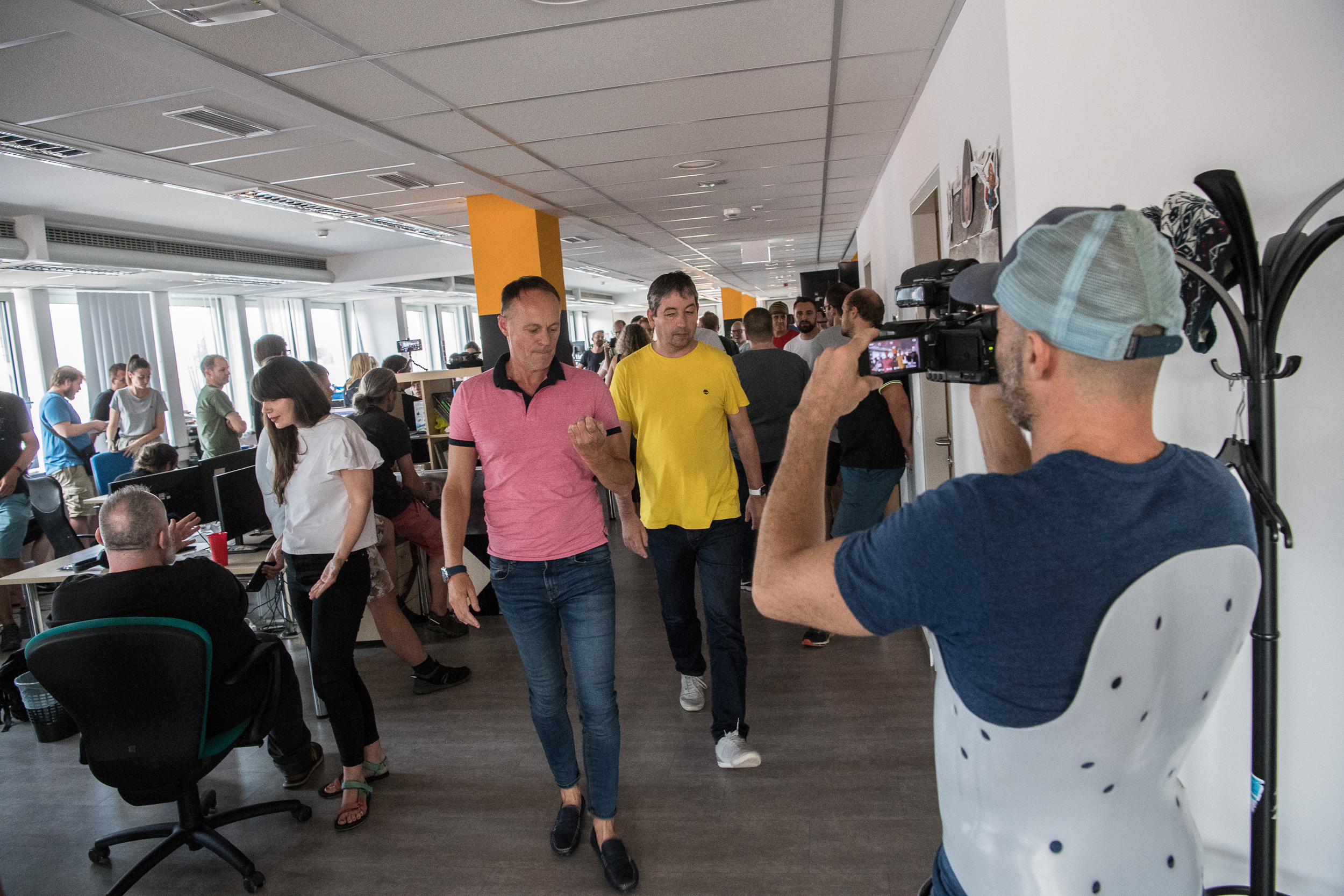 On October 17, 2020, Pál Szombathy, who was leading Index for less than three months then, published a proud post on his Facebook page. He became CEO of Index.hu on the day Szabolcs Dull was dismissed. Weeks later he also took up the editor-in-chief's position, and with his old friend and colleague András Sztankóczy they recruited a new editorial team in only a couple of weeks. This was hard because many of the journalists they approached rejected them. Some said yes but backed down the next day after their friends began to insult them on social media. Fearing the same, others said no to Szombathy's offer without even contemplating it.
In his Facebook post in October, Szombathy recalled taking over the news portal in a "flood of rage" and added that although he considered himself "shock-proof," he did not expect to be able to reach this day so soon. Index, which had lost a significant portion of its readers after the summer resignations, won the daily readership competition for the first time since.
Under the post, one of the friends that congratulated him was Indamedia's co-owner Gábor Ziegler, whose comment Szombathy thanked with a grinning emoji. However, the relationship between Indamedia and the new Index leader was not nearly as cordial. Szombathy was under increasing pressure from the company, which still had tight control over the news portal.
When Szombathy took over Index, he did not expect this. He even told the previous Index staff that he didn't see the portal's situation nearly as dramatically as they do. He argued that since the outsourcing plan, which he also considered bad, had been removed from the agenda and nobody said that that anyone interfered with the content from the outside, the news site's independence was not in danger.
Szombathy, who led the then liberal newspaper called Magyar Hírlap in the early 2000s, had first gotten into contact with Index years ago. Bodolai, who was a classmate of Szombathy in secondary school, had asked him in 2017 to join the new board of directors that was set up after establishing the foundational construction. Szombathy participated in the work of the board but had no contact with the editorial team. Although he was willing to share his experiences and ideas with the editors of Index, they were not open to that. He was not a popular person in the newsroom, mainly because of his public comments suggesting that the threats against press freedom under Viktor Orbán's government were exaggerated.
Szombathy has always proudly claimed that he did not belong either to the opposition or pro-government camps. He also criticized the media independent from the government, which he considered biased and ideologically driven. He thought Index was struggling with similar problems, and when he took over the news site, he promised that he would produce much more centric news coverage and give room for a wider variety of opinions.
However, he soon faced obstacles. Szombathy told several people close to him that Miklós Vaszily had repeatedly made critical remarks about the articles published on Index and questioned certain editorial decisions. Sometimes he asked Szombathy when an article he considered problematic would be removed from the front page. Based on Vaszily's remarks, articles related to Antal Rogán and his inner circle, as well as news about the government response to the coronavirus epidemic, were particularly sensitive topics. One of Vaszily's messages, for example, was that it would be good to remove the story that considered what would happen if Viktor Orbán fell ill with the coronavirus (the not very surprising conclusion of the article was that deputy prime minister Zsolt Semjén would have taken over his place temporarily).
At the same time, Szombathy and his team also faced a different kind of pressure from Indamedia. This was similar to what the previous management of Index had encountered in summer. Indamedia stated again that there was no money, trying to force Szombathy's team to take steps they wanted to avoid.
Indamedia wanted to make Index take out a loan of one hundred million forints (263 thousand euros) to finance the deficit, which was rejected by Szombathy and his management team. They feared that if they took this step, they would be forced to leave on the grounds that they had indebted the company. They argued to Indamedia that when they took over the news site in summer, they were given the promise that Indamedia would bear the costs of the transition.
Szombathy and his colleagues were also outraged when Vaszily told them in early November that he thought the management of the company publishing Index should be restructured. Vaszily came up with the idea that Szombathy would only keep the position of editor-in-chief and hand over the duties of CEO to Ákos Starcz, a confidant of Vaszily.
At that time, Index.hu was still an independent company on paper, and in principle Vaszily had no official influence over who was running the company. At the same time, Vaszily had a tool in his hands that allowed him to terminate the previous ownership structure of Index and make Indamedia the owner of the news portal instead of the foundation led by Bodolai. Due to a long-standing loan transaction, Indamedia had an option on the shares of Index.hu. This meant that if Index could not repay the money to Indamedia, they could acquire shares in the news outlet.
Szombathy later told news site 24.hu that he was surprised by this option because Bodolai had not shared information about it with him. When confronted with the fact that Indamedia could take over the shares of Index so easily, he tried to argue that this move would run counter to Vaszily's promises made a few months earlier. At that time, he said, Indamedia promised ensuring not only the financial functioning of Index, but also its political independence.
In previous months, Szombathy and his colleagues managed to convince reluctant journalists to join Index exactly by saying that the foundation structure was a guarantee that the news site would not fall under pro-government ownership. Now Szombathy and his team felt that after succeeding in bringing back traffic to Index and setting up a working newsroom, Indamedia wanted to get rid of them.
As the situation of the Index-leadership started becoming increasingly distressed, they had one last attempt to save themselves. According to sources familiar with the events, Bodolai informed Szombathy that he had sent messages to Viktor Orbán's staff several times in the past few years when he felt that Index had come under pressure. Bodolai said that these were successful, and, even if only temporarily, the situation always got better after his letters.
Bodolai first suggested that Szombathy should write a letter now, but he refused to do so. In the end, Szombathy as CEO wrote a memo to Bodolai as chairman, describing how he thought the dependence on Indamedia threatened the position of Index, and what risks terminating the foundational ownership would mean.
The memo said that if the latter happens, then that would be exactly what the previous Index staff that left in summer also feared of happening.
Bodolai promised to try to get this memo to Orbán's staff. (When we asked Bodolai about this whole episode, he replied that he didn't want to comment on it.) It is not clear whether the Prime Minister finally received the memo, but it certainly reached Antal Rogán and Miklós Vaszily. According to a source with ties to Rogán's staff, the chief of staff's people "read the memo with loud laughter." According to a source close to Vaszily, the memo had reached him after it had already been through a "higher political level."
Requesting higher political help had no results this time. On November 23, Indamedia announced that it would take over the shares of Index.hu. It was also communicated that Szombathy and Sztankóczy were leaving the company, and the new CEO would be Ákos Starcz.
Szombathy later told 24.hu that they had had a meeting with Vaszily in his office close to TV2, where the Indamedia owner allegedly yelled at them that they could not leave until the papers on their mutually accepted resignation were signed. According to Szombathy, "thugs" were also present at the scene, although his successor, Starcz, said they were only security guards working at TV2.
The takeover of Index's shares meant that the news site was now officially in pro-government ownership. Soon there were manifestations of this in the Index's content as well.
VIII. THE "FEZÓ ERA"
On 3 February 2021, an article appeared on Index that drew special attention for two reasons. The story was about the controversial land purchase of Antal Rogán's new wife, and, as the news site 444 pointed out at the time, it essentially foreshadowed the explanation Rogán was trying to defend the deal with. What made the Index article, which cited unnamed sources close to Rogán, even stranger was that it was published under the pseudonym "Dani Szeredy." This was very unusual from Index where journalists are required to publish under their own names (meanwhile, in government propaganda, it is common not to disclose the names of the authors).
According to several sources at Index, the editorial system of the news portal subsequently showed that it was editor-in-chief Zoltán Fekete-Szalóky who edited the Rogán article and chose the pseudonym Dani Szeredy.
Fekete-Szalóky arrived as news director at the end of the summer 2020 and after the departure of Szombathy he took over the newsroom as editor-in-chief. Prior to joining Index, he was the online editor of the government-funded magazine Országút, and previously worked for Inforadio, a radio station dedicated to news, for years.
According to his colleagues, the bald, deep-voiced Fekete-Szalóky is an experienced news editor and is generally friendly with his subordinates. Some of his colleagues added that he is clearly enjoying his time as the top editor of a popular news site in Hungary. In editorial meetings he regularly refers to the current period of Index as the "Fezó era", using his own nickname.
The Rogán story with the fake name was not the only episode that strengthened the perception that Index has moved in a pro-government direction under Fekete-Szalóky. A few months later he personally rewrote an already published story about a controversial government decision.
In April 2021, Direkt36 revealed that the government would build the Budapest campus of China's Fudan University with a Chinese loan and a Chinese contractor, on the site of a new campus originally planned for Hungarian students. Based on this, Index published a short piece with the headline that said "Orbán's government to build 540-billion-forint elite university with Chinese loan." The lead suggested that this investment also poses national security and corruption risks. The journalist who wrote the piece was later surprised to discover that the article had been completely rewritten, with the sensitive parts of the article removed. The piece also got a new headline: "Chinese star university getting closer to Budapest". When one of the journalists asked Fekete-Szalóky who had changed the article, he said it was him.
It was also the editor-in-chief who made a particularly friendly interview with Lőrinc Mészáros, the billionaire friend of Viktor Orbán, in June 2021. The interview, which was accompanied by a long list of Mészáros' charitable activities, caused a backlash even within the editorial staff. "With the sidebar about the donations, it was like a paid advertisement," said a journalist who was working at Index at the time. In a meeting with the editor-in-chief and other senior editors, several staff members said that the interview was problematic. According to sources familiar with the meeting, the leaders defended the interview by saying that such articles were necessary to make the newspaper financially viable.
No more details were given to journalists about this, but in the recording from spring 2021 obtained by Direkt36 – quoted at the beginning of this article – Fekete-Szalóky spoke more openly about the Mészáros connection. He said not only that Index had received money from Mészáros, but also that Index had signed an agreement with the pro-government billionaire. The agreement was that the news portal would not cover Andrea Várkonyi, who was already rumored to be Mészáros' partner, but their relationship was not yet public (they have since married).
"It was agreed that Andrea would not be mentioned in any form. And with Mészáros, only when there is a very serious investment, either buying or selling something, things of this economic nature," said Fekete-Szalóky.
He also noted that CEO Ákos Starcz was "told to his face," that in this case Index would be the first to get an interview "about this whole relationship if they came out with it." (This did not turn out to be the case, Várkonyi first confirmed the news in Hot magazine, which is also part of the pro-government media empire.)
An even bigger internal uproar followed when the news portal broke the so-called City Hall affair about an alleged wrongdoing in the office of Budapest's opposition mayor, which then was picked up and heavily covered by the government's entire propaganda machine. The first article on the subject appeared on Index on the morning of November 4 under the headline "Budapest's leadership would sell the City Hall building." The piece, whose author was Fekete-Szalóky, did not contain any evidence to support the claim in the title, and although the City Hall was contacted before publication, it was given very short time to respond. Questions were sent out by email at around 7:15AM in the morning and the article was published at 7:47AM.
A few days later, an editorial meeting was held on the issue, where Fekete-Szalóky was joined by CEO Ákos Starcz. At this meeting, several journalists voiced harsh criticism. One of them said that he had left the Mészáros interview and the article about Rogán's wife's land deal unsaid, but now he felt that a red line had been crossed. Several others angrily complained that such incidents were undoing all the work that had been done to get Index taken seriously again by readers and other journalists.
Fekete-Szalóky admitted that it was a professional mistake not to give the City Hall more time to respond. His defense was that they were under "time pressure" but did not explain what he meant by that.
While several participants in the meeting raised the question whether the article had been commissioned by a politician or the pro-government owner Miklós Vaszily, nobody from the management denied this, although they did not acknowledge it either. When a journalist raised the question of whether Fekete-Szalóky was the actual author, the editor-in-chief did not give a clear answer. He said that "I agreed to publish it" but did not give any details of the meaning of that.
However, he indicated that he had taken the decision in difficult circumstances. Referring to his own situation as "Catch-22," he said that the management had to maneuver between what he called "an ownership request" and things that could reflect badly on the newsroom. (We sent Index a detailed list of questions on this matter, among others, but Ákos Starcz said that they refuse to answer them because "we do not want to be part of any political battle.")
During the meeting on the City Hall story, several journalists raised the point that Index's handling of the case was very similar to the way cases are handled in government propaganda. Antal Rogán, who plays a key role in running the propaganda machine, has indeed been counting on the Index as a piece of the government's arsenal. A source close to Rogán's staff says that the Index was deliberately chosen to launch the City Hall story because it still has the credibility to do so. "If it had appeared on Origo, it would have had a different impact," the source explained, referring to the flagship news site of the government's propaganda machine.
Index does indeed operate differently from the propaganda outlets. It continues to publish opinions critical of the government, even if, as the leaked recording of Fekete-Szalóky shows, it is filtered and not necessarily given prominence. However, this may be a way to reach a different audience than those who follow only the government propaganda. And it is still a significant crowd: Index is consistently in the top five most read news sites, with 700-800 thousand people a day visiting it.
This must have been the aim of those in power all along with the Index. As Gábor Gerényi put it to Szabolcs Dull in their leaked conversation about the political considerations of Index's transformation: "Nobody needs another Origo here. Nothing like that is needed."