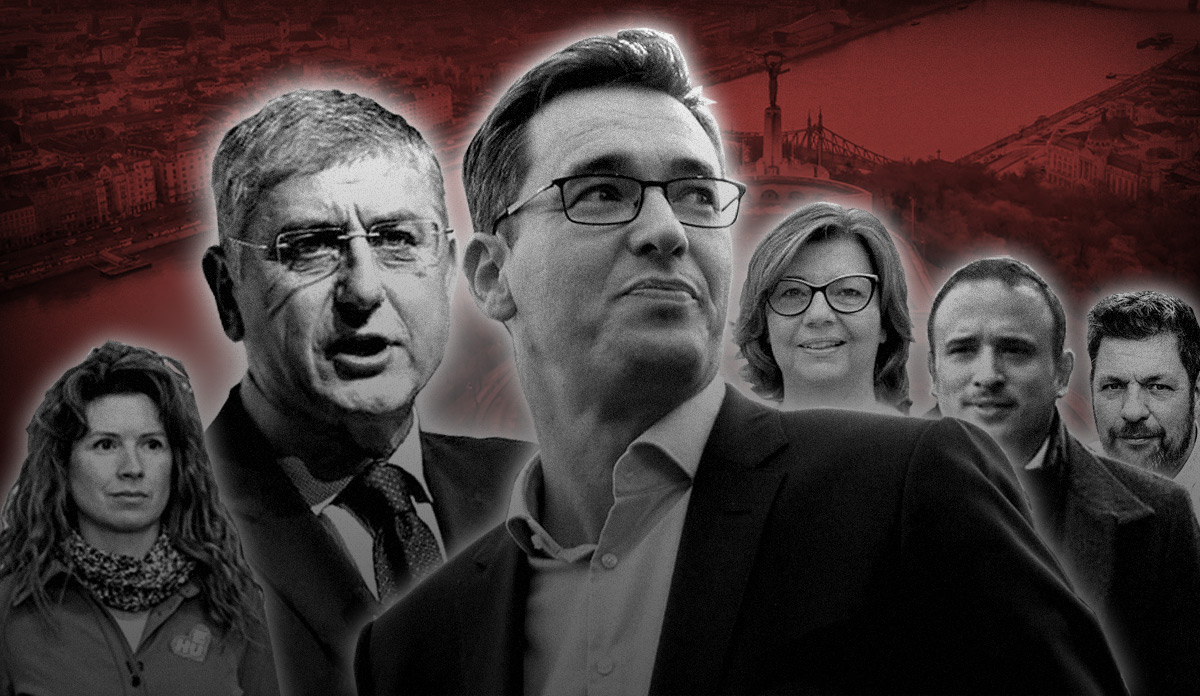 At the end of February, representatives of opposition parties governing Budapest gathered for a tense, closed door meeting in Budapest mayor Gergely Karácsony's conference room. Karácsony was sitting with his staff at one end of the long table, while representatives of the Democratic Coalition (DK), led by party chairman and former Prime Minister Ferenc Gyurcsány, were at the other end. Between the two groups sat politicians from opposition parties Momentum, the Hungarian Socialist Party (MSZP), and the Dialogue party.
The meeting was originally called to prepare the capital city's next year budget. However, other hot issues that had not been fully discussed previously also surfaced. This was mainly due to Ferenc Gyurcsány.
Although the meeting was not public, not recorded, and the dozen politicians in attendance already knew each other well, Gyurcsány gave the type of political speech that he usually delivers for his fans at his party's events. The starting point for his 10-15 minute speech was the issue with the capital's theaters, which led to a conflict between his party and the mayor. Karácsony was leaning towards accepting a compromise with the Orbán government in which the capital would let the government take over the financing of some theaters, including those known for their conservative values.
Karácsony's staff backed this up partly with budgetary reasons. However, Gyurcsány argued that voters did not authorize them to hand over the capital's theaters to the government. According to Gyurcsány, these theaters are not just simply real estates but also cultural communities.
The DK chairman, in his characteristic vigorous speaking style, said that if he were given a budget, he would find ten billion forints in it at any time, with which could be used to finance all theaters. Karácsony countered by saying that he wants a Budapest where – mentioning two very different theater directors – "Béla Pintér and György Dörner both have a place". He added that although he does not go to the theater led by right-wing director Dörner, "whoever wants to go should be able to."
According to several participants, the debate was civilized, but tensions between the two politicians were visible and deep-seated differences among opposition parties became apparent.
"The February debate was about how radical we should be in our politics," one of the participants in the discussion, Budapest deputy mayor Gábor Kerpel-Fronius of the Momentum party explained. While Karácsony apparently set off in a conciliatory, compromise-seeking direction after the opposition's victory last October, other members of the coalition governing the capital would like to see a much more hawkish approach. This is especially true for DK, which is the largest opposition party according to national polls. In the February debate, Gyurcsány also spoke about taking a more combative path, not only in the matter of theaters, but in general. In comparison, Karácsony thinks that voters will decide based on their performance in managing the city. He does not believe that there is much point in the type of politics where confrontation is the guiding principle.
Of course, these differences are not just about the governance of Budapest. The actions of opposition parties are obviously driven by their preparations for the clash with Prime Minister Viktor Orbán in the 2022 parliamentary elections. With last year's election victory in the capital, they were given a huge opportunity, with high stakes. According to a city hall leader who asked for anonymity, "the capital's council is a laboratory" that reveals "whether these people can govern together." Kerpel-Fronius noted that "the (opposition's) coalition is aware that the electorate is watching us".
[youtube id="5AAi_w2HqA0″ align="center"]
In recent months, Direkt36 has been investigating how this one-year experiment has turned out. We spoke at length with nearly forty people with close knowledge of how the opposition leadership has governed the capital so far. These included city hall leaders, opposition politicians and government officials who are in contact with Budapest. Many have provided information on internal affairs on the condition that we do not disclose their names.
Our research revealed not only the conflicting approaches in what political strategy should be followed, but also, among other things, how DK occupied new positions in the capital, and what tactical mistakes Momentum made at the beginning of the term. We also found out how Karácsony's old friend became one of the most influential people in city hall, and how the mayor complained about his political allies to senior government officials during their talks. We contacted Karácsony with several questions about his role in these events but he did not respond to our inquiries.
I. The Mayor's men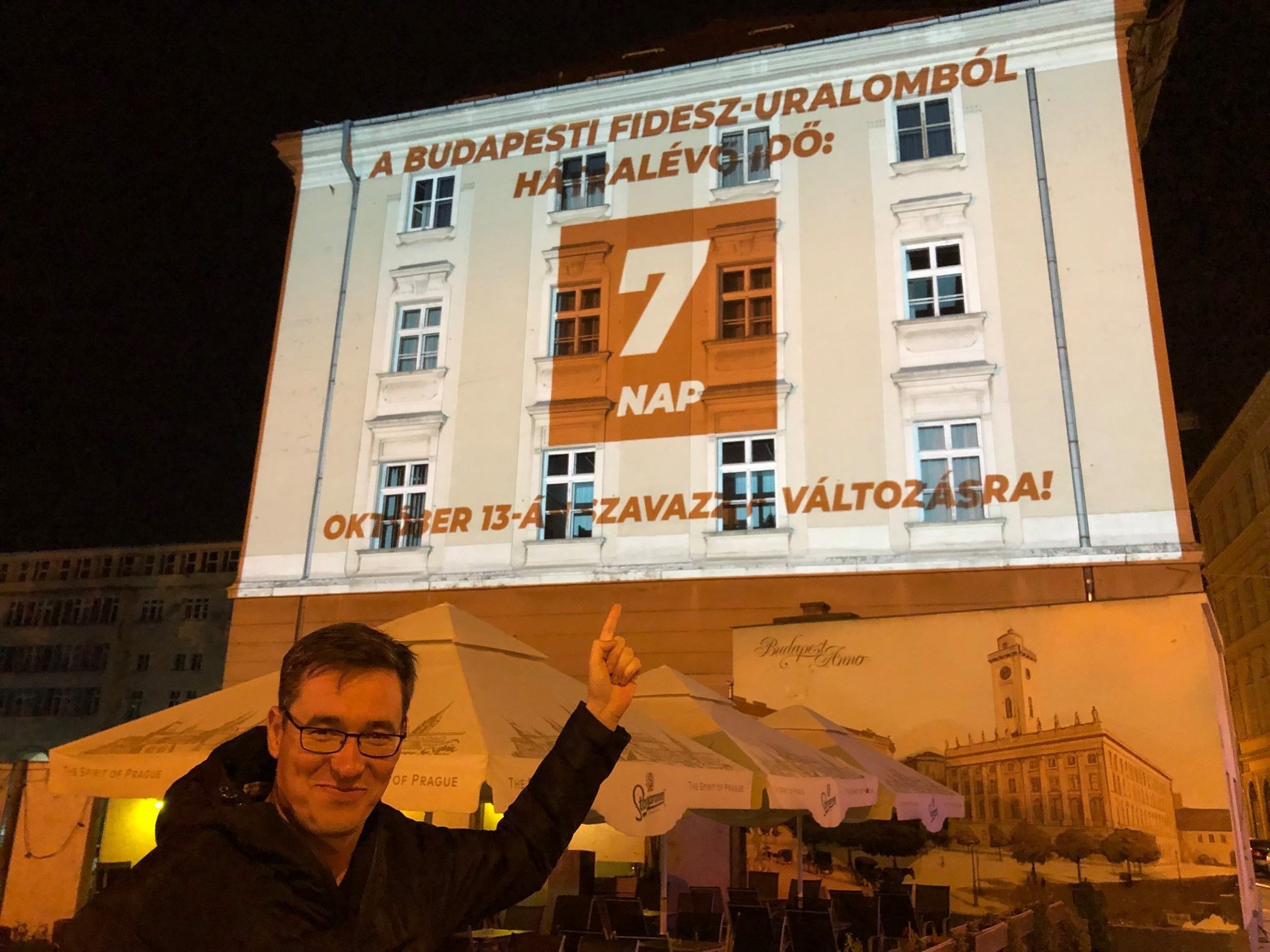 Gergely Karácsony's staff was hopeful while watching incoming election results on the evening of October 13 last year. Victory was not yet sure when the politician's phone started ringing. Karácsony was not around because he had just started walking to the bathroom, but a staffer glanced at the phone and saw Budapest mayor István Tarlós's name on the display. "Hold it in and pick this up," his colleague shouted after him.
Tarlós called to concede and to congratulate his opponent on his victory. It was already clear from incoming partial results that Karácsony was about to win, but the call was another clear sign of victory.
For Karácsony, this was an old plan coming to fruition. One of his friends recalled that roughly twenty years ago, well before Karácsony started his political career, he had said that if he entered politics, becoming mayor of Budapest would be his goal. He liked that this path was different from "cut-throat national politics." He was already considering his candidacy in 2014, but at that time he did not think a win  against Tarlós was realistic. Instead, he chose to run for mayor in the district of Zugló (14th district) where his chances were better, and where he did indeed manage to win.
After his unsuccessful candidacy for prime minister in 2018, he considered a run for a seat in the European Parliament to continue his career in Brussels, but eventually rejected the idea. Since he does not speak English, it would have been difficult for him to be successful there anyway. However, according to his acquaintances, what really held him back was that he was more interested in domestic politics and he also felt that he finally had a real chance of becoming the mayor of Budapest. When he had a deeper conversation on about it with one of his confidants around Christmas time in late 2018, he made it clear that he wanted to go in that direction. "Isn't that what we wanted all along?" -Karácsony asked during the conversation.
Although polls showed a close race even in the final days of the mayoral campaign with several pollsters suggesting Tarlós's likely victory, most of Karácsony's staff were optimistic about the election on Sunday, October 13, 2019. They felt that their campaign was more dynamic than that of Fidesz. Based on their analysis, they did not lag behind Fidesz in advertising or mobilization – perhaps they even surpassed them.
For the venue for the election party, the campaign team booked Kazimír Bistro on Kazinczy Street in downtown Budapest. The core team settled in a smaller room on the top floor of the restaurant. Through their laptops, they had direct access to the voting results of the National Election Office. These results were then copied into their own databases by their data analysts, Dániel Róna and Ádám Agócs, in order to create projections of the final result. Karácsony, who had previously worked for a long time as a political analyst, also joined them in analyzing the data.
When the first final results from some polling places began to pour in, the campaign staff became even more confident. "After maybe three polling station results came in, Gergő said 'okay, we got it'. He said that now he was going to memorize his victory speech," one of those present recalled, adding that Karácsony said this just as a joke at the time and stayed by the computers.
Not long after, however, victory became clear and the mood in the room instantly changed. Staffers hugged each other, and the restaurant became more and more crowded. There were also people showing up who were not directly involved in the campaign, but now they also wanted to bathe in the success. For example, according to a campaign staff member, there was a well-known artist whom they hadrepeatedly asked during the campaign to help them with his art. The artist declined because he did not want to risk losing government subsidy. However, on election night, he also appeared in Kazimír.
Karácsony delivered his victory speech at 400 Bar, a nearby venue where the press center was set up. Surrounded by representatives of opposition parties in front of a poster with the slogan 'Budapest for Everyone', he said thank you to the team that worked on his campaign. Several of them have been with Karácsony ever since and play a key role in the running of the city.
For example, Zoltán Gál J., who was the campaign manager in charge of communication and strategic affairs, stayed with him. Gál, who has  worked as a journalist earlier in his career, gained political experience in the 2000s and held senior positions in the governments of Péter Medgyessy and then Ferenc Gyurcsány. He joined Karácsony's team as speech writing consultant during the campaign of the 2018 parliamentary elections. Karácsony used to write his speeches himself, but then he started trying out speechwriters. One of his confidants said that Gál was the first who "wrote a speech that he (Karácsony) actually liked".
Gál is in charge of planning political strategy at city hall and continues to be part of Karácsony's inner circle. Although some welcomed him to city hall with suspicion because of his participation in the MSZP (Socialist) governments before 2010, he eventually proved them wrong. "Gál J. is extremely progressive, he is a visionary dude who sometimes has to be pulled down to earth. He really isn't an old-school Socialist," said András Szeles, who was a member of the campaign staff and then worked as civil society desk officer at thecity hall.
Samu Balogh also followed Karácsony to the city hall. He helped Karácsony as policy director and personal assistant during the campaign. Balogh, who previously worked on urban planning projects, is still only 28 years old and had no major political experience before the election. Last autumn, however, he was given one of the most important positions at the city hall: he became Gergely Karácsony's chief of staff. Chiefs of staff typically play a key role in managing the team of a particular leader, so they tend to have great power within the organization. In the current city hall, however, this is a little different.
According to sources familiar with his work, Balogh continues to be more preoccupied with urban planning issues such as bike lanes. He also occasionally appears in public to talk about these topics, but in the meantime, he has less influence over city hall operations. A source who is in regular contact with him, for example, said that "I had experienced  several times that he couldn't make a decision or take a stand," but said he needed to discuss the matter with other members of Karácsony's staff first.
Ambrus Kiss, who holds the position of Deputy Mayor for General Affairs, is a less visible but more influential player. He had not worked with Karácsony earlier, but they knew each other. After last October's election victory, he was asked to help run the city hall. "It was clear that we needed a deputy mayor who is not interested in making public appearances, but who can convey the will of the mayor during day-to-day operations," a city hall source explained the considerations behind his selection. Kiss, a political scientist, gained his experience in public service before 2010 as a close associate of Péter Kiss, one of the most influential ministers of Socialist governments. In his current position, his main task is overseeing the budget andtogether with the Chief Notary, managing the city hall's bureaucracy.
There is another man in Karácsony's inner circle whose title sounds modest, but, according to city hall sources, is the mayor's closest confidant. He is chief legal adviser Csaba Tordai, who is not even listed among the leadership on the municipality's website. In reality, however, he is one of the most influential people at the city hall.
"Csaba is the gatekeeper," a city hall source said, adding that before anything is signed by Karácsony, Tordai as "chief lawyer" checks everything legally.
According to sources familiar with the operations of the city hall, the chief adviser also plays a key role in large-scale projects such as the redevelopment of parking in the capital.
Tordai is not only one of Karácsony's closest associates, but also one of his oldest friends. Although Tordai studied law and Karácsony studied sociology at university, they were both interested in politics and both participated in a research project on the history of Roundtable Talks during the regime change. Later, during the 2002 elections, they also worked together for Medián, a polling company.
Their careers then went in different directions, but their friendship remained close. While Karácsony worked as an analyst for a long time, Tordai, described by his acquaintances as an exceptionally talented lawyer, chose a career in politics and public administration. His career took off so fast that he was not even 30 years old, when from the beginning of 2008, he already worked as Secretary of State for Legal and Administrative Affairs in the Prime Minister's Office. After the change of power in 2010, he left government and started a private law practice, and later became co-owner of the non-profit company that publishes the investigative journalism website Átlátszó.hu. (He quit the company after joining the city hall's leadership.)
Karácsony asked Tordai in early August last year to help him draft the future structure of the city hall. Tordai was tasked with drafting an organization structure that could work even  with the so-called rainbow coalition consisting of several smaller parties. Although the various opposition parties were able to cooperate in a surprisingly smooth way during the campaign, especially in its last months, it was expected that conflicts would resurface once they came to power. Tordai wanted to create a structure for this situation, whereby an issue would be effectively dealt with from the beginning through getting supporting votes at the city council all the way to implementation.
The lawyer has learned from his previous government experiences that it is not the top positions that matter, but the second and third ones, because an organization's effectiveness is defined by those positions. Therefore, he wanted to strenghten this part of the municipality. In the meantime, however, he not only worked on the structural concept of the organization, but he himself hired people for positions. "He wanted to create focal points where all implementations  depend on his people," said a city hall official who was also brought into the organization by Tordai. Thus, a structure was created at the top of  city hall in which Karácsony's friend and confidant could play a pivotal role.
II.
Dark shades of the rainbow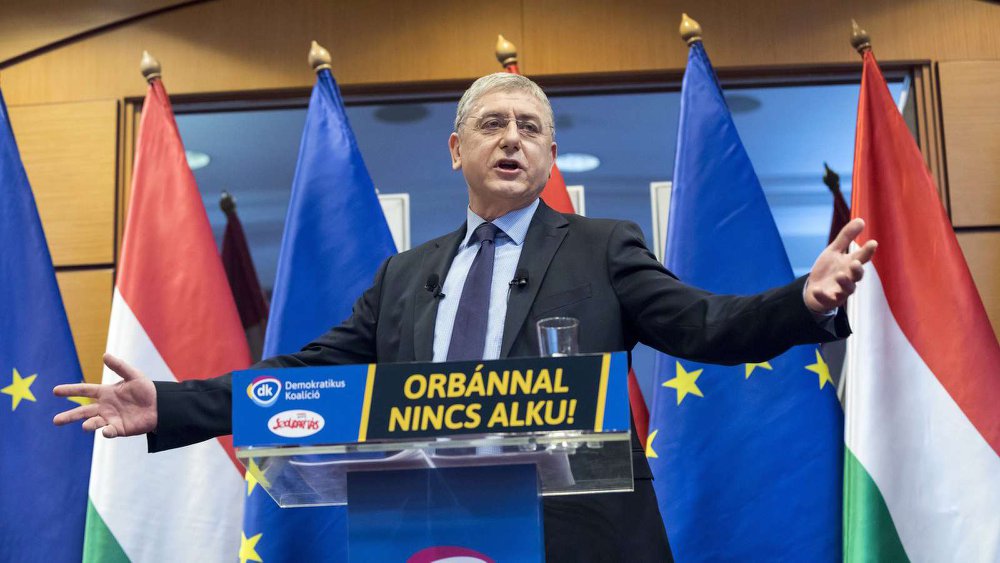 "I really hate this government, but I hate the Democratic Coalition even more."
Gergely Karácsony said this during a meeting that took place in his office at the end of February, according to a participant.
The meeting was set up to prepare the next session of the Budapest Capital Public Development Council, which functions as a forum to facilitate negotiations between the government and the Budapest municipality. At the meeting, Karácsony was accompanied by two of his staff members and the government was represented by minister heading the prime minister's office Gergely Gulyás, state secretary in charge of Budapest developments Balázs Fürjes and CEO of the Budapest Development Center Dávid Vitézy.
The atmosphere behind closed doors was friendly and informal. The issue of Budapest theaters came up, which was at that time on the agenda between the government and the municipality. While chatting about the objections coming from Democratic Coalition (DK) that were slowing the negotiations, several participants made sarcastic comments about the opposition party.
That is when Karácsony, who has a tendency to use harsh words about his political allies behind closed doors, made the critical comment about the party.
"Everyone was criticizing and joking about DK at that meeting, so it did not stand out at all when Karácsony said that he hated them more than he hates Fidesz,"
one of the participants said.
However, there were obviously more serious issues behind the jokes. Karácsony was critical about the activities of Ferenc Gyurcsány from the start of his political career, and while they have since become political allies, their relation remains cold.
Last year's campaign revealed several episodes which poisoned their relationship. Karácsony felt that DK deceived him when, in last June, the party unexpectedly announced that it would run former TV host Olga Kálmán as a candidate in the primaries for the Budapest mayor's position. Previously, DK had promised Karácsony to support his candidacy, but the party's successful campaign at the European parliamentary elections in May 2019 apparently had boosted their own ambitions.
This was difficult to swallow for Karácsony, because he was going through a rocky period politically then. Fidesz was heavily attacking him for parking scandals linked to the time when he was mayor of a Budapest district, and the opposition's primaries were also in trouble after candidate Róbert Puzsér, a controversial media figure, backed out of them. "Gergő's campaign at that time was going down, he wasn't at his best, this was a bad period," one member of his campaign team said.
In the end, Karácsony won the primaries, and his campaign likely benefited from a clear victory over DK's candidate. Ferenc Gyurcsány has since been jokingly brushing aside the Kálmán episode whenever it comes up during discussions between parties. The DK president likes to say that it "helped create a real competition, which was good for Karácsony, as he came out of the race stronger," one source attending such meetings said.
DK also believes that in fact it was Karácsony who broke his campaign promises. According to the party, in January 2019 Karácsony made several promises to DK, among others that he would stay neutral in the European Parliamentary elections in Mmay and would not support the candidates of the Hungarian Socialist Party (MSZP) and Párbeszéd (Dialogue). However, DK claims that Karácsony did not keep his promise and campaigned for certain candidates. "It was not DK who broke its promise, it was Karácsony who did not honor the agreement," one leading politician of the party said.
While the last months of the election campaign were largely peaceful, it only took a few months after the victory for an open conflict to emerge between the two sides. This was related to the issue of theaters and resulted in a saber-rattling between Gyurcsány and Karácsony at the February closed door meeting of the opposition parties.
The conflict was preceded by a government-introduced change to theater financing, which gave the government the right to appoint directors of theaters that receive state funding. This right would have remained with the Budapest municipality only if it agreed to finance the theaters on its own. It seemed that the government proposed to change the system because it did not want directors appointed under the previous Fidesz-backed mayor ousted from Budapest theaters. The government considered it a bad sign that the municipality did not prolong the mandate of one such director, Teodóra Bán at the Open Air Theater, despite the backing of the municipality's own professional committee.
Karácsony was leaning toward a compromise, but DK opposed to give up theaters to the government. The conflict escalated when DK threatened not to support the municipality's budget, but in the end a compromise solution was found that calmed the situation.
According to the compromise, the city agreed that it would finance four out of twelve Budapest theaters (Katona József, Radnóti, Örkény and Trafó), and the Open Air Theater was split to two, since the government insisted on Bán's leadership. Bán then remained director of the section located on Budapest's Margaret Island.
This chapter in the open conflict closed but did not end fully, as DK kept paying close attention to the details of Open Air Theater's division and even to which furniture Bán was moving from her old office to the new one. According to a city hall source, DK-delegated deputy mayor Erzsébet Gy. Németh was upset about "Teodóra Bán wanting to take even the white leather couch." (Another municipality source told that Bán was in the end unable to take the furniture because it was not among the items agreed during the inventory.)
Gy. Németh is a veteran politician. Between 2002 and 2010 she served as MSZP's member of parliament and has also been active in local municipal politics for years. Her political past exceeds that of Karácsony's or most of his cabinet members'. What also makes a difference between Gy. Németh and Karácsony's other deputies is that she is more strongly representing her own party's interests. This also means that she has less autonomy in discussions relating to politically sensitive topics. "She often says that she has to first check with her party chairman," one city hall source said.
DK is more disciplined compared with other opposition parties. Party chairman Ferenc Gyurcsány dictates the direction and he clearly sees municipal politics differently from Karácsony.
According to one leading party member, the problem is that Karácsony and his team "treat deputies as employees," and municipal bureaucrats are trying to make politics instead of the parties.
DK believes that this should be the other way around because the deputy mayors represent the voters of their own parties.
DK is indeed doing everything to push through its agenda in the decision-making of the municipality. This is true in particular since this February when its position in the general assembly strengthened after two MSZP mayors joined the DK faction. The party's representation grew to six, while MSZP's decreased to five people in the 33-member assembly.
Since DK's faction has become the largest within the opposition, the party clashed with its coalition partners on several occasions in the general assembly. One such episode happened at the end of August, when DK announced in a statement that it would not support the increase of funeral fees and the city hall's leadership had to withdraw the issue from next day's agenda. "Following half a year of preparations they state publicly at the very last moment that they do not support it. This is unacceptable, this does not help coalition cooperation," a city hall source angry with DK's actions said. However, a DK politician claimed that they signaled their disagreement in time, but the city hall just did not take it into consideration.
DK's opposition almost killed a city hall proposal at the last assembly at the end of September. MSZP deputy mayor Kata Tüttő's proposal concerned the municipality-owned Budapest Waterworks' cooperation with a Turkish investor in a joint sewage treatment project in a Turkish city. DK did not support the project, with one of their arguments being that a municipal company should not be involved in international projects. The general assembly session attempted twice to hold a vote but both times DK rejected the proposal. The first vote was followed by a break and then the motion passed with Fidesz votes.
However, Karácsony might take some comfort in enjoying friendlier relations with his other coalition partners.
MSZP, once a major party but now being stuck at around 4-7 percent in opinion polls, is standing by Karácsony. He was the party's prime ministerial candidate in 2018 and they supported him in the mayoral election campaign too. One of the party's most important politicians and head of its Budapest chapter Zsolt Molnár played a key role together with Karácsony in making opposition cooperation happen. In addition, Ádám Agócs, formerly working with the party and dealing with data analysis, was a senior member of Karácsony's campaign team.
MSZP-delegated deputy mayor Kata Tüttő has also been working without generating controversies. Although Tüttő received some criticism inside the opposition in the municipal election campaign due to business deals of her former partner, Hungarian billionaire Tamás Leisztinger, sources with knowledge about the city hall's operations describe her as a hard-working manager with detailed knowledge about issues in her portfolio.
Momentum also counts as Karácsony's trusted ally and the party put a lot of effort into convincing its voters to back the politician. Internal polls showed that 5-10 percent of its voters supported Fidesz-backed mayor Tarlós, 10-15 percent Puzsér, and approximately 10 percent of them would have stayed at home. According to one leading Momentum politician, their voters do not trust the "old left-wing parties" and Karácsony's image was overshadowed by his past as the MSZP's prime ministerial candidate in 2018. So the party tried to convince its voters by having its better-known politicians publicly campaigning on Karácsony's side.
However, following the election victory, the party was hesitant about participating in the governing coalition of the city hall and whether it should delegate a deputy-mayor or provide just external backing to Karácsony. The party wanted to avoid becoming a sort of junior partner that would be overshadowed by bigger and more experienced players. But 24 hours before the inaugural assembly meeting, Momentum decided that they could have a bigger influence on day-to-day operations of the municipality if they take part in its leadership. So they appointed Gábor Kerpel-Fronius as deputy-mayor, who was the party's candidate during the summer primaries.
Coalition negotiations quickly revealed Momentum's inexperience. The party received a portfolio that included smart city projects, sustainability developments and decision-making based on voter participation. At first, this seemed as a good choice for Momentum as they had campaigned with similarly progressive issues, but later it turned out that they had been given relatively unimportant areas. One source with links to the party recalled that when he heard about this portfolio, he instantly asked the party leadership: "okay, but where is the money in these?"
Momentum's portfolio is not linked to big municipal institutions or companies, and carries little influence.
"Today, we can see that we did not make the best decision," a leading party politician acknowledged.
The past year contained lessons learned also for Gábor Kerpel-Fronius, a former IT manager who is a newcomer in politics. He is sometimes being criticized by his party for not being able to display Momentum's character at the city hall due to his restrained, conflict averse style. Kerpel-Fronius is not satisfied either. According to one party member, he himself usually also notes that his "portfolio does not have the best composition."
However, Momentum hopes that they will have the opportunity to change this and redesign the portfolio. In any case, the party is not alone with its frustrations at the city hall.
III. Bracing for the storm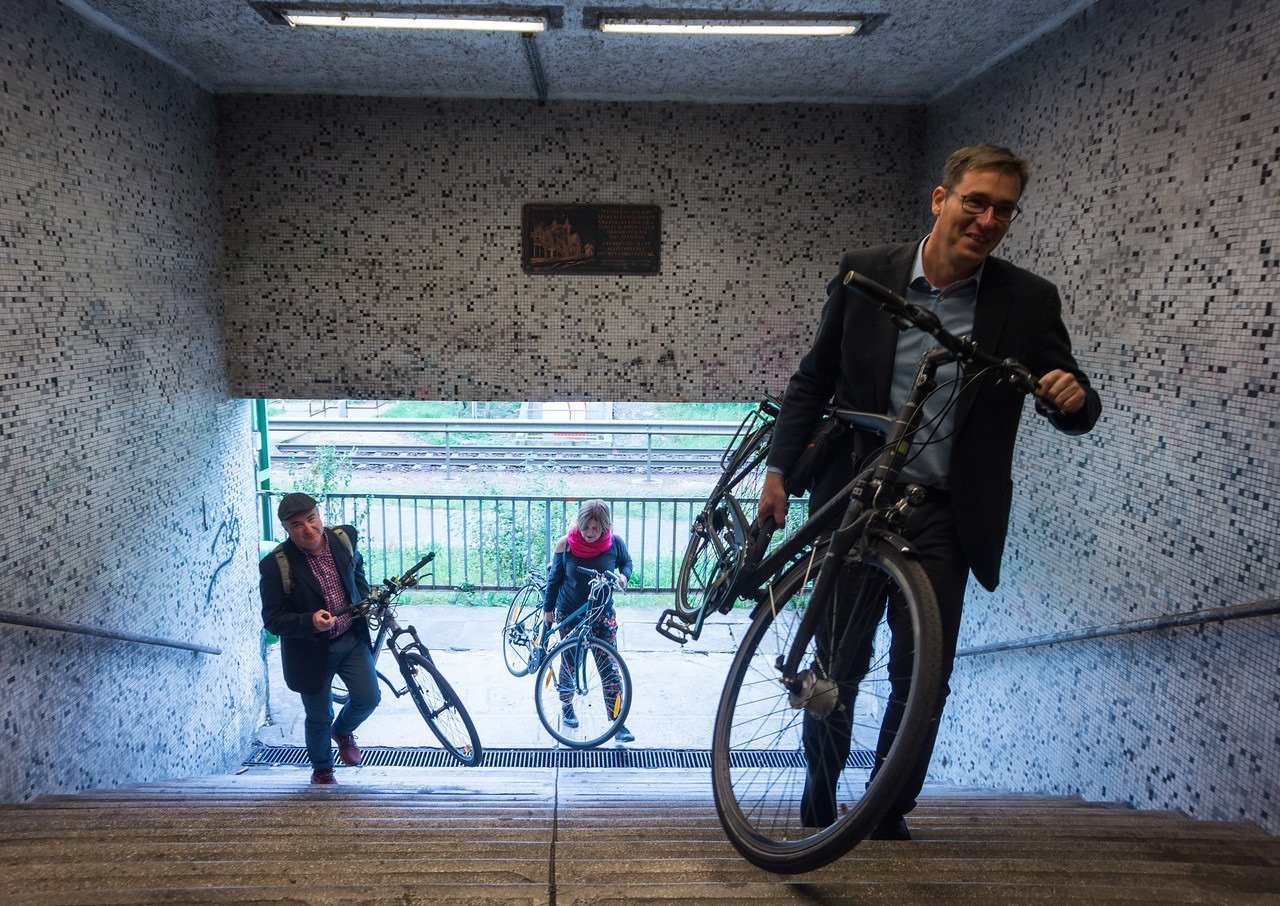 MSZP's Budapest chairman, Zsolt Molnár, was annoyed by the city hall's most striking traffic measure, and he regularly complained to Karácsony's staff about it. Over the summer, he sent text messages to one of the mayor's confidants saying that "I'm stuck here on the boulevard in a traffic jam and I haven't seen a single cyclist, let's drop this bike lane issue already". At other times, when he arrived late for city hall meetings, Molnár would tauntigly remark that he had not arrived on time because of the bike lane.
In April 2020, when the pandemic essentially stopped urban traffic, bicycle lanes marked with yellow paint appeared on Budapest's Grand Boulevard, restricting car traffic to a single lane in certain sections. These lanes remained even after the epidemic eased, which many motorists did not like.
Zsolt Molnár was not the only influential opposition politician among the critics. DK's Budapest party chairman Norbert Trippon issued a statement calling for the reconsideration of the new traffic order, while Gy. Németh repeatedly indicated at city hall that the issue was politically sensitive for her party. According to one of the mayor's staff, while designing the bike lanes, "there were internal jokes" that these lanes should be painted in a way that Gy. Németh would not see them when she would come to work. However, MSZP and DK were sincerely feeling  pressure from their own voters. A city hall politician of the Socialist party said that they received fifty complaints a day from activists and party members about the bike lanes. "There are motorists among us. There are those who are unsure whether this battle can be won. It causes a lot of tension in a lot of people, and that falls back on us," the source explained.
At the end of August, mayors of the districts affected by the new bike lanes – Krisztina Baranyi from the IX., András Pikó from the VIII., Péter Niedermüller from the VII. and Tamás Soproni from the VI. district – were invited to the city hall for consultation. "Interestingly, there was a consensus that entirely removing the bike lanes would be the worst solution , no one wanted that", mayor Pikó said about this discussion. It was the common goal to keep as much of the new lanes as possible.  In the meantime, they also knew they had to prepare for winter when car traffic would increases and cycling decrease.
In the end, they came up with a solution where two-lane car traffic was restored on József boulevard, the busiest section. At the same time, the bike lane was redirected to the parking lane and even to the sidewalk on certain sections. While several politicians in Budapest still see this as a positive step to curb car traffic in the long run, the change has been widely criticized, even by independent media and cycling organizations and advocacy groups.
However, this story was far from being the only similar example from the past year. The city's administration originally campaigned on progressive ideas and the promise of modernizing Budapest. However, eventually realized that ambitious plans were difficult to implement.
In February, the city hall introduced a team of chief advisers to the mayor who were tasked with bringing a new perspective to the operations of the capital. Most of the advisers were selected from civil society roles. The pool of advisers includes Ámon Ada, an energy specialist with international experience, Marietta Le, an expert on initiatives aimed at fixing urban problems, and Bálint Misetics, an activist of the housing rights organization called The City is for All, helping the homeless and the poor.
The idea was that these advisers would have their own organizational units, departments, and use them to implement specific projects that Karácsony promised in the campaign. This would also have required the adoption of new bylaws at city hall, which, however, has not happened to date. "There were only some modifications, but there was no large-scale official change, even as a year has slowly passed since the election," a city hall official said. According to the source, the advisers cannot really do meaningful work without new bylaws, because many of them have difficulty even hiring  people. There was even an official who worked alongside them but eventually became fed up with inactivity and quit.
Things did not go according to Karácsony's plans at one of the most important companies of the capital, the Centre for Budapest Transport (BKK), which is responsible for traffic management and development in Budapest.
Karácsony originally wanted the company to be led by Dávid Vitézy, a renowned public transportation specialist who has multiple ties to the government. In the days following the election victory, the two met in person. Karácsony wanted to inquire whether Vitézy, who had previously run the company, would be interested in becoming the new CEO. The rumor that Vitézy could head the BKK spread at the city hall and was received enthusiastically by people close to the Momentum party. However, in the end, Vitézy said no. According to a source familiar with his decision, it was largely due to the fact that he believed that the parties – especially the DK – wanted to exert too much influence over the company.
In the end, he was not entirely wrong. The Mayor's office, as it was originally planned, advertised the the position, for which several internal people from BKK applied. Ivett Varga, BKK's former director of strategy and innovation, emerged as the winner of the competition. According to a source closely following the selection process, Varga's application was outstanding. However, her chances were hurt by the fact that BKK Chairman of the Board Tibor Draskovics – who was delegated by the DK and previously had held senior positions in Ferenc Gyurcsány's government – wanted to see another candidate in the position of CEO.
There were previous press reports about and several high-ranking city hall and BKK sources corroborated it to Direkt36, but Draskovics has now denied this at our request. However, he did not want to specify which candidate he supported. He admitted that he talked to Karácsony's staff about choosing the new BKK leader, but, according to him, these conversations were only about what type of leader would be best suitable.
Ivett Varga, who was appointed as CEO on February 1, did not hold the position for long, as Karácsony soon had to dismiss her. According to the official statement, Varga had to go because of problematic traffic measures taken during the pandemic. However, according to leaked information, the alleged harassment case against an employee with close ties to her also played a role. However, accorindg to a source familiar with BKK's affairs, Varga's departure also meant that Draskovics' Influence over the company strenghtened.
The BKK story also shed light on one of the weak spots of city hall. The supervision of the company belongs to deputy mayor Dávid Dorosz from the Dialogue party.,He started his work related to BKK with a controversial step. He indicated that he would like to have an office in the company's headquarters on Rumbach Sebestyén Street. However, this was not welcome by BKK's management because they thought it would have excessively interfered with the company's operations. In the end Dorosz did not get an office at BKK, but preventing it required Karácsony's intervention. The mayor wrote a letter to each of his deputies asking them to exercise their powers in accordance with the law. According to a BKK and a city hall source, this letter was clearly directed at Dorosz.
Later, when internal conflicts at BKK escalated, Dorosz was conspicuously absent from the company.
"We haven't even heard of Dorosz," a BKK source said, adding that "it was also a topic in informal conversations within the company that although on paper Dorosz is the boss at BKK,  it is actually not him who manages it".
In the end, Karácsony and his staff had to be directly involved in the events that ended with the dismissal of Ivett Varga.
These issues with Dorosz are delicate for the mayor because Dorosz is a fellow Dialogue party member and an old ally of his. Dorosz, who was once a member of LMP (Politics Can Be Different) and later switched to the Dialogue party with Karácsony. He was also one of the 2019 campaign managers, although his work ethic had already shocked several staff members. One of them recalled, for example, that at a campaign staff meeting, Dorosz was more preoccupied with the cover of his own upcoming book than with what was going on in the discussion.
According to sources who are in contact with Dorosz, it is typical of him that to be more interested in public appearances than in digging into work issues. "He likes to take photos of himself. Even at a work meeting, he started posing and telling others not to pay attention to him, just go on with the meeting. Then he told the photographer to continue shooting," a source said. "He is the type of person who comes in for a meeting and occupies himself with his mobile phone all the way through, and sometimes yelps 'uh, that's good'," a city hall official said about Dorosz'a leadership style. "What he does well, however, is that he is surrounded by very good staffers, for example, they write him quite tolerable speeches, and he also has good posts on Facebook, his communication is well managed," the source added.
His attitude resulted in Dorosz losing influence at  city hall. While previously, for example, projects like the renovation of the Chain Bridge belonged to him, more recently it has been transferred to MSZP deputy mayor Kata Tüttő. There were already overlaps between their duties, by now Tüttő has clearly become the more influential player. "Those who are good managers, attract more issues and power. A large organization is like a glacier, it moves under its own inertia, and grinds down everything that can't move with it. In this way, leaders are made during operation," one of Karácsony's close colleagues said about the shifting powers between Dorosz and Tüttő.
In a written reply to Direkt36's questions, Dorosz did not dispute the factuality of any of the allegations. He said it was up to the voters to judge the work done during the campaign, and he said last year's election results were"a clear answer". He did not directly respond to the question as to why he wanted an office at the BKK headquarters for himself, nor did he express his opinion on Karácsony's letter. When asked why issues and authorities had been diverted from him, he replied that the renovation of the Chain Bridge had been transferred to Tüttő due to the change in the size of the project. He also said that he could always be happy to "work together as a team" to make Budapest more livable.
However, it was not only Dorosz whose performance was seen as problematic. During confidential off the record conversations, opposition politicians all emphasized how difficult it is to fill positions with competent and knowledgeable people after having been in opposition for a long period. "If rookie politicians are taking control after nine years (in opposition), it's natural to have growing pains. Before, these politicians had only made plans about their next performance in ATV's Straight Talk talk show. Now, they have to run an institution, which is a big leap," one of Karácsony's confidants said. According to the source, opposition-led municipalities are now live testing which politicians would be suitable for government work.
Other opposition politicians say that they have been lucky with the current situation, because at least they can now learn at the municipal level, and if a change of government is to take place, they will be better prepared to take control of the whole country. As one of them put it, "this is just a little sandbox now, but that's going to be a brutal sandstorm".
IV. Hungarian Jihad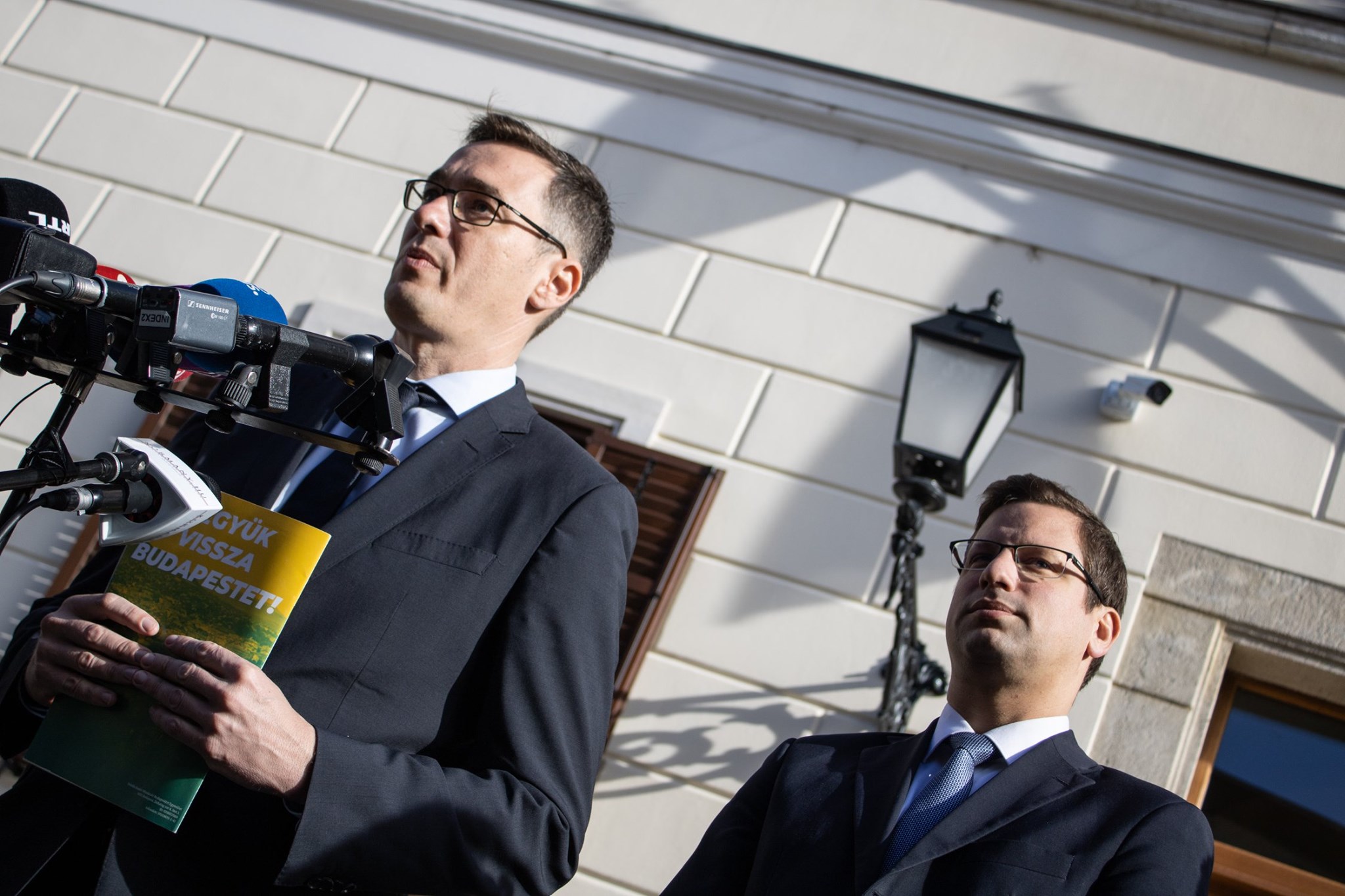 When Gergely Karácsony spoke to Antal Rogán earlier this year, the senior Fidesz politician repeated to him a message that had long been circulated in government circles. According to a source close to the mayor, Karácsony was often approached by Fidesz politicians during his time as mayor of Zugló, saying that if he broke away from left-wing parties, attacks against him would stop. This was not much of a political reality for Karácsony, as he became mayor there as a candidate supported by all the left-wing parties.
He won the post of mayor in a similar way, yet Rogán handed him the familiar message. Karácsony has long known the Fidesz politician since they both attended Széchenyi College as university students and, according to a fellow student, they were not friends, "but they were no enemies either."
They had at least one conversation this year as well, which Karácsony later relayed to one of his subordinates that "Tóni also said that I should break away from them,"
referring to Rogán by his nickname. (We also asked Rogán about this conversation, but he did not respond to our request.)
Karácsony is now one of the best-known left-wing politicians, so he is even less likely to step away from the parties that support him. Perhaps this is also the reason why the messages have become more aggressive recently. At least in an early summer interview, Karácsony said that when he sent a message to Viktor Orbán that he did not want to run Budapest in a war climate, the response was that "that prime minister decided that they are waging a jihad". According to a City Hall source, Antal Rogán was one of the sources through whom Karácsony received this message.
Yet after a municipal election last October, the relationship between the new leadership of the capital and the government was surprisingly peaceful initially. Orbán promised that the government would abide by all the agreements concerning Budapest, and he also invited Karácsony to the government meeting where the developments in Budapest were discussed.
There has been co-operation at lower, professional levels ever since, what a government source likened to a reverse water polo match. While water polo players often brutally fight each other underwater, invisibly to spectators, it is at this level that the government and the Budapest can work well together. Cooperation in tourism and certain legal issues (such as the regulation of Airbnb) is smooth. Consultations at the Budapest-government cooperation forum, the Budapest Public Development Council are friendly and productive. According to a City Hall source, it also shows how calm these meetings tend to be that one of the government delegates once fell asleep during a gathering.
At the higher political level, however, the relationship has become very tense. One of the conflicts revolves around whether the government is trying to punish Budapest. The government claim that they leave enough money to operate at the capital, but City Hall says the government is giving misleading figures and its new taxes are putting the city, which has already suffered severe economic damage as a result of the epidemic, at further risk.
A similar debate is taking place around the planned renovation of one of the Chain Bridge, one of the city's most iconic sites. The government says the investment has not started due to the inaction of Budapest. However, according to City Hall, the reason for the delay was that they want to make sure that the project is well-prepared and free of corruption. They also say that the government had not provided enough money for the project.
The other, more spectacular part of the conflict takes place on a personal level. Fidesz politicians and pro-government newspapers are constantly accusing Karácsony of being unfit for the office. Viktor Orbán himself joined in, making demeaning comments about the mayor. For example, in a May interview, he called Karácsony a theoretical man who can't assemble any furniture and arrives late for a pig slaughter. According to a government source, people in Fidesz circles took note of this because they did not understand why Orbán was raising Karácsony to his own level with such direct personal criticism.
"But I don't see into Orbán's head, maybe the goal was to designate his own rival," the source said.
The government's goal with the attacks is to lay the groundwork for the next parliamentary elections. "Fidesz is not interested in the 2024 mayoral election at all, but looks at everything through 2022," said a government source who said the prevailing view within the party was that the next parliamentary election could be won with rural votes, so they don't need Budapest. And the criticism of Karácsony "unfitness" and criticisms of the Chain Bridge project, according to the source, serve the purpose of allowing Fidesz to say, "if they don't know how to run Budapest then how could they run the country?"
The reason behind the persistent campaign against the Karácsony is that Fidesz is almost certain that he will be the opposition's candidate for prime minister in 2022. "He is the most popular opposition politician, according to surveys. As the parliamentary election approaches, the pressure from the leftwing intellectual circles and from abroad will increase," said a senior government official who thinks that Karácsony will not be able to say no to that pressure.
Meanwhile, Karácsony claims in his official statements and in private conversations that he does not want to be a prime ministerial candidate. "Don't be stupid," he replied to an opposition politicians's question, for example, when he asked Karácsony a month ago if he would be a candidate. Karácsony also told an old friend a few months ago that he would not run for the nomination. "He talked about how destructive character assassinations are," the friend recalled.
Despite Karácsony's official and private statements, some in the opposition expect him to run for the nomination. "There seems to be an expectation that few people can meet besides him," said a senior City Hall source, who added that it would be hard for Karácsony to avoid the candidacy because of this.
"He has to think about this these months. There are at least as many arguments against it as there are for it," said an opposition mayor of a Budapest district. According to the mayor, one of the counter-arguments is that a second failure after his 2018 defeat could be too destructive for Karácsony's career. According to the source, a lot depends on whether 2022 can be won, and since he now thinks it "seems to be yes," that could be be in favor of deciding to run. According to a source from the party Momentum, the final push for Karácsony may be that he doesn't want the DK to give the prime ministerial candidate.
According to sources close to Karácsony, he will seriously consider the matter and make his decision with an eye on his long-term interests. According to a source who has known the politician for a long time, Karácsony is the only one in the opposition besides Gyurcsány who can think several steps ahead. "There are several politicians who can give a speech, but there are few who know what will come of it," the source said, saying that Karácsony's own career is proof of that.
Karácsony was among the first ones who pushed to opposition parties to choose their candidates through open primary elections. According to sources close to him, he realized that that this may not only be suitable for bringing the opposition together, but he can also personally benefit from it. Being a popular politician without a strong party organization behind him, he knew he had a good chance of winning in an open competition. The primary elections are likely to be used in the selection of the prime ministerial candidate as well for the 2022 parliamentary race. As a source close to him put it, Karácsony would be "hard to beat in such a race."