Authors: Blanka Zöldi, András Szabó (Direkt36), Saška Cvetkovska (IRL, North Macedonia), Anuška Delić (Oštro, Slovenia)
"Soros organizations are trying to dismantle NATO," a website named Ripost wrote last December, based on the analysis of a pro-government Hungarian think tank. One month prior, another Ripost article quoted Hungarian PM Viktor Orbán, who claimed that Georg Soros' dream is to flood Europe with millions of immigrants.
In Hungary, officials of the governing Fidesz party make similar statements almost every day, but these articles did not appear in the Hungarian pro-government tabloid, Ripost, but in publications with the same name in Slovenia and North Macedonia. These media outlets do not only share their name and content but are also connected by one of their founders.
He is Peter Schatz, a Hungarian entrepreneur, one of the key players in the foreign expansion of Hungary's pro-government media. However, Schatz's media investments in the Balkans have attracted the attention of local authorities.
In North Macedonia, the Financial Police Office, a body within the Ministry of Finance, investigated wires totaling over 3 million euros, which were transferred between Slovenian and North-Macedonian companies of Schatz. A joint investigation of Hungarian Direkt36, IRL Investigative Reporting Lab Macedonia and Slovenian Ostro revealed details about the case.
According to a document summarising the financial police's findings, transactions were problematic for two reasons. First, the transactions were based on "suspicious invoices," which do not represent real activities on the market. Authorities also suspect that the transferred money comes from "suspicious origin" and was used for media financing in North Macedonia.
This "leads to the existence of elements of the criminal act of money laundering," the Financial Police concluded. According to the law in North Macedonia, investigations into money laundering can be launched in cases when large amounts of money is being transferred for unclear reasons, even if there is no indication that the origin of the funds is criminal.
The Financial Police Office is a body within the Ministry of Finance of North Macedonia. It was created in 2003 to investigate financial crimes, corruption and money laundering. The authority launched its investigation into Hungarian-financed media after Nikola Gruevski, Hungarian PM Viktor Orbán's longtime ally lost power.
North Macedonia's Prosecutor's Office was informed about the findings of the financial police investigation in August 2019, but the office has not yet opened an investigation, according to the financial police. Prosecutors confirmed they were aware of the case but declined to comment further. Neither the Hungarian police, nor Péter Schatz reacted to our questions, while the Metropolitan Chief Prosecution Office in Hungary said that it had not been aware of the case.
Friends in the Balkans
Outlets that uncritically convey Viktor Orbán's messages, supported by advertising purchases by the state, have long dominated Hungary's media environment. Years of small steps toward building a centralized propaganda machine culminated in the creation of the Central European Press and Media Foundation in 2018, which now controls over 100 pro-government media outlets, according to a report by a group of press freedom organizations.
Meanwhile, pro-Orbán media tycoons were looking beyond their own borders into the former Yugoslavia and the wider Balkan region.
In the spring of 2017, people close to the Hungarian government, including Schatz, purchased and established newspapers, websites, and television stations in those countries where Orbán's allies were in difficult situations: in North Macedonia and Slovenia.
North Macedonia had been led by Nikola Gruevski for a decade. In 2015, it was revealed that thousands of telephone conversations had been illegally intercepted under Gruevski's government. Gruevski was accused of corruption on several charges. However, he could keep counting on Obán's support, who has long shared his anti-immigrant sentiment and policies.
The Hungarian media investors arrived in North Macedonia at a desperate time for Gruevski and his party, VMRO — as well as VMRO-friendly media outlets. Anti-corruption protests had recently swept the country, while government-backed advertising dried up after Gruevski stepped down as prime minister in 2016.
In Slovenia, it is the Slovenian Democratic Party (SDS) led by Janez Janša, which shares similar conservative, anti-immigration views with the Hungarian leader. Janša served as Slovenia's prime minister between 2012 and 2013, and since then he has remained on the political stage as the leader of the biggest opposition party. In preparation for the parliamentary elections in 2018, Orban personally supported Janša's campaign. "I can be your lucky talisman", Orbán said at an SDS congress in 2017.
Viktor Orbán's goal is to make Hungary an important player in the Balkans, and the government is "trying to gain influence and make friends" in the region, a source familiar with the government's strategy told Direkt36. Orbán is not only rhetorically committed to supporting his allies in the region, but also offers them significant political help through the media investments of Hungarian businessmen close to the government. Media purchases are favorable options because they are not subject to party funding rules, the source added.
Hungarian businessman Péter Schatz has been playing an important role in the Balkan expansion of Hungary's pro-government media. In the 1990s, Schatz used to be the commercial director of Hungary's popular Danubius Radio, then – after a few detours – he worked for the country's public television between 2006 and 2012. In 2015, he became the co-owner of Ripost, a pro-government tabloid launched at that time.
Schatz started to invest in the Balkan region in March 2017. In Slovenia, he became the business partner of Árpád Habony, advisor of Orbán, as they both acquired stakes in a company that runs Nova24 TV. Schatz also founded Ripost založništvo (later renamed R-POST-R), a company that became the majority owner of SDS's own publishing company Nova obzorja which publishes the right-wing mainstay weekly newspaper Demokracija, as well as a newer tabloid paper.
At the time of his Slovenian purchases, Schatz also established Target Media Group, a consulting firm in Skopje, and acquired a stake in a company that operated the pro-Gruevski Alfa TV. In mid-2017, he launched his Macedonian news site, Ripostmk.com.
Olive oil and crystal-encrusted mugs
The media outlets in the Balkans are not only connected by Schatz, but also a high value contract advertising contract.
The two-page document is short on detail, but broadly outlines how R-POST-R was to pay Target Media 2.94 million euros for advertising and other services over 21 months. Schatz's signature appears twice at the bottom of the July 2017 contract: as a representative of both the "service provider" and the "service recipient." According to North Macedonian financial police, Schatz's Slovenian company transferred a total of 2.85 million euros, nearly the contracted amount, to Target Media between August 2017 and February 2019.
Slovenian company documents also show that the Ljubljana-based R-POST-R spent a significant proportion of its income on its contract with Target Media. According to the contract, in 2018, Schatz's Slovenian company was to transfer 1.7 million euros, or 40 percent of its yearly income, to his Macedonian company.
However, a North Macedonian financial police report summarising the agency's findings describes Schatz's transactions as having been based on "suspicious invoices" that represent advertisements for products that "do not exist on the [North Macedonian] market."
This statement refers to the advertisements of two Hungarian companies, BonyArt and Olivery Kft, Arafat Muaremi, the director of the Finance Ministry's financial police said in an interview. Earlier, Hungarian weekly Magyar Narancs reported about the existence of these ads.
Though Olivery is a Hungarian firm, the only product it currently sells is cold-pressed olive oil from "family-owned olive orchards on the islands off the coast of Dalmatia, Croatia."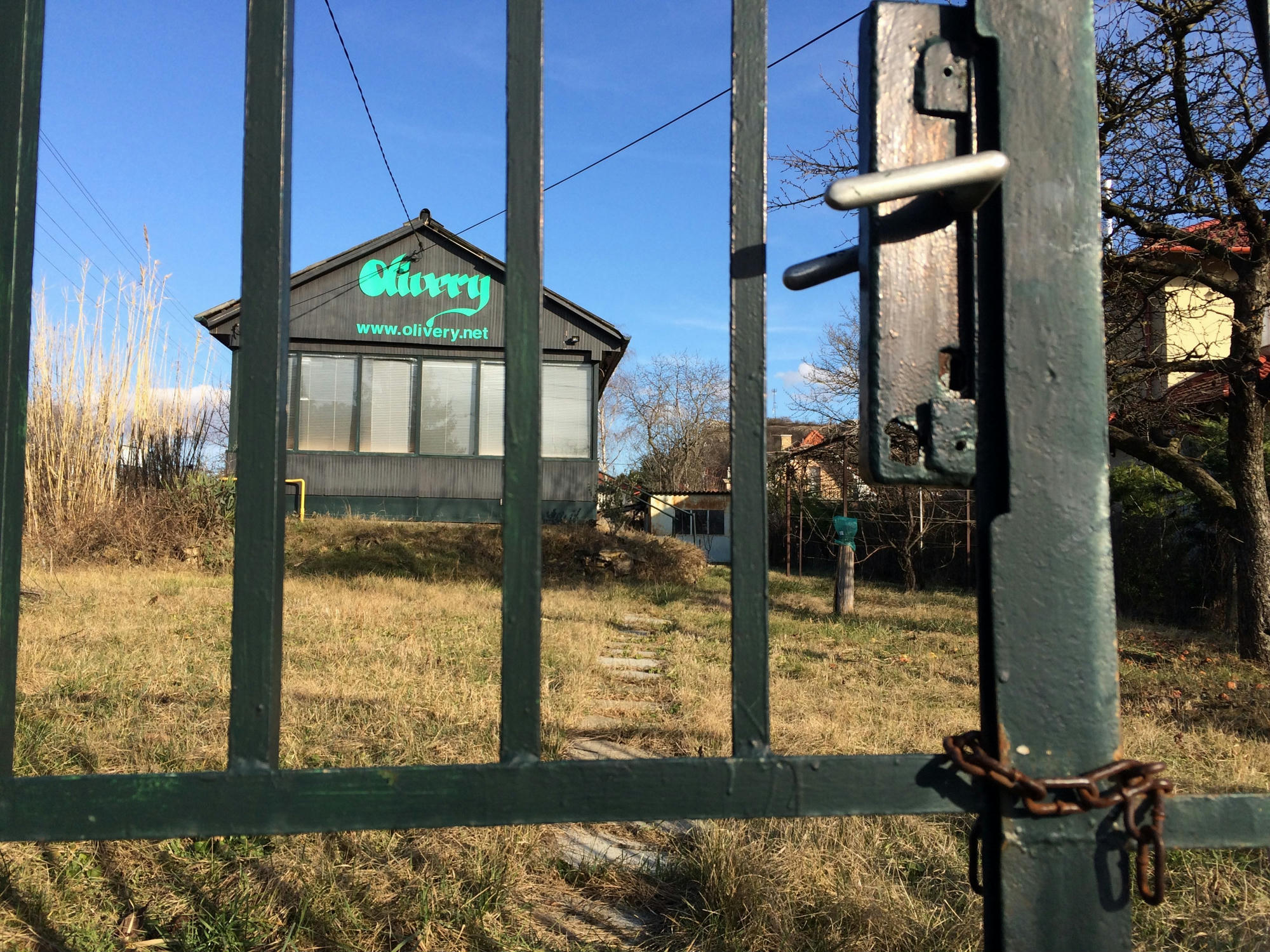 The firm currently has no official employees and in 2018, the most recent year for which data is available, its turnover was 2.4 million forints, or about 7,400 euros, according to the Hungarian business registry. When reached by phone, Olivery's owner said he was "too busy" to talk to journalists and did not want to discuss the details of his advertising in the Macedonian media.
The other company that advertised in Schatz's outlets, BonyART Design, has been designing and producing "unique decorative products" since 2011, according to its website. The company's online store currently offers keychains, bottles, and fridge magnets emblazoned with the names of European cities or slogans like "Thinking of You." Its most unusual wares are a series of mugs encrusted with Swarovski crystals.
"Why not?" asked the company's owner, Miklós Bonyár, when reporters asked why he was advertising his products in North Macedonia. He said he had not been aware of the financial police investigation and had not been contacted by authorities but insisted that his trinkets were genuinely being offered for sale.
He claimed his company also advertises in Slovenia, Croatia, Serbia, the United Kingdom, and the United Arab Emirates, and that there's a "nice demand" for his products. BonyART's turnover has grown in recent years, with income reaching more than 200 million forints (630,000 euros) in 2018. Its profit that year, however, was just 2.1 million forints (around 6,700 euros).
Bonyár said that he knows Schatz, adding he has maintained "a friendly relationship with him for over 20 years." He declined to disclose the details of their agreement regarding advertising in North Macedonia.
Money from "suspicious origin"
The financial police also suspect that the transferred money comes from "suspicious origin," and that it originated in Hungary before passing through Slovenia.
Necenzurirano.si, a Slovenian news site, recently reported that R-POST-R received at least 4 million euros from several companies tied to the Hungarian government since August 2018, including Ripost Hungary, and that the cash was later disbursed to media in Slovenia and North Macedonia. The outlet, however, did not publish any documents supporting this claim.
Hungarian company documents from 2018 show that R-POST-R was a supplier for Hungarian Ripost, which was to pay more than one hundred million forints (348,000 euros) for the Slovenian company for unspecified services.
In spite of the Hungarian media push and suspicious transactions, Orbán's allies in the region did not have striking success in recent years.
In North Macedonia, Gruevski could only avoid prison by escaping to Hungary at the end of 2018, where he was granted asylum. As Gruevski's main political opponent, Zoran Zaev came to power, the new leadership started to look into several problematic cases connected to the previous government – that is when the financial police started to investigate the Hungarian-owned media in the country.
In Slovenia, although Janša's SDS won the most votes at the 2018 parliamentary election, it was unable to form a government and SDS remained in opposition. In 2018, a parliamentary inquiry into allegedly unlawful funding of the SDS from abroad was already opened, and recently Slovenia's National Bureau of Investigation (NPU) also launched an investigation into the money inflow to pro-SDS media.
North Macedonia prepares for new elections in April, while in Slovenia – since the resignation of the country's PM in February – Janša has been trying to form a new governing coalition.
For Hungarian company data, we used the services of Opten.
In collaboration with