On the first Tuesday of November, in the late morning hours, we turned into the parking lot next to the dolomite mine in a village called Gánt, one-hour drive away from Budapest.
At the reception, we asked if we could talk to the owner of the mining company. Just over a minute passed when the door next to us opened: Győző Orbán Senior, the father of Prime Minister Viktor Orbán stepped out, wearing a black sweater, a surgical mask over his face and glasses on his forehead.
In the past three years, we have been investigating the hidden involvement of his companies in major infrastructure projects financed by the state. We went to Gánt in order to ask Győző Orbán in person about these projects – after our previous emails and phone calls all remained unanswered in recent years.
Viktor Orbán had previously asked his father not to participate in public projects. We have revealed, however, that the spectacular rise of Dolomit Kft. (producing a profit of 3-5 million euros annually) is partly due to the fact that the company supplies building materials for public constructions. https://www.direkt36.hu/en/category/az-orban-csalad-uzletei/
As part of our investigation, we have launched a FOIA lawsuit and received nearly hundred thousand pages of project documents. These have already proved that the company of Orbán's father delivered crushed stone for the construction of the M4 motorway. 
After reviewing all the documents, we also discovered that Dolomit Kft. supplied building materials for further state projects: the company delivered concrete elements for the construction of the M3 highway and crushed stone for the railway renovation between Budapest and Székesfehérvár.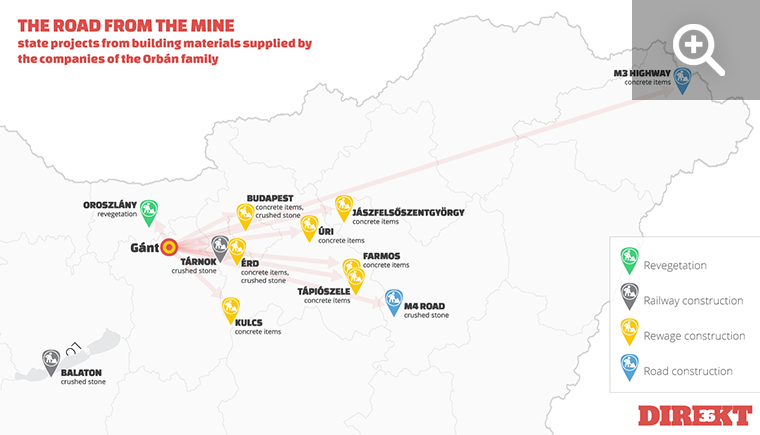 We can talk about the nice weather, but not public money
Before the publication of our articles, we always send questions to Dolomit Kft., majority owned by Győző Orbán. In the past years, we called the company several times and have sent a total of ten e-mails, but they have all remained unanswered. We would like to know the followings:
For which public projects did Dolomit Kft. supply building materials and how much public money did it receive?
What Viktor Orbán's position on this topic, who had previously opposed the participation of his father's company in public projects (in 2017, Orbán told Direkt36 that his opinion had not changed on the matter)?
These were questions that we wanted to ask in Gánt as well. Győző Orbán, however, wanted to wrap up the conversation quickly as he stepped in front of us: "Honey, all I want to say is: there is a coronavirus pandemic, we are not accepting any visitors. Thank you for coming, goodbye," he said. Although we were all wearing protective masks and even suggested that we could also talk over the phone, Orbán replied "absolutely no way" and then closed the door behind him.
On our way out, we hung around in front of the building for a few more minutes. Then Orbán showed up again – to chase us away. This was the time when we had a chance to ask him more questions, but Orbán stated that he did not give his consent to record him on camera. (Taking into account the relevant Hungarian laws, we respect his decision and only provide below the transcript of some parts of our conversation.)
– Győző Orbán (GYO) I have been polite up until now. Listen, I'm famous for being rude and I don't want to be rude, especially not with a lady.
– Blanka Zöldi (BZ): We would like to ask about public affairs, about …
– GYO: I don't care.
– BZ: Viktor Orbán said earlier that he did not consider it good if your company is involved in state projects.
– GYO: Sweetie… There's a good weather, a beautiful weather, we can talk about that. In a mine, unfortunately, if it rains, it counts as a bad weather. When the sun shines, we have a good weather, too. Goodbye.
– BZ: Maybe we could look around in the mine in such a good weather?
– GYO: Sweetie, don't even try, because I'm running out of patience and I'll be rude. (…) The other thing is: don't harass an eighty-year-old man. Goodbye.
– BZ: I do not want to harass you, I want to ask about public affairs.
– OGY: It is harassment, harassment, literally harassment. Please leave.
Meanwhile, an employee of the mining company started recording us on video, then Orbán also took out his phone: "If you will allow me, I'll just take a photo to remember this," he said while we kept asking him:
– BZ: When will you answer these questions?
– GYO: When the epidemic is over.
– BZ: So, is this a promise for an interview when the epidemic is over?
– GYO: I don't give any interviews. All the information you need is available at the business registry. That's it.
Then Győző Orbán got into his car. "I hope I won't have to report you for trespassing," he said through the open car window as he was pulling out from the parking lot.
Győző Orbán had already made it clear that he does not appreciate the attention of journalists. In 2002, Tamás Dezső, a photographer of a print daily tried to take photos of the mine in Gánt. Orbán's father, however, smashed his camera on the ground. The photographer reported Orbán's father to the police, which launched an investigation against him but the case was dropped in the end.
Hidden public works
Győző Orbán is right about the fact that certain information about his company can be found in the business registry. For example, it is clear that Dolomit Kft. has become one of the best performing companies on the market in recent years in terms of profitability.
Most recently, in 2019, the mining company of Orbán's father closed the year with a profit of 1.8 billion forints (5 million euros), which the owners all took out of the company as dividend payments.
However, no public data is available on how much of the company's revenue came from publicly funded projects. The reason for this is that the companies of the Orbán family do not participate in state constructions as main contractors, but at the lower level of the supply chain, which allows that the details of the companies' involvement remain hidden.
Therefore, Direkt36 launched a public information lawsuit in 2017, in order to get detailed information about 6 large infrastructure projects. The Hungarian Civil Liberties Union (HCLU) and Dr. Zsolt Szegedi provided legal help. As a result of a three-year lawsuit, we received 28 cardboard boxes with almost hundred thousand pages of documents.
Among them, several documents (such as delivery notes and certificates for building) prove that Dolomit Kft. participated in the construction of the M3 motorway and the renovation of the railway line between Budapest-Kelenföld and Székesfehérvár.
The railway line between Budapest and Székesfehérvár was renovated from 86.8 billion forints (240 million euros) between 2009 and 2014. Győző Orbán's company delivered crushed stone for the project.
The 11.9-kilometer section of the M3 motorway between Őr and Vásárosnamény was built from 15.5 billion forints (43 million euros) between 2013 and 2014. According to the documents, concrete elements from Dolomit Kft. were used on this section, for example for the construction of drainage ditches.
We asked the main contractors of the project about how much money was paid for the building materials of Dolomit Kft., but we did not receive any response. Viktor Orbán's press officer, Bertalan Havasi, responded to our questions with a familiar comment: "The prime minister does not deal with business matters."
András Pethő contributed to this article.
For Hungarian company data, we used the services of Opten.
In collaboration with