Here everybody "can live while recreating," boasts the advertisement of Roman Wellness Home, a gated community in the north of Budapest, far away from the noise of the city, overlooking the Danube River. The tenants of the "full-comfort holiday apartments" can enjoy the community's outdoor swimming pool, garden grill, playground and fitness centre.
Erik Bánki, a senior member of Hungary's governing Fidesz party had owned for years a 133-square-meters apartment here. The flat never appeared in Bánki's asset declarations, although he told Direkt36 that he currently "halfway" lives in the Roman Wellness Home. Neither did he list in his asset declarations over 100 hectares of land in Romania owned through his companies, nor €2.3 million of debt accumulated by his businesses.
Bánki told Direkt36 that he did not list the real estate in his asset declarations because they were owned by his companies, not by him personally. "The assets of a company and private ownership are different things," he said. "If the real estate is owned by a company, it is not owned by a private person."
Hungarian law requires parliamentarians to file annual asset statements to give a full picture of their financial situation. The Hungarian law, however, does not clearly spell out whether parliamentarians must declare only directly owned assets, or also assets owned through companies. Many parliamentarians – although not all of them, as our earlier examples showed  – use this loophole. This way, they do not violate the law, but they contribute to turning the asset declaration system meaningless.
Real estate behind companies
In 2015, Átlátszó reported that one of Bánki's advertisement companies was registered in a "luxurious gated community", in a flat that was owned by a company of Bánki's wife.  However, Bánki had already appeared in the gated community in 2009.
According to his asset declaration filed in 2008, Bánki at the time only co-owned to houses in a village called Üröm: he had 50% of a 95-square-meter, and 20% of a 47-square-meter house. The bigger house disappeared from Bánki's declaration by 2009.
However, in the summer of the same year, Bánki and his wife became the owners of B6-Home Kft. through a big capital raise. They paid a total of 96,08 million forints (352,8 thousand euros) into the company that had a capital of 3 million forints (11 thousand euros) and listed among its assets the 133-square-meter flat in Roman Wellness Home. After the capital raise, they also bought the shares of the previous owner, so Bánki and his wife became the sole owners of the company, and also the company's flat.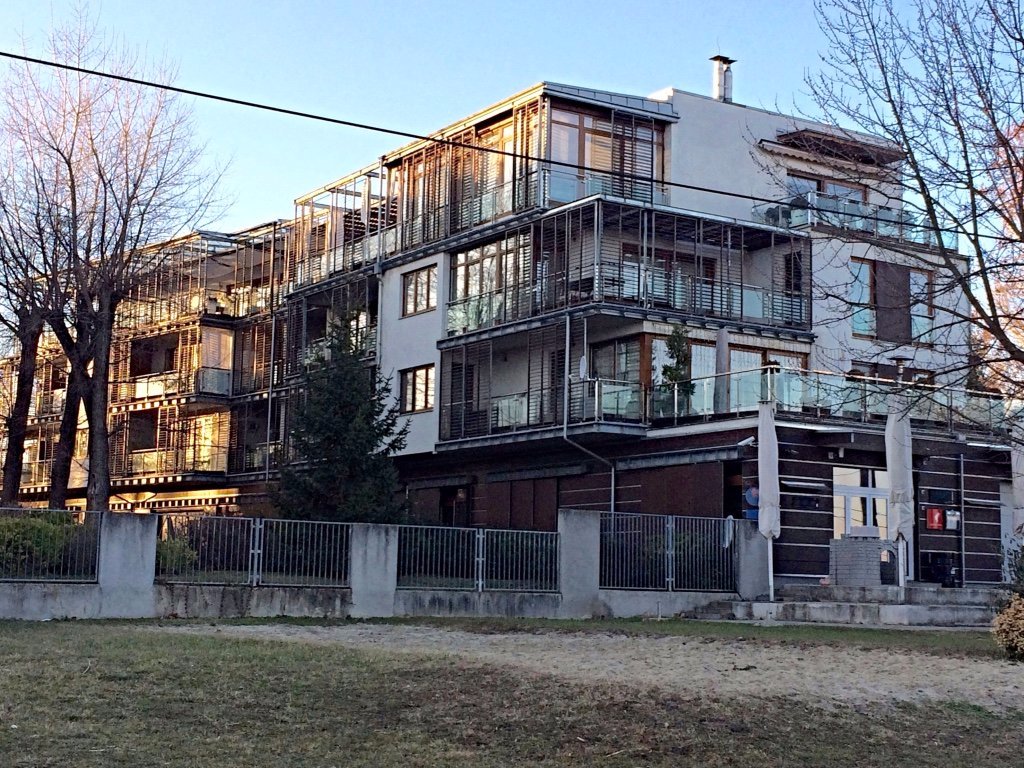 In 2010, Bánki's wife also obtained to additional flats in another building of the same gated community. Judging from the numbering, the 93- and the 72-square-metre flats are located next to each other, on the third floor of the building. Ágnes Bánki does not own these flats personally, but through companies (A231 Kft, then B6 Rent Kft) in her 100% ownership.
The Bánkis sold B6-Home Kft. – together with the flat owned by the company – in 2012 but did not get far away from the gated community: Bánki's wife remained the indirect owner (through B6 Rent) of the two other flats. Currently one of these flats serves as the registered address of two of Bánki's companies, and his wife regularly posts family pictures from a dining room of a flat that is located in the gated community (the last one featuring Bánki was published in November 2016).
We asked Bánki whether he currently lives in the Roman Wellness Home gated community. "Halfway" – he said, adding that he spends 2-3 days a week in Mohács and Pécs, in his old constituency in Southern Hungary.
We don't know whether the Roman Wellness Home flats appear in the asset declarations of Bánki's wife, as spouses' declarations are not public. In his last asset declaration, Bánki only listed the 20% of a 47-square-meter flat as his asset. According to him, he did not have to declare the flat in the gated community, as it was earlier owned by his company, and not personally by him.
Romanian land also remained invisible
As we reported earlier, Bánki gave a similar explanation for not having declared over 100 hectares of land bought by his companies in Romania and €2.3 million of debt accumulated by them.
Besides, Bánki also left out two Romanian companies from his asset declarations. One was owned through another company, this is why he did not list it. The other one, Apsa Real Estate Srl. was 50% owned by Bánki between 2007 and 2011. Bánki told Direkt36 that the company did not have any meaningful activities, and he simply forgot to include it in his asset declarations.
Cover photo: Tamás Botos, 444.hu
For Hungarian company data, we used the services of Opten.
In collaboration with