A great many trucks were coming and going a few years ago in Érd — a city near the Hungarian capital of Budapest — where a new sewer system was being built at the time. The trucks delivered tons of concrete and stone needed for the publicly-financed construction project, worth approximately 30 billion forints (96 million euros). In most cases, the trucks were coming from an industrial site on a curvy road close to a village called Gánt, about an hour's drive from Budapest.
That site belongs to one of the business interests of Hungarian Prime Minister Viktor Orbán's family, whose companies have seen spectacular growth in the past few years. Indeed, several firms owned by the prime minister's father and his two brothers that deal in mining, the manufacture of concrete products, and transportation have nearly doubled their revenues since 2013. Their profits have risen even faster.
In 2013, they posted a 15 percent profit on a total revenue of 2.7 billion forints (8.6 million euros) — but in 2015, their profit increased to 30 percent on 5.2 billion forints (16.7 million euros) in revenue. The profits from 2013 to 2015 were not reinvested; instead, the companies' owners pocketed the money. After deducting the share of other partners, Orbán's family members received nearly 2 billion forints (6.4 million euros) in dividends.
We could not uncover every detail of this spectacular growth. It's clear, though, that these companies' involvement in several public works projects funded by the European Union (a frequent target of Orbán's government) has contributed to their outstanding performance. These companies did not win any public tenders; rather, they participated as sub-contractors or suppliers for those concerns contracted by the state. Thus, they do not appear in the tender-related public databases, which makes it difficult to get a clear picture of the scope of their business activities.
The Orbán family's financial involvement in public works projects has so far remained largely hidden, with only a few related stories appearing in the Hungarian press. In 2012, business weekly Figyelő reported that Dolomit Ltd., owned by Győző Orbán, the prime minister's father, supplied stones for a major railway refurbishment project. Last summer, concrete elements manufactured by Dolomit Ltd. were spotted at the site of a sewer construction project on Budapest's Margaret Island.
This Direkt36 investigation provides, for the first time, a comprehensive insight into how the companies run by the prime minister's family — including Dolomit Ltd. — have been participating in public works projects.
We managed to obtain delivery notes and other documents that directly prove Dolomit Ltd.'s participation in two large-scale sewer construction projects in recent years. Dolomit Ltd. not only supplied building materials in Érd, but also for a similar project on the outskirts of Budapest. It delivered the materials to a company belonging to Lajos Simicska — a close ally of Orbán at that time — and another belonging to Lőrinc Mészáros, an old friend of the prime minister. According to sources involved in the projects, these companies ordered building materials from Dolomit Ltd. despite the fact that they were more expensive than competitors' products. Some sources added that Dolomit Ltd.'s products are of higher quality.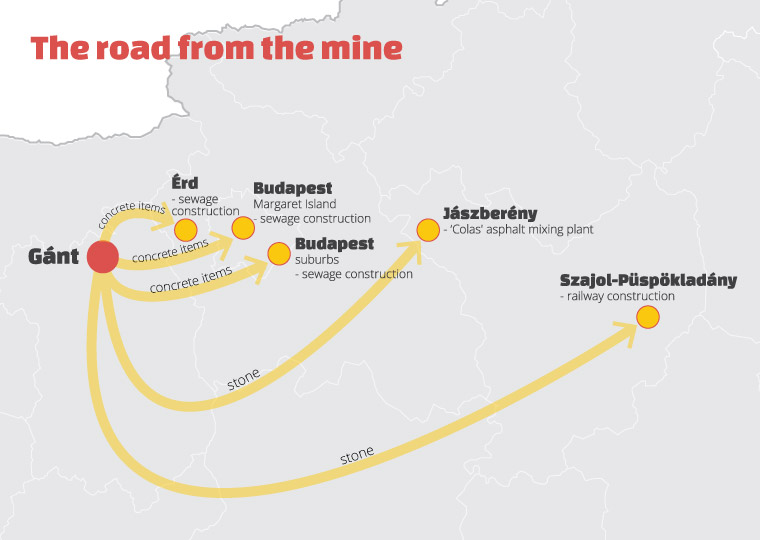 Other details suggest that the Orbán family has further ties to state projects. By tailing trucks loaded at Győző Orbán's mine in Gánt, we discovered that Colas, one of the biggest players in Hungary's state-funded construction business, is among the clients of Dolomit Ltd. A freight company owned and managed by the prime minister's brother Áron Orbán mostly lists public works projects among its references. In 2010, Dolomit Ltd. received a technical license for the manufacture of products typically used in state railway construction. And in recent years, a business under state contract owned by Lőrinc Mészáros also appeared among the clients of a third Orbán family-owned company.
Members of the Orbán family did not respond to our phone calls or to inquiries we made via e-mail. Several other parties— including the press office of Prime Minister Orbán — declined to answer our questions.
Agreement between father and son
Since the collapse of the socialist system in Hungary, the Orbán family's business activities have been hard to separate from its politics. During the privatization drives of the 1990s, Győző Orbán and his business partners managed to get their hands on a company operating a mine in Gánt. The purchase was facilitated by entities tied to the Fidesz party, an article entitled "Boys in the Mine" revealed in 1999. According to the article, a company close to Fidesz, previously capitalized from the party's coffers, bought a share of the mine during the privatization period then sold it well below its nominal value to Orbán's father and his partners. Thus Győző Orbán became the majority owner of Dolomit Kőbányászati Kft. (Dolomit Rock Mining Ltd.). He currently holds a 51.16 percent stake in the company.
The report created quite a stir. Győző Orbán's dealings earned his son, who was then serving his first term as prime minister (from 1998 to 2002), much criticism. Opposition politicians pointed out that Dolomit Ltd. was a supplier for the then state-owned Dunaferr; some also alleged that the company supplied materials for state-funded motorway construction projects. Orbán's family emphasized that Dolomit Ltd. had become Dunaferr's supplier in 1997, a year before Fidesz's election victory. Further, they denied that Dolomit Ltd. was involved in any motorway construction projects.
In an August 2001 TV interview, Viktor Orbán tried to refute accusations of impropriety in a new way. If he had really wanted to favor his father, Orbán reasoned, he would have contracted Dolomit Ltd. to build entire motorways — instead of merely helping it get orders worth of some tens of millions of forints. Orbán also stated that his father had planned to get involved in certain motorway construction projects but dropped these plans at his son's request. "This was a very difficult conversation, by the way. He did not agree with this, but eventually he said that there must be certain correlations that I see better than him, and then he accepted it," Orbán said.
In 2010 Fidesz was reelected, but the agreement between father and son apparently had changed.
Expensive but good
By that time, the Orbán family could offer new products and services for public works projects. Having expanded its portfolio of concrete products, Dolomit Ltd. could now become a supplier for sewer construction projects. An employee of a company with a similar profile as Dolomit Ltd. told Direkt36 that, as far as the source recalled, the construction of Érd's sewer system, which began in 2011, marked Győző Orbán's first foray into the sewer market. According to the source — who spoke on condition of anonymity — there are only a few major players in this game. As they keep an eye on competing products and often apply for the same jobs, they track each other's activities.
The project management team for the Érd sewer system allowed Direkt36 to look into their archive, which contains several documents that confirmed our source's claims. We found dozens of delivery notes which proved that Dolomit Ltd. (among other companies) supplied concrete elements for the project between 2012 and 2013. Other documents revealed that Győző Orbán's company also delivered crushed stone — which is typically used for road reconstruction after sewage work — to the construction site in Érd. According to the documents, Dolomit Ltd.'s products were most often ordered by Közgép Ltd., which played a leading role in the project and whose owner, Lajos Simicska, was Viktor Orbán's close ally at the time.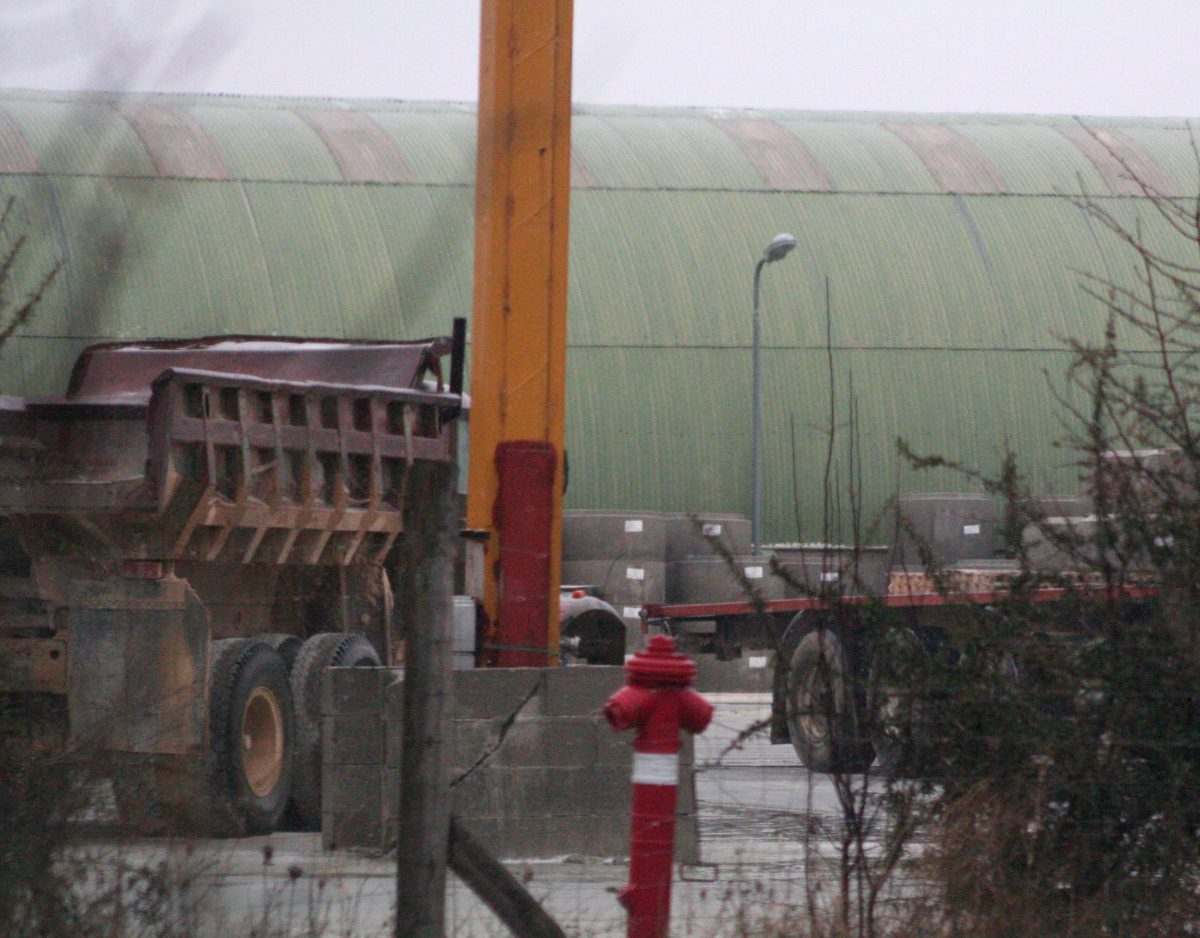 This was not the only sewer project that involved Győző Orbán's company. In the last four-to-five years, several sewer projects in Budapest sourced materials from Dolomit Ltd. Project documents show that Dolomit Ltd. supplied at least 8,400 concrete elements in 2014 and 2015 for two developers.
One of these developers was Duna Aszfalt Ltd., which took the place of Közgép Ltd. as Hungary's flagship construction company after Simicska fell out with Viktor Orbán in 2014. Duna Aszfalt Ltd. used Dolomit-supplied manhole elements for sewage channel construction in Budapest' 10th, 16th, 17th, 18th, and 23rd districts. While in some instances Duna Aszfalt did not order manhole elements exclusively from Dolomit Ltd., the firm used only Győző Orbán's products for its projects in the 17th and 18th districts. The company of Lőrinc Mészáros, another participant in the consortium carrying out the construction, also ordered gravel from Dolomit Ltd.
According to a source familiar with Budapest's sewer projects, contractors usually outsource construction work to sub-contractors, who are also entrusted with purchasing any necessary building materials. This was not the case with Budapest's sewer projects, the source claimed, who asked us not to disclose details that could reveal his or his employer's identity. According to him, the projects' main contractor (Duna Aszfalt Ltd.) notified its subcontractors that, as opposed to original plans, it preferred to take care of the purchase of construction supplies. Eventually, these supplies were sourced from Győző Orbán.
Both the Érd and Budapest sewer projects had budgets in the tens of billions of forints (around 100 million euros). It is probable that only small fractions of these sums were paid to the business interests of the Orbán family. The exact amount earned by the Orbáns is not clear, as the documents seen by Direkt36 did not include the prices of Orbán-supplied elements.
The firms responsible for carrying out the projects claimed that they do not have information about payments received by their suppliers. At the same time, several sources familiar with the projects said that Dolomit Ltd. was chosen as a supplier in spite of the fact that its products are much more expensive than those of its competitors.
An employee of a company which oversaw one of the sewage projects said that the prices of Dolomit Ltd.'s products could be as much as 30 percent higher than those of competing suppliers, although he added that Dolomit Ltd.'s products were of higher quality. An employee of one of Dolomit Ltd.'s competitors also confirmed that Győző Orbán's products are of good quality. At the same time, several sources noted that contractors are very sensitive to prices and therefore prefer to choose the cheapest supplier. "I was surprised [that] they bought the more expensive [products]," said a source involved in one of the sewage projects, adding: "I thought they surely wanted to nuzzle up to them [the Orbáns]."
The Ideal Áron Orbán
Among the Orbán family businesses, a freight and trading company has seen the most impressive growth in recent years. The company was originally called Ideális Áron Limited Partnership (which translates to "At an ideal price" — a bit of Hungarian wordplay referring to the name of the company's manager, Áron Orbán). Established in 2004, the company was renamed Nehéz Kő Ltd. ("Heavy Stone Ltd.") in 2008. It posted a couple hundred million forints (some 100,000 euros) in annual revenue for years, but that number jumped to over 1.6 billion forints (5.1 million euros) in 2015. According to the company's website, it purchased a fleet of trucks in 2012, but it also delivers goods by rail. Under the "Main References" section, the website lists more than ten projects, most of them linked to public investments. The company provides concrete products and stones for the construction of sewer systems, motorways, and railway refurbishments.
Archived versions of the site show that its list of references has not been updated since 2013, although the company's rise began after that year. During Direkt36's visit to Gánt, we saw trucks from Nehéz Kő Ltd. transport materials from the headquarters of Dolomit Ltd. At certain times, we observed four-to-five trucks arriving at the Dolomit Ltd. plant each hour. It's likely that Nehéz Kő Ltd.'s relationship with Dolomit Ltd. played an important role in its rapid growth. Indeed, Nehéz Kő Ltd.'s website shows that the company took over the transportation tasks of Dolomit Ltd. after 2012. According to other market players, the only successful freight companies are those which can closely cooperate with manufacturing firms.
It seems that Áron Orbán, who became the sole owner of Nehéz Kő Ltd. at the end of 2016, sees even more potential in the market. In October 2016, he launched a new firm called the NAKK International Trading Company of Raw Materials and Finished Products. Áron Orbán did not answer questions sent to his business e-mail address.
From the mine to the asphalt mixing plant
Other companies' trucks also make frequent visits to Dolomit Ltd. in Gánt. During one of our stakeouts there, so many trucks arrived that a queue formed on the main road.
On April 18, 2017, we followed a truck that had taken on a load in Gánt. The white dump truck left the mine at 12:15 p.m., then stopped for a 15-minute break in a nearby village. The truck arrived at its final destination in a town called Jászberény at 2:45 p.m. It went to an asphalt-mixing plant owned by Colas located on the outskirts of town, where it unloaded its cargo, which seemed to be stones from the distance.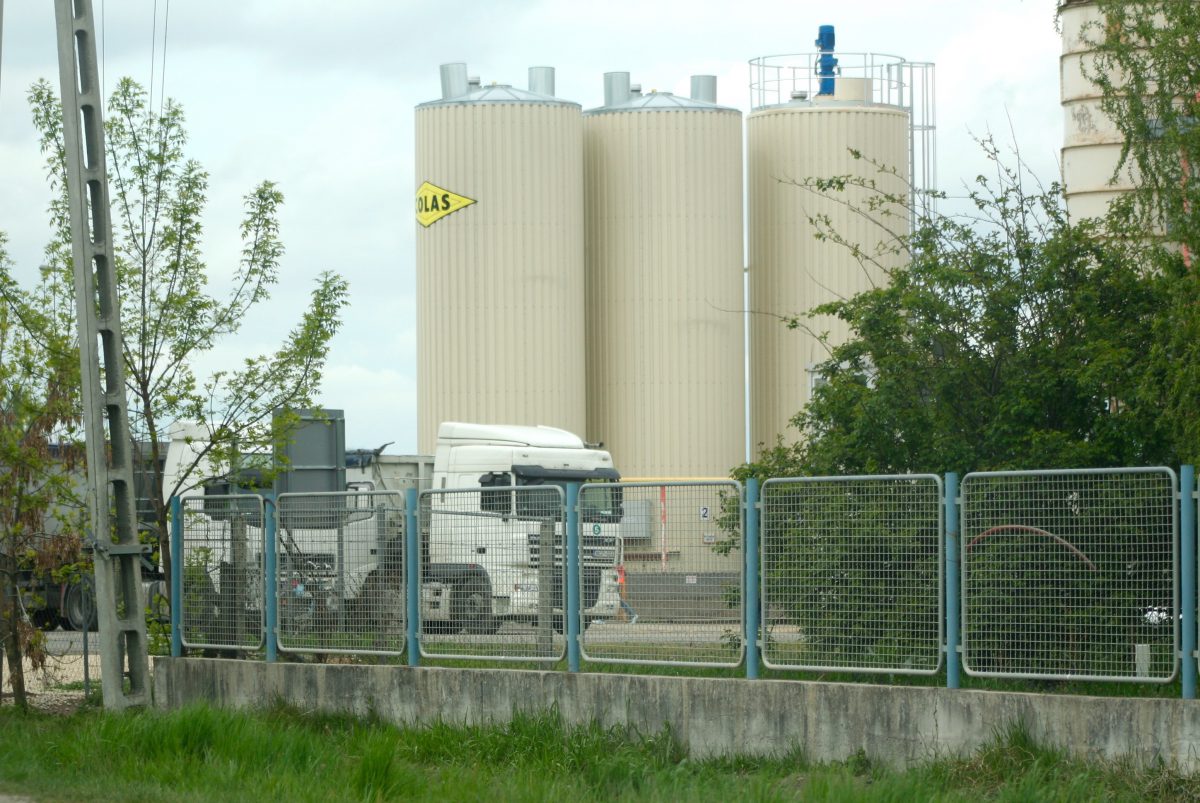 France-based Colas is one of the major players in the Hungarian construction market and is especially active in public works projects. The majority of the company's Hungarian work references are state-funded construction projects. Their two ongoing projects are both road constructions commissioned by a state-owned company called NIF (National Infrastructure Development Company). We asked Colas how they use rocks from Gánt and how they co-operate with Orbán-family businesses in other projects. Colas said that "unfortunately they are unable to answer" our questions.
The buyer from Felcsút
Direkt36 also found that Orbán-family businesses have a number of clients on the market that are not connected to the Hungarian state. A truck from Nehéz Kő Ltd. that we followed in January 2017, for example, delivered materials from Gánt to the now privately-owned Dunaferr plant in Dunaújváros.
The business registry record of a smaller Orbán-company, Gánt Kő és Tőzeg Termelő és Kereskedelmi Ltd., also show a number of clients that, according to our research, are not connected to public investments. The document lists 14 clients. However, this does not necessarily give a complete picture of the clientele of the Orbán-family businesses: the annual revenue of Gánt Kő Ltd. is well below that of the rest of the family's firms, and the document only included clients indebted to Gánt Kő Ltd. at the time of its merger with another company controlled by the Orbáns.
The majority of the 14 clients are smaller private businesses, but two of them are well-known companies that frequently participate in Hungarian public works projects. One of them is the Austria's Swietelsky Magyarország Ltd., a frequent winner of high-value public works construction tenders. The other belongs to Lőrinc Mészáros, who — besides the previously-mentioned sewer projects in Budapest — has won several valuable public works tenders in recent years.
Swietelsky Magyarország Ltd. told Direkt36 that, "as a family business," they cannot provide an answer about its ties to the Orbán family. They said that the information we requested relates to the "internal affairs and trade secrets of the business," which are not made public "due to strategic reasons and out of principle."
They are well on track
Swietelsky Magyarország Ltd. also ordered crushed stones from Dolomit Ltd. for one of the biggest Hungarian railway refurbishments carried out in recent years. In a 2012 article, Figyelő quoted the state-owned NIF as saying that "Dolomit is a major supplier to Swietelsky." At the time, though, NIF stressed that it had no detailed information about Swietelsky's suppliers, a statement that the company reiterated to Direkt36.
It appears, however, that Dolomit Ltd. was planning to participate in railway refurbishment projects by supplying not only stones but also other materials. A document published on the website of the state-owned ÉMI Construction Quality Control Innovation Nonprofit Ltd. shows that Győző Orbán received technical approval in 2010 for the manufacture of certain concrete products used for railway construction. This license was valid until February 2015.
It seems that the Orbán family plans to continue the production of concrete construction materials at full blast. At the Gánt plant, there are big piles of concrete products similar to those that appeared at the site of the sewer construction on Margaret Island last summer. As Dolomit Ltd. did not react to our e-mail and phone calls, they did not let us know for which projects they plan to use these products.
For the Hungarian company data we used the services of Opten and Céginfo.
Noah Buyon contributed edits to this article.
In collaboration with