Ágoston Gubicza is an entrepreneur who appears to make special effort to be in the right place at the right time.
He was in his early twenties when he already had found his way to the top officials of the first Orbán government between 1998 and 2002. He had ties to the minister of transportation and later even set up businesses together with one of the minister's daughters. The re-election of Fidesz in 2010 gave fresh momentum to him as he explored new business opportunities, mostly with state support. In the meantime, Gubicza established personal ties with Antal Rogán, the head of government communication and a close ally of Prime Minister Viktor Orbán, as he married Rogán's first wife and now raises Rogán's eldest child.
After several failed businesses, the breakthrough for Gubicza was his 2014 entry to Jeremie, the programme the European Union launched to support innovative start-up companies. Based on a massive cache of internal documents, Forbes and Direkt36 previously revealed the controversial distribution of these funds. Our investigation showed that Gubicza's fund managing company also had some controversial investments. They provided funds to people close to Gubicza and for companies that did not carry out innovative businesses.
Despite these controversial investments, the state-owned Eximbank has decided to hire Gubicza's fund for an even more valuable venture capital programme. Eximbank chose Gubicza's company via a tender that was widely criticized for not being fair. Our investigation showed that Gubicza had visited the bank several times before the bid, and he directly negotiated with András Puskás, an executive of Eximbank and Rogán's former close ally.
Gubicza's fund told Direkt36 that its investments were in line with the rules. The supervisor of the Jeremie programme, the Ministry of National Economy, claimed however that MFB, the state bank running the programme, raised concerns over some of the decisions of Gubicza's fund. The businessman confirmed that he had visited Eximbank a few times, but claimed these visits were related to other matters. Eximbank provided only a brief comment, saying that their conduct was according to the rules.
Politicians and airplanes
Gubicza was born in 1977, and he studied law at Pázmány Péter Catholic University in Budapest. He was described by his acquaintances as a creative person with a lot of ideas and excellent communication and networking skills. According to one of his former co-workers, Gubicza was "not interested in the technical details of a business, but only in the money-making part." As another former colleague put it, "he was thinking all the time how to connect his acquaintances with each other."
According to those who know him, Gubicza has been conscious of developing his ties to politicians. "He made it very clear that if you want to make it big, being excellent in a certain business is not enough, you have to develop your network," claimed a former friend. During his university years, Gubicza developed close ties with László Nógrádi, a former Fidesz MP, who was minister for transportation during the first government of current Prime Minister Viktor Orbán between 1998 and 2002. Gubicza worked as a secretary of the politician when Nógrádi was an MP and later he established some businesses with Nógrádi's daughter.
In the mid-2000s, Gubicza had launched businesses in the aviation sector but none of these turned out to be very successful. Along with Irish investors, Gubicza started to operate an airport near lake Balaton in 2004 targeting low-cost airlines. However, the company went bankrupt accumulating huge amount of debt. Gubicza also co-owned a company which in 2008 acquired the leasing rights of an airport in Mezőkövesd, a city in northeast Hungary. Gubicza's company promised developments worth of hundreds of million euros, but they failed to deliver and the eventually the municipalities involved terminated the contract with Gubicza's firm.
Gubicza also tried his luck in the construction industry. He established a holding company named ACM in 2011 whose revenue reached 1.4 billion forints (4.5 million euros) in 2013, but it has sharply declined since then. ACM worked in a minor project along with construction company Közgép when its owner, Lajos Simicska, was still a friend and ally of Viktor Orbán. (Simicska and Orbán had a falling out in 2014, reportedly over differences in the government's media strategy and the general direction of the country.)
Then came Jeremie
After the construction industry, Gubicza entered the venture capital business through an EU-supported programme called Jeremie. A subsidy totalling 130 billion forints (422 million euros) is allocated to 28 fund managements companies operated by private investors who had been selected via a public tender. While 70% of the investment given to start-ups comes from the EU, the remaining 30% has to be provided by the private investor.
Among the big beneficiaries of the programme was István Töröcskei, a banker who had close ties with governing party Fidesz. People with close ties to Töröcskei won multiple funds on the Jeremie tender, but as the relationship between the government and banker deteriorated, Töröcskei's allies decided to sell two of their venture capital funds. The fund management company in charge of these two funds (worth 8.6 billion forints (28 million euros) in total) was acquired by Gubicza and a financial investor, Mihály Boris. They renamed the fund management company as GB & Partners.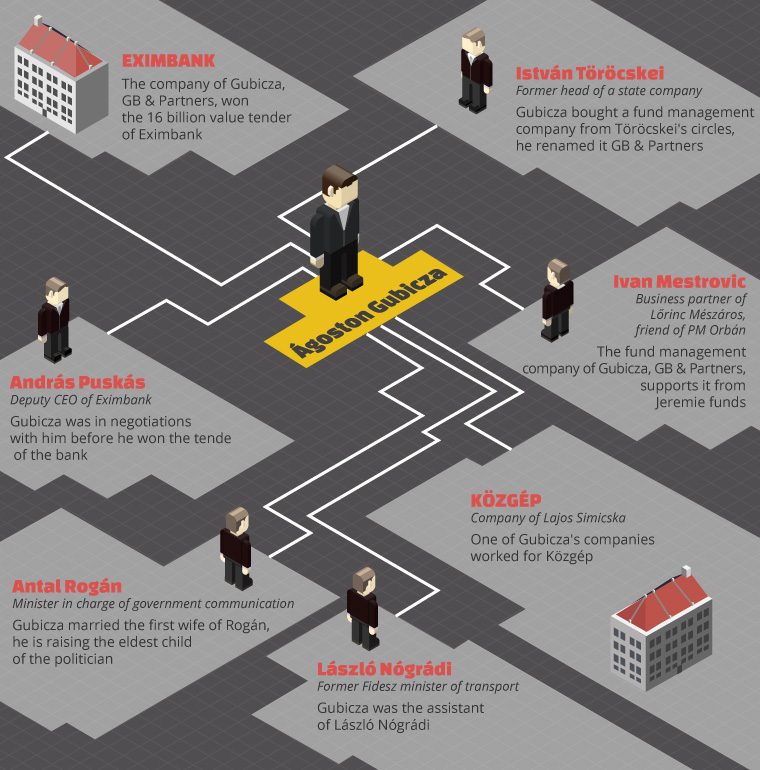 GB & Partners made some controversial investments. They supported, for example, some businesses which were linked to the fund managing company. In December 2014, GB & Partners decided to invest 750 million forints (2.4 million euros) into Sectum Security Zrt., a security company owned by Zoltán Tenk, a lawyer working for both GB & Partners and personally for Gubicza. On paper, there was no conflict of interest, but multiple venture capital experts found this investment problematic. One of them called "bizarre" that a fund management company supports its own lawyer's business.
GB & Partners claimed that both the fund management company and Gubicza work together with several law firms, and Tenk also represents many other companies. According to them, MFB found that all of their investments were in line with the spirit of the programme. The Ministry of National Economy, which is supervising the programme, said that Tenk is considered an independent actor according to rules the Jeremie programme. They also added that the ministry only monitors the investment proposals, but the final decisions are made by the fund management company.
Although the aim of the Jeremy programme is to support innovative enterprises, from the very beginning Sectum's goal was to win state contracts for works that are hardly innovative. In June 2016, Hungarian State Treasury hired Sectum and its partner for a cleaning work worth of 77 million forints (250 thousand euros). In the same month, the Government Office of Budapest also hired the same consortium for a cleaning and facility management work worth of 254 million forints (824 thousand euros). GB & Partners stated that Jeremie programme allows to win procurements and to receive state funds. Zoltán Tenk and Sectum declined to comment.
Gas storage in Iraq, Harry Potter in Western Europe
On the same day when the investment into Sectum was approved, Gubicza's company decided about another investment in the amount of 2.4 million euros into Optireg, an internet company which was formally set up a few months later with the full ownership of the fund controlled by Gubicza. According to experts this is an unusual solution for venture capital investments because normally the funds support ideas of independent entrepreneurs. One of the experts compared the situation to "being the judge in their own judicial trial."
According to GB & Partners, Jeremie rules allow 100% ownership in supported startups. However, the Ministry of National Economy told Direkt36 that the Hungarian Development Bank, which directly monitors the investments on behalf of the government, raised concerns over the projects for which 100 percent of the investment was coming from the funds. The Ministry said that this kind of investments could carry "audit risks" but they also added that state authorities did not have a say in investment decisions, they could only express their opinion.
Optireg founded a subsidiary which started to operate an old machine factory in the countryside of Hungary with the aim to produce tools for the telecommunications networks. According to documents seen by Direkt36, the company's plans also included the construction of a gas storage in Iraq from several billions of forints with Iraqi state guarantee. However, the project was then abandoned in the preparatory phase.
A company of Mihály Boris, Gubicza's partner in GB & Partners, also received 1.8 million euros, although this happened before he and Gubicza acquired the fund management company. Smart Move Entertainment, co-owned by Boris, was planning to organize Harry Potter and Star Wars exhibitions in Western European cities and received money from the fund at that time when it was still linked to Töröcskei. Both GB & Partners and the Ministry of National Economy claimed that Boris resigned from his position in Smart Move Entertainment on August 5, 2014, a few days before his appearance in GB & Partners. However, according to the company registry, the mandate of Boris as the managing director of Smart Move Entertainment ended only on September 8, 2014.
Smart Move Entertainment received altogether 2.16 million euros for the organization of the exhibitions in Cologne and Paris which attracted 900 000 visitors according to the fund management company.
This was not the only way how Gubicza's company supported firms in their interest. GB & Partners outsourced part of its operations to a consultancy company called CEMI. GB & Partners provided support to at least three startups, which were connected to the owner and managers of CEMI. In its response, CEMI stated that it contacted GB & Partners and recommended 40-50 startups for potential investments, with a couple of them receiving support from the fund management company. CEMI also added that it did not take part in decisions about investments and therefore there was no conflict of interest involved.
Gubicza's company also supported the firm of Ivan Mestrovic, who is the business partner of Viktor Orbán's friend, Lőrinc Mészáros.  Together with Mészáros, Mestrovic bought the football club in Eszék, Croatia. Mestrovic is also a majority owner in City Mail Hungary, a company with license for certain postal services and competitor of the Hungarian State Postal Service. The company of Gubicza gave 148 thousand euros to the subsidiary of this firm.
GB & Partners denied that the relation between Mészáros and Mestrovic played a role in the decision to grant money to the company of the Croatian businessman. City Mail Hungary did not answer our questions.
Visiting Eximbank
The investment period of the Jeremie programme ended in May 2016, meaning that after that the funds could not provide money to startups any more. Therefore, Gubicza's fund management company started to look for new opportunities and at the end of 2015 it won the tender of the state-owned Eximbank.  With this, GB & Partners has become the manager of the bank's two venture capital funds, worth 19 and 32 million euros. One of the funds has the aim to invest in companies with strong expected growth, and the other one in companies in need of export capital. Contrary to Jeremie funds, the management of these two projects does not require private capital contribution. For this work, Gubicza's company could charge a fee of 2.45% which is an unusually high rate according to a source familiar with the market. This brings Gubicza's company approximately 1.2 million euros annually.
Eximbank, which is supervised by the Ministry of Foreign Affairs and Trade, kept the winner of the tender in secret for months. Articles in magazines Forbes and Figyelő however revealed that the tender was implemented unusually quickly and the number of applicants was restricted by tender conditions.
These articles suggested that the success of Gubicza's company was predetermined. This was confirmed to Direkt36 by two sources familiar with the operation of Eximbank. One of them said that Gubicza visited Eximbank a couple of times during autumn 2015 and he also participated in meetings dealing with the preparations of the tender. "He did not come to lobby, it was an already decided fact that he would be the winner," the source said.
One of these meetings took place in September 2015 and it was attended among others by Gubicza and András Puskás, the deputy CEO of the bank. Puskás was the deputy mayor of Antal Rogán in  Budapest district V. , and the two of them are living in the same luxury apartment complex in the capital. Rogán is a powerful government official now, running the government's communication campaigns as the chief of staff of the prime minister.
Gubicza and Puskás clearly knew each other, "their relation was close, and they were having a friendly chat," the source said. The cabinet of Puskás had regularly inquired about the tender despite that it did not fall under its section organizationally, the source added.
GB & Partners confirmed to Direkt36 that Gubicza indeed visited the state-owned bank and attended meetings with Puskás, but they claims that this was due to another project about possible financial support to its startup. GB & Partners described the relation between Gubicza and Puskás as professional and added that Gubicza's task is to keep contact with bank representatives. Eximbank provided only a brief comment, saying that their conduct was according to the rules.
Gubicza's recent profile by Index, the biggest news portal, also highlighted the businessman political connections. According to the article, Gubicza boasted to his friends about the occasion when he once met Viktor Orbán. Allegedly, this happened during his vacation in Slovakia where he informed the PM about his business plans and Orbán wished him good luck. Gubicza did not deny this story to Index.hu and commented that "he does not usually brag unfoundedly".
The pretence of his political relations has been reinforced by the fact that in 2011 Gubicza married Antal Rogán's first wife and since then he has been raising Rogán's eldest child.
Several former business partners of Gubicza claimed that he is regularly referring to his relation to Rogán. One of them recalled that Gubicza said that "we are visiting the Rogán family over the weekend and I will discuss it with him", or "we were drinking wine with the Rogáns over the weekend." GB & Partners said that the relationship between Gubicza and Rogán is "balanced, solely private". Antal Rogán did not respond to our questions about Gubicza.
For Hungarian company data we used the services of Opten
In collaboration with