In July 2019, Chinese Foreign Minister Wang Yi held meetings with Hungarian political leaders in Budapest for two days. "You never know what a friendship is good for: 70 years ago, Hungarians would not have believed how important this relationship would become," Prime Minister Viktor Orbán said at a press conference, referring to the fact that Hungary was one of the first countries to officially recognize the People's Republic of China in 1949. However, no major announcements were made ahead of Wang's visit, and little was revealed about the real purposes of it.
Official Hungarian statements at the time did not mention it at all, but government documents obtained by Direkt36 show that the construction of the Budapest campus of Shanghai's Fudan University was decided during this visit. Wang first consulted on Fudan University with Hungarian National Bank Governor György Matolcsy and László Palkovics, Minister for Innovation and Technology (ITM), and then with Foreign Minister Péter Szijjártó. These were revealed in ITM's draft proposal on Fudan which was discussed and accepted at the February 24 cabinet meeting, and later obtained by Direkt36.
China's foreign minister also made it clear that developing the new campus is extremely important for the Chinese state. According to the document, "during the consultation, State Councilor Wang Yi regarded the establishment of the Hungarian campus of Fudan University as a priority project, on the same level as the construction of the Budapest-Belgrade railway". In other words, he compared the construction of Fudan University to the most significant Chinese investment in Hungary to date. According to the document, after returning to Beijing, Wang "personally informed the Minister of Education of the People's Republic of China about the development of the Hungarian campus of Fudan University and asked that it be treated as a priority project".
Details and the magnitude of the Fudan construction were only divulged to the public through an investigation by Direkt36 in April. After the government's plan was revealed, it led to a spectacular clash with Hungary's opposition. Behind the scenes, however, a major conflict had already erupted over the project within the government by that time. After the Chinese foreign minister's visit in July 2019, the planning of the campus accelerated and a decision was made to set up Fudan's campus in South Pest and in the north tip of Csepel island. However, this is exactly the site where the government had long wanted to build new dormitories and community spaces for Hungarian students called Budapest Student City. Hence the arrival of Fudan was difficult to accept for those government decision-makers who were responsible for development projects in Budapest. But – just like when the Central European University was kicked out of the country – Minister László Palkovics put an end to the discussion.
Viktor Orbán's government wants to spend €4,2B (HUF 1,500B) on developing Hungary's entire higher education in the coming years. In comparison, Minister Palkovics would spend at least a third of this amount on just a single institution, Fudan Hungary University. Moreover, in the next ten years, even more public funding will go to Fudan in Budapest. In addition to paying for the construction, the Hungarian state will cover some of the maintenance costs as well as exorbitant teacher salaries, according to government documents obtained by Direkt36.
It is also clear from the government's plans that the operation of the university is deliberately planned in a way in which the Hungarian state cannot gain majority control in the trust that will operate and oversee Fudan's Budapest campus, named Fudan Hungary University. Thereby avoiding the legal obligation to launch public procurements for the construction and operation of the university. None of the ministries and government bodies involved responded to Direkt36's inquiries.
Fudan forced down the throats of dissatisfied government officials
The Budapest Student City-Budapest South Gate project, originally planned as the successor to the Budapest Olympic Village, was managed by Balázs Fürjes, the State Secretary in charge of Budapest developments at the Prime Minister's Office, as well as by the Budapest Development Center (BFK), led by CEO Dávid Vitézy. They contracted internationally renowned Norwegian architercture firm Snøhetta, which in December 2018 won the design competition to create an all-encompassing masterplan for the area of ​​South Pest and North Csepel.
In addition to revitalizing this long-abandoned industrial area, the purpose of the construction was clearly to get the government to score points with the younger generation. In addition to 8-12,000 person dormitory capacity in the Student City, rental apartments for another 5,800 would be built for young adults, Hungarians moving to Budapest from the countryside and from across the border. Moreover, the Student City development would have also created 16,000 new jobsl. The project descripition includes such fictitious portraits of whom the investment is for:
"Attila (21) is a graduate student in bionics. He comes from a small village in Békés county (South-East Hungary) and enjoys being able to live in quality student accommodation with another classmate. (…) Housing budget per month: €140 (HUF 50,000)"

"Imre (24), Katalin (22) and Janka (1) live in an apartment designed specifically for university students with families. (…) They are both financially supported by their parents. Housing budget per month: €145 (HUF 51,000)"
But the Student City, designed for low-income Hungarian students, and Fudan, built for wealthy foreigners, will be located in the same place. They cannot co-exist as there is just not enough space left for the Student City to be built according to the original plans.
A few months after the Hungarian visit of Chinese Foreign Minister Wang Yi in 2019, the leadership of Fudan University also arrived in Budapest. According to two sources following the development of the Student City project, it was decided in this period during the second half of 2019, that from the several possible locations, the Chinese also favored the South Pest area the most. However, even those who were following closely the development of the Student City only found out about this afterwards as the government kept preparations in secret. Hungarian daily Népszava reported that the government agreed with the Chinese delegation specifically about a waterfront location along the Danube River.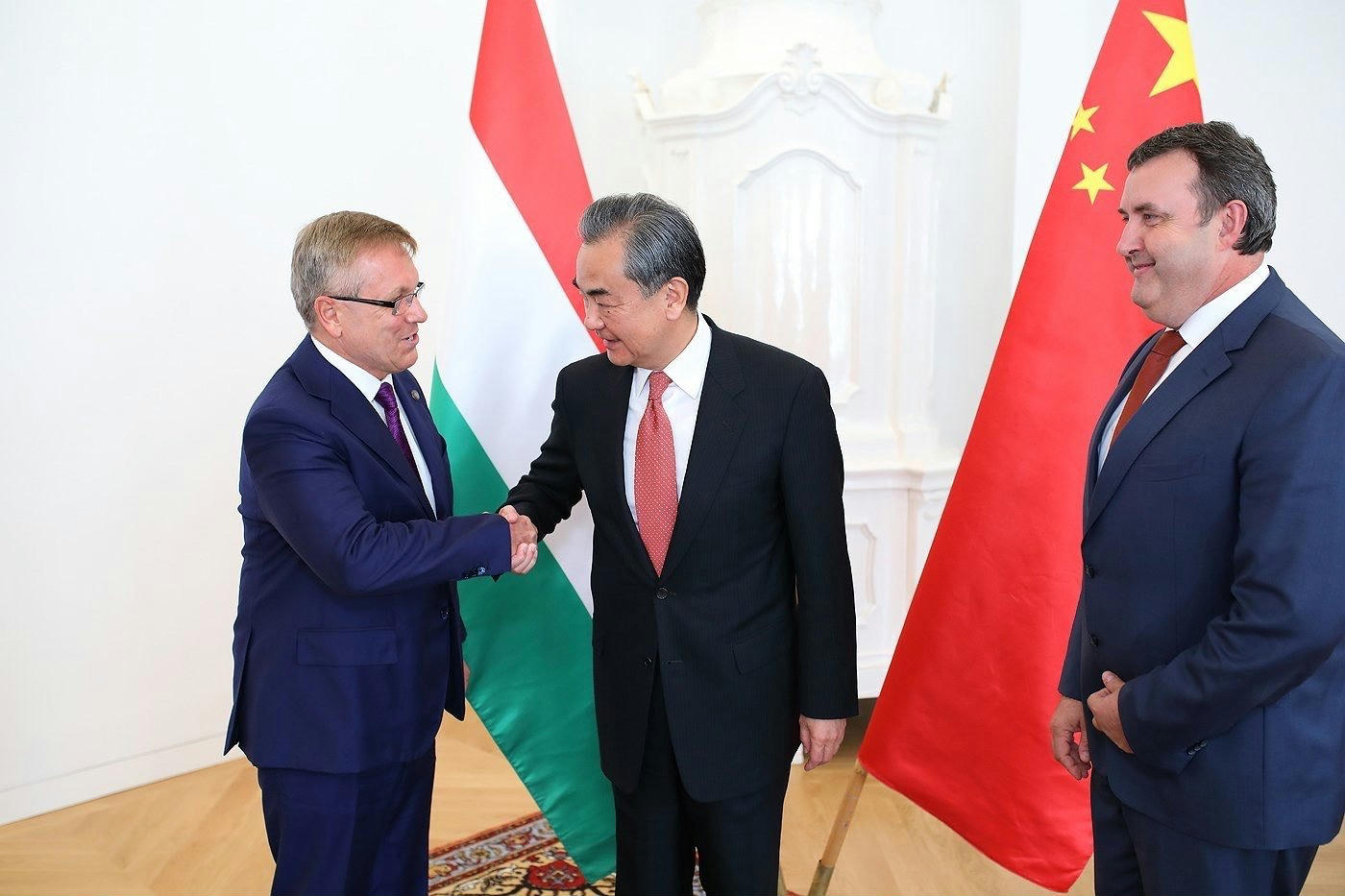 In the summer of 2020 State Secretary Balázs Fürjes and BFK – who were responsible for the development of the Student City – received clear instructions from the government to redesign the Student City and find space for Fudan's campus, a government official told Direkt36. But Fürjes and his colleagues immediately tried to counter the university's need for space with various arguments. "70,000 square meters would have been immediately snatched from Fudan, citing that there would be overlaps with Student City functions anyway," an official source following the project's development said. Then they offered the northern part of the Budapest Student City-Budapest South Gate area to the Chinese university. This part of the area could be built more densely and with taller buildings, so Fudan could have been squeezed into as little space as possible here. Fürjes's aim with this compromise was to somehow save the greenest, more atmospheric middle and southern parts of the area for student housing, as due to local plot ratios, only lower and airier, more residential-friendly buildings were allowed there.
Mayor of Budapest's 9th District Krisztina Baranyi told Direkt36 that she first heard about Fudan in January. A BFK official told her informally after a meeting that "perhaps a Chinese university will also get a single building in the Student City". At the time, Baranyi thought that this might even play out well. She hoped that this would urge the government to allocate funding for the Student City as soon as possible, so that the housing for 12,000 students as well as sports and cultural centers could be built at the same time as the Chinese university. In the background, however, Minister Palkovics, who was managing Fudan's move to Budapest, opposed Fürjes's "small Fudan, large Student City" compromise, as he had already agreed in advance with the Chinese on the dimensions and layout of the campus.
Eventually, this debate was partly settled by the fact that, in February, it became known that Budapest would definitely not host the 2032 Olympics. The Student City would have played an important role in Budapest's bid as this is where, for example, athletes would have been accommodated. According to a government official, it was then that the political decision was made to actually build a Chinese university campus instead of a Student City for Hungarian students. This decision was formalized when ITM's draft proposal was accepted in February, according to which Direkt36 presented Fudan's plans in our article in early April.
Reacting to that article, the Orbán government first denied that building Fudan would overturn plans for the Student City. Fürjes and BFK CEO Dávid Vitézy presented the government's maps about how to divide the area, based on which they really tried to squeeze Fudan towards the northern corner of the area, but the campus would still have occupied some space originally intended for Student City housing. However, a government decree soon stripped Fürjes of his control over the Student City, and handed all authority to Palkovics. Subsequently, the minister completely overruled Fürjes' earlier plans for the division of land between Fudan and the Student City. Palkovics drafted laws to relegate the Student City into the dense, busy northern corner of the area, while Fudan would receive much larger central and southern plots, including the valuable waterfront sites.
Palkovics's proposal, adopted by the government and in force ever since, states that Fudan's campus will receive approximately half of the Budapest Student City-Budapest South Gate project's 135-acre area: 26 acres of land for the construction and a surrounding 40 acres of parks and urban space. Meanwhile, BFK specified that 1,178 thousand square meters of buildings should be constructed in the area, thus the Norwegian architectural firm has created its masterplan accordingly. However, almost half of that will be taken by Fudan as the government's plans assign 520,000 square meters of buildings to the Chinese campus. The extent to which the construction of Fudan upsets the entire development plan, contrary to government claims, is also shown by the fact that the Student City's original Norwegian plans did not include any new university buildings suitable for education. These large buildings will therefore definitely take their place from the residential functions planned for the Student City.
The Student City and its surroundings would have housed a total of 18,000 Hungarian students and tenants. Compared to that, according to the strategic cooperation agreement between Shanghai's Fudan University and the Hungarian government, student housing for only 2,500-3,000 people would be built on Fudan's Budapest campus. This is just a fraction of even the Chinese private university's students, and these numbers also include teachers' on-campus accommodation.
Wealthy foreigners instead of low-income Hungarians
Moreover, the Chinese Fudan campus will attract completely different students than the Hungarian Student City surrounding it, according to ITM's draft proposal for the February 24 cabinet meeting, the ministry's financial projections as well as the strategic cooperation agreement signed between Fudan University and the Hungarian government. Fudan Hungary University is going to be a private university targeting wealthy foreign students paying full tuition. According to ITM's financial projections (counting in US dollars with an exchange rate of 320 HUF/$), full-time BSc studies would start with an annual tuition fee of $8,000 (HUF 2.5M) and MSc studies with $11,500 (HUF 3.7M), which would increase further to $9,680 (HUF 3M) and $13,915 (HUF 4.4M) over the years. According to these ministry calculations obtained by Direkt36, Fudan in Budapest will be twice as expensive as the Prague University of Economics and Business (VSE), but approx. 50 percent cheaper than the internationally renowned London School of Economics (LSE).
Although the new private university in Budapest would be created from many hundreds of billions of forints in Hungarian taxpayers' money, documents obtained by Direkt36 nowhere mention that the Orbán government would provide state-funded (free) studies for Hungarian students. Palkovics has said in several interviews that only the university itself or companies would offer scholarships. His ministry's proposal also includes only one mention of possible scholarships among its long-term plans: "encouraging (domestic) partner companies to launch scholarship programs for Hungarian students".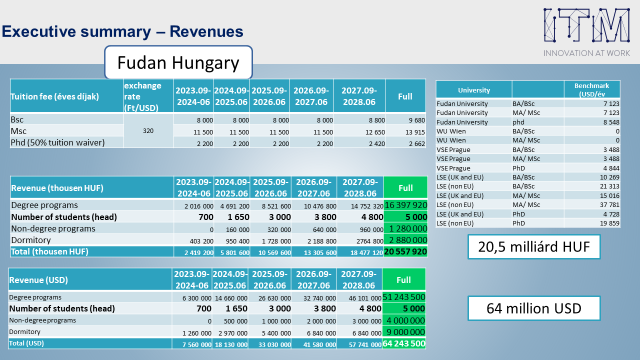 Revenues and expenses of Fudan Hungary University, which is scheduled to open in 2024, were also calculated by ITM. According to these financial projections, also obtained by Direkt36, the $64M (HUF 20.5B) revenue in tuition and dormitory fees would cover only a small portion of the expenditures. The document mentions multiple times that the university's total annual operating cost of $159M (HUF 50.8B) would be at least partly covered by China, and that additional revenue could be generated by "involving financial support from the Chinese government, companies, organizations and individual donors". However, it is unclear how much the Chinese contribution would be, nor what the Hungarian state support would consist of.
However, the government is also sure that setting up and operating the university will cost billions to the Hungarian state for years to come. According to ITM's projections, between 2023-27 approx. $320M (HUF 100B), and from 2028 onwards an annual $48.6M (HUF 15.5B) needs to be spent on operating and equipping Fudan. According to this document, "direct state support should be provided along corporate sponsorships", but the university can also take advantage of "opportunities emerging from the research univeristy status, like research grants and funds". Regarding the latter, ITM specifically states that, as a university registered in Hungary, "Fudan Hungary will be able to issue degrees recognized in the EU and at the same time  access EU financial resources for research".
Fudan's high operating costs are not only the result of the expensive construction, but also the exorbitant faculty salaries. According to ITM's plans, the average monthly salary of employees and teachers at Fudan would range from an annual $40,000 (HUF 1.1M per month) for administrative staff to $250,000 (HUF 6.3M per month) for full-time professors. According to the pay scale of civil servants, salaries at a Hungarian public university range from an annual $8,300 (HUF 221,000 per month) for postdoctoral researchers to an annual $22,000 (HUF 587,000 per month) for university professors. However, even university professors at the formerly Budapest-based Central European University, which has since moved to Vienna, earned just over half as much as they could at Fudan Hungary, according to an internal CEU document obtained by Direkt36.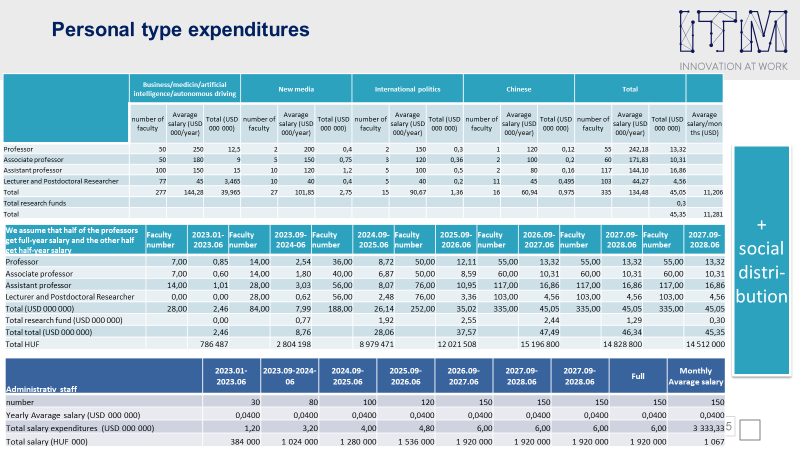 By the time Fudan Hungary University reaches its full capacity in 2028, the total annual salary expenses of the 330 lecturers and 150 administrative staff will be at around $60M (HUF 19B) with taxes, according to the ministry's projection. These are roughly the total annual salary expenses at Hungary's oldest university, the Eötvös Loránd University (ELTE), which employs almost ten times as many people, approx. 4400. In addition, at Fudan in Budapest, teachers would also receive additional research grants, an annual $10,000-20,000 (HUF 3.2-6.4M) for three years, as well as on-campus housing and other fringe benefits and "well-being programs".
According to the ministry's financial projections from February, Fudan's Budapest campus would reach its total student population of 5,000 by 2028, consisting of 3,000 BSc, 1,500 MSc and 500 PhD students. They would be enrolled in four faculties (Faculty of Humanities and Social Sciences, Faculty of Science and Engineering, Faculty of Public & Business Management and Faculty of Medical Science.).
The Hungarian state will not have a majority
Fudan's construction consists of two large phases, according to the government's plans: the " education, research and student housing infrastructure" would cost $1.375B (HUF 440B) plus VAT, while the related sports and conference center would cost another $312M (HUF 100B) plus VAT. This is how the total construction cost estimated by the ministry at $1.687B (HUF 540B) adds up. Minister Palkovics recently revealed in an interview how they calculated this sum: they first estimated how much space Fudan would need and then multiplied that by an estimated price per square meters. "From this comes the 520 thousand square meters. If we multiply this by about one million forints – today in Hungary, a property of this quality and structure costs that much per square meter – the result is approximately 540 billion (in forints)" the minister said.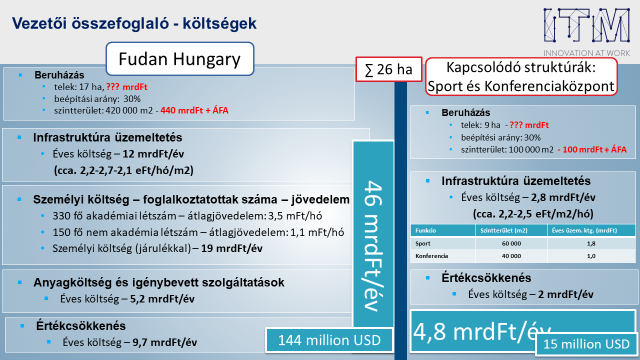 "I hope the (final) cost will come in lower", Minister Palkovics added. However, another major Chinese-Hungarian investment, also overseen by Palkovics's ITM, did not end up with reduced costs. The price of the Budapest-Belgrade railway reconstruction – China's local Belt and Road project – was estimated by the Hungarian government at $1.6B (HUF 472B) at the time it was first announced a few years ago, but since then it increased by 50 percent to $2.4B (HUF 700B) . And the blueprint for building Fudan, according to ITM, will be this rail investment project.
However, according to the official documents obtained by Direkt36, even Hungary's government has no idea of how much the investment will end up costing. As our previous article revealed, China State Construction Engineering Corporation Ltd. has submitted  a $1,06B  (HUF 338B) bid for construction, which is far more favorable than ITM's own cost estimate of $1.687B (HUF 540B), so it would be worth accepting it, according to Palkovics. However, at the same time, he also recommended to the Orbán government a preliminary financial proposal made by the China Development Bank. This offer, on the other hand, already puts the total cost estimate at $1.81B (HUF 580B), which is already higher than what the ministry has estimated.
But something else is crystal clear from the ministry's plans: they want to avoid open competition and transparency during the construction as well as the operation of the university. Fudan Hungary University will be established by an asset management foundation, and the ministry's proposal states that neither the Chinese nor the Hungarian side can have a majority in its governing bodies. The document warns that if the Hungarian state were to gain majority in these governing bodies, Fudan Hungary would be required by law to launch public procurement procedures.
In collaboration with