In the February of 2021, a very special Ferrari, this SF90 Stradale parked in front of Hotel Bulgari Milano in a parking place dedicated to guests.
The car drew attention even though right next to it a Maserati, and a bit further some Range Rovers parked. This hybrid Ferrari is almost 1000-horse powered, can accelerate to 100 in 2.5 seconds and its maximum speed is 340 km/h. The model is approximately 160 million forints, and the carbon filament rims fixed with titanium wheel bolts only cost more than 7 million forints per piece.
This SF90 parking in front of the hotel differed from the other cars around it in one more thing: it had a Hungarian licence plate number, not an Italian one. According to Hungarian registration data it was brand new, it had probably come out of the factory a few days before, and by the 22nd of February 2021, it only made 10 kilometres altogether.
Not long after it appeared in Milano, the car arrived in Hungary, where Dániel Németh photojournalist managed to take a picture of both the Ferrari and its user. In the picture we can see a businessman named Bálint Fülöp Somlai getting into the SF90.
In the beginning of March the car had already stood in a public parking place in Tihany, and then it appeared many times in Budapest in March and April. There were a lot of pictures of it already coming up in social media, and even the professional press took notice of it: a portal writing on auto sport dedicated a whole article to it, where they wrote that this specific SF90 Stradale could be the very first of its kind in Hungary. In the article there was a video about the car too, as it was rolling down from the Four Seasons Hotel. Who the driver or the owner of this special sports car was has not turned out from these articles or from the footage circulating on social media.
Bálint Somlai is an entrepreneur dealing with billionaire businesses, who – in the beginning of the 2010's – already had a company producing more than 160 million forints a year, even though it was still a loss-making one. What makes Somlai and the car's story even more interesting is the rise of the businessman. Somlai started making business in the beginning of the 2010's, but in the last three years his corporation group multiplied its income. This happened basically thanks to the billionaire orders coming from the Hungarian National Bank (MNB). Somlai is a friend of Ádám Matolcsy, the son of the issue bank's president György Matolcsy. He was present at his wedding, and they are also connected by their admiration of spectacular cars.
Based on another photo made by Dániel Németh, Ádám Matolcsy also used a special sports car, a 2020-made Porsche Taycan Turbo S in the spring of 2021. This type costs 65 million forints on a basic price.
Neither Somlai, nor Matolcsy is a regular market-player. Their carriers are on the rise thanks to and inseparable from the system building up since 2010. In this article, we present their relationship, the story of their enrichment, and we also show how their luxurious lifestyle is being helped by state businesses and personal relations to the government.
A peculiar luxury car, that crosses through Hungary
This photo was taken on the 24th of April 2021 on Csévi street in Buda. In the picture, we can see Bálint Somlai getting into this special hybrid Ferrari.
Besides the photo taken in April, we have found other previous clues, which helped us reconstruct the joint story of Somlai and the car.
There was a photo uploaded to one of the social media platforms of Bálint Somlai's wife on the 26th of February 2021, which pictured them together voyaging down on one of the channels in Venice; even the Italian flag is visible in the background. A day later, on the 27th of February, Somlai's wife posted another picture, this time about the glass cupola of the Milano Dome.
Also on the 27th of February, a picture of the Ferrari showed up on an international website collecting the appearances of special cars. In the picture the barely a couple of days old car parks in the private parking place of the Milano luxury hotel Bulgari, which is located about a 15 minutes' walk away from the Dome.
Another picture appeared on the same site on the 6th of March, on which the car is already in a public parking place in a part of Tihany in Hungary.
There are many places in these pictures that are connected to the Matolcsy-family and Bálint Somlai. For example, there is an office building a couple of minutes' walk away from the previously mentioned Csévi street, where Blue Real Estate Developer Investment Fund operated until last summer. They are the ones who bought the tarnished building called Ybl water house standing in the neighbourhood of the Castle Garden, from one of the foundations of the Hungarian National Bank.
Furthermore, there are companies in this office building that are connected to the Orbán-family as well, such as Art Related Solutions, which is an interest of one of the Prime Minister's daughters, Sára Orbán, or the BDPST Plc., in which Orbán's other daughter Ráhel holds a position, and its owner is the PM's son-in-law, Ráhel Orbán's husband István Tiborcz. The media organisation Partizán recently published a video about this office building.
Bálint Somlai also has a close connection with the part of Tihany, where the Ferrari has been seen. Only one minute of driving away from the parking place where the car has been, Plage 18, a Balaton side restaurant is located, which gave place to Somlai's wedding. Also, there is another estate close here, which is owned by Somlai.
The National Bank's favourite entrepreneur
"A perfectionist in everything" – this is how Somlai's father described her son in his wedding in 2020. The other father, who is a well-known businessman in the Budapest tourism sector, wished a life similar to his to his daughter and his new son-in-law. By the time of his wedding, Somlai had already been a successful owner of multiple enterprises. The rise of his companies started when he developed multiple links to Ádám Matolcsy and his circle, and also to the issue bank led by György Matolcsy.
Bálint Somlai started his business career in 2011 when he was barely 21 years old. For about one and a half years, he was leading a company that mostly dealt with information technology and software sales, and made a total net income of 167 million forints in 2012. His name got bigger publicity in 2016, when he spoke as the director of the television branch of Origo-NWM.
According to some then-leaders of Origo, Somlai arrived at the company with István Száraz, about whom it turned out months later that he operated the 2013-found VS.hu news site with the support of the Hungarian National Bank's foundations.  The company of Száraz called New Wave Media Group became the owner of Origo's publisher in February 2016. Half a year later Ádám Matolcsy also arrived at the paper: he became the deputy director of New Wave Media Group, and in November 2018, he completely bought the company through another one, Hungarian Strategic Plc. In 2018 Origo was merged into the Central European Press and Media Foundation (KESMA), a media conglomerate that mediates pro-government propaganda and was founded by bypassing competition law rules.
That was the year Somlai's career started to ascend, from this year on he wasn't only linked to the Matolcsy-family through New Wave Media Group and Ádám Matolcsy, but he also regularly got in connection with the György Matolcsy led MNB.  Besides György Matolcsy's two sons for instance, he was also part of that narrow entrepreneur circle whose members got their money out of the accounts of the Growth Credit Bank (NHB) – that was connected to György Matolcsy's cousin Tamás Szemerey – just in time in December 2018. A few weeks later the bank was drawn under issue bank restrictions, and by March 2019, its liquidation was in order.
It was also in 2018 that a company named Raw Development, which was founded by another company of Tamás Szemerey, became an interest of Somlai. Raw Development had received orders from the foundations of MNB even before Somlai entered the picture. In both 2016 and 2017 the company participated in the construction and renovation works of MNB-estates on Úri and Csónak streets in Budapest, but these projects were still only about millions.
Raw Development saw a leap in its growth after Somlai arrived at the company. Based on company reports, this growth was truly outstanding: in 2017 they made a 496 million forint income, which grew to 680 million in 2018 and then to 15.6 billion by 2020, which means that the company increased its income twentyfold in two years.
The company and its subsidiary, Raw Facility Management, founded in 2019, received multiple billionaire state orders in 2021 through MNB.
According to MNB's statement made in May 2021, within a frame of a billionaire project, Raw Development is going to carry out the full external and internal renovation of the MNB headquarters on Szabadság square by 2024, when the bank celebrates its 100th The valuable construction's total cost had been estimated to be 54 billion forints by MNB last spring, but this number further increased with one more billion even before the works actually started. Based on an issue bank statement in October, Raw Development is getting 55 billion forints for the project.
The subsidiary, Raw Facility Management also got to a billionaire issue bank tender: the MNB declared on its webpage on the 18th of November that the company, as the only candidate, won an altogether 16 billion forints for a building maintenance order. Therefore it is going to be Raw Facility's responsibility to manage the full technical operation of the nearly 80 000 square metres of estates owned by either the bank or its subsidiaries.
Besides the valuable issue bank orders of these two companies, Bálint Somlai has other links to the Matolcsy family. He even had business connections with Ádám Matolcsy's wife, Tímea Matolcsy. A 230 square metres big rooftop apartment and its double parking place in the XIII district were contributed to Somlai-Révész Property, a company of Somlai's interest, which was founded in September of 2020. The estate – located in the so-called Riverloft-house – got to Somlai in 2019, from a company connected to Tamás Szemerey. The company Somlai-Révész, and therefore also the estate was bought by Tímea Matolcsy, and the company was renamed to MT Beauty. Both Tímea Matolcsy and the janitor service of Riverloft-house admitted it earlier, that the apartment was used by Ádám Matolcsy, and many of his luxury cars often parked nearby.
A new Porsche
It is long known about Matolcsy, that he likes and collects high-value cars. In 2019, to the inquiry of Átlátszó, he confirmed that he owns four Porsche 911 Targas that he bought with investment intentions.  According to Átlátszó, the price range of the cars is between 15 and 25 million forints per car; the oldest one is from 1991, while the newest is from 2009.
In the photo of Dániel Németh, Matolcsy uses a vehicle both significantly newer and more expensive than these ones: a Porsche Taycan Turbo S, with a Hungarian licence plate. The car that has been snapped with Matolcsy is a product from 2020. The starter price of such a new model is approximately 65 million forints. The more than 760 horse-powered car's highest speed is 260 km/h, and it accelerates to 100 km/h in 2.8 seconds.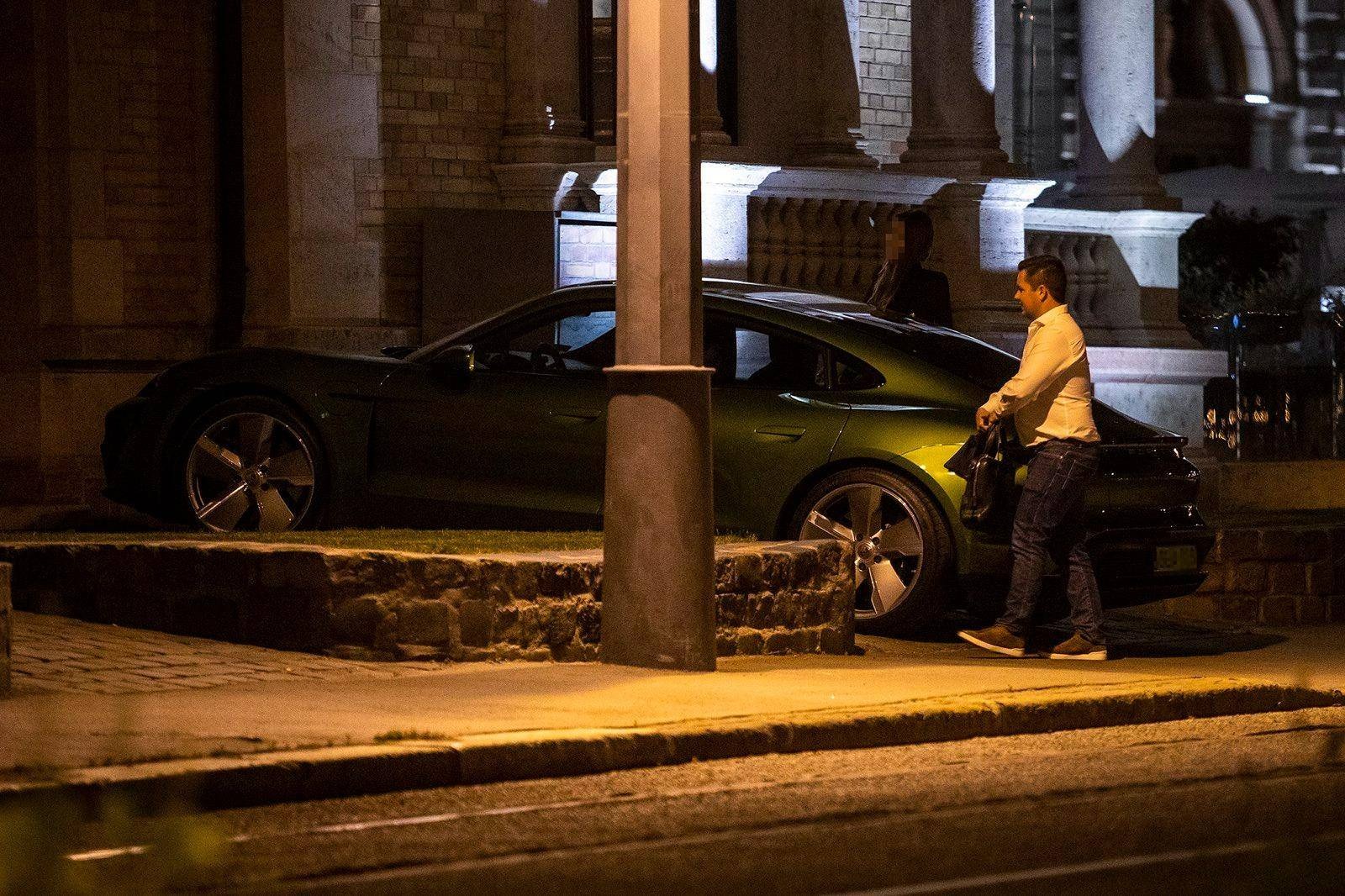 In another picture of Németh the Porsche parks in the courtyard of that XII. district villa, about what member of parliament Ákos Hadházy recently wrote on his page that Ádám Matolcsy lives there.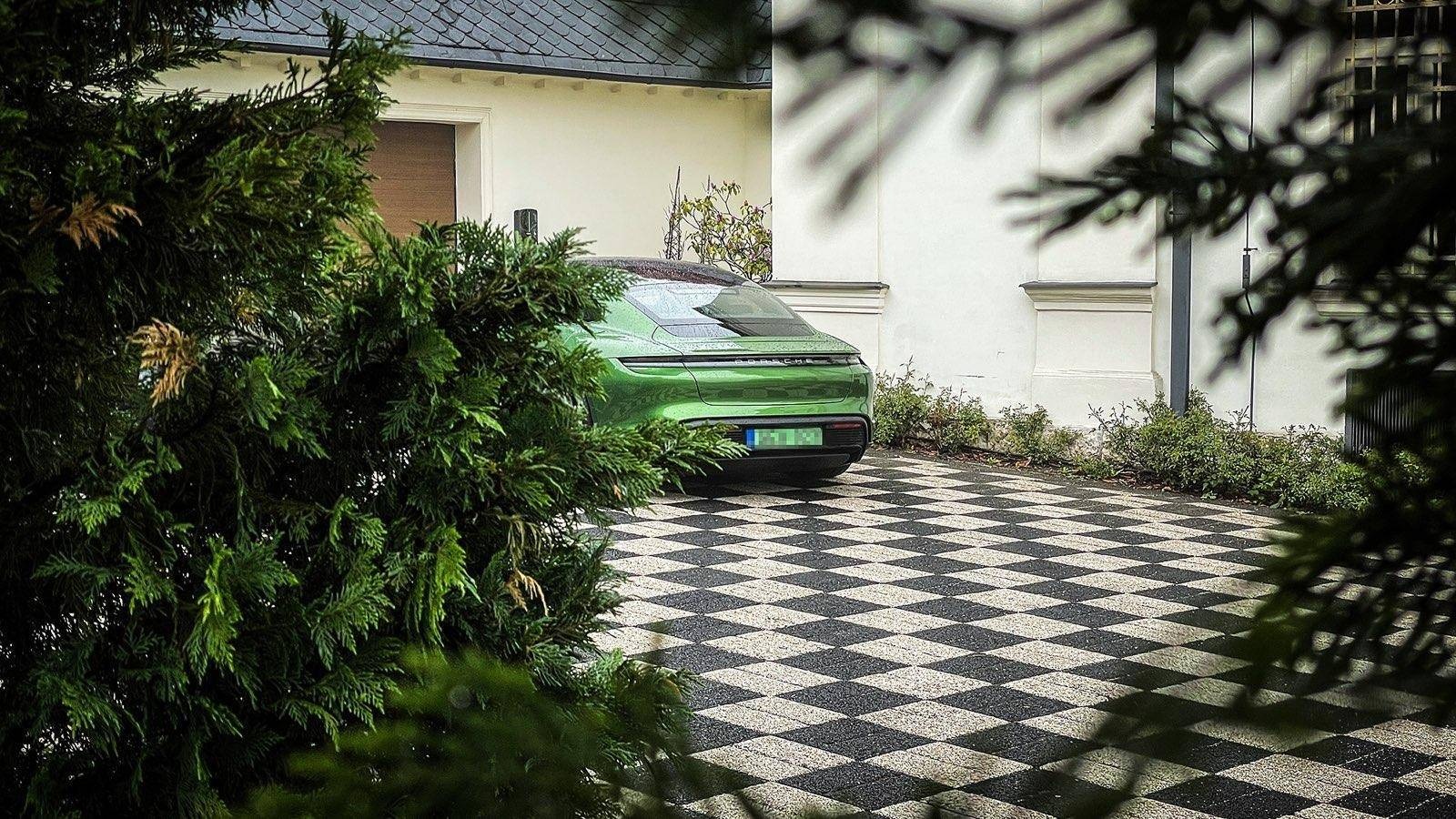 To the question of RTL News, Ádám Matolcsy admitted that earlier he had been renting the estate, and it is not unlikely that he would also use the villa in the future.
The villa previously belonged to one of the MNB's foundations, which bought it for 1,3 billion forint for training and researching purposes. Couple of years later the foundation sold the villa, and now it is an interest of Felis private equity fund.
As it is in case of the Ferraris, there are plenty of optional, customizable details with Porsches as well. On the car used by Matolcsy for instance such a detail is the green-metal polishing named Mamba. Német's photos were taken in May 2021, although as it happened before with the Ferrari used by Somlai, the Taycan too caused sensation amongst those interested in sport cars. According to official data, the car entered traffic in the beginning of May 2020, and only a couple of weeks later it has been seen on Széchenyi square. After this, it often appeared in Budapest, and also showed up near Balaton.
In June 2020, the Taycan was seen in a parking place on the lakeside close to Balatonfüred. This parking place is barely a few minutes of driving away from Tamás-hill, where Ádám Matolcsy bought a 3200 square metre sized Balaton-panorama property. He then got a house – covered with glass on three of its sides – built on it in 2016, about what, to the inquiry of Népszabadság, he said he would use it for agricultural purposes, and resting.
The estate's general contractor was Raw Development, who showed the Tamás-hill house on their webpage as a reference work. This is from where it could be learned that the building cost 40 million forints altogether. This reference – just like every other – disappeared from the webpage later.
On their own wheels
Similarly to Somlai, Ádám Matolcsy's business success has been helped by MNB operating under the leadership of his father; other state institutions, as well as the family-related Growth Credit Bank (NHB). Matolcsy, who was not even 30 at that time, had bought a furniture factory – Balaton Furniture, a company with great history – in Veszprém, using one of his companies, Glamorous, and the loan NHB – linked to Tamás Szemerey – lent him.  The original source of purchase price was also the György Matolcsy led MNB, and it's so-called Growth Credit Program.
The issue bank provided Ádám Matolcsy's company with financial support not only for this business. The newspaper Népszava wrote about it last spring, that a number of trucks heavily loaded with cargo arrived in the courtyard of the secessionist building of the MNB owned Post Palace – with Balaton Furniture's logo on them. Ádám Matolcsy did not deny the delivery, but he stressed that his company had not competed for tenders written out by the bank, or any of its subsidiaries. This can be true in the sense that the works of Post Palace were led by a company called MNB-Estate – a state-owned company that is not affected by the public tender-law.
In 2017, Ádám Matolcsy said: winning a public tender is everything but not a gift. After this the furniture factory won a more than 220 million forints order on the tender of the University of Physical Education in 2018, and in 2020 it got into a circle of six companies, which, from the December of 2020, are going to be responsible for supplying furniture for state institutions for 3 years in the value of 20 billion forints. Furthermore, Balaton Furniture has received more than 600 million forints of non-refundable European Union support. Its annual net income remained stably over 1.5 billion forints in the last couple of years. In 2018, this number was 1.6 billion, in 2017, 1.7, and in 2020 it was 1.6 billion again. Before the arrival of Ádám Matolcsy, the annual incomes of the company were around 700-800 million forints.
On land, in air
In the summer of 2021, the portal 24.hu wrote about it – illustrated with pictures – that Ádám Matolcsy regularly uses a private plane with the registration mark T7-MNG, and that the plane had also been used by the businessman István Száraz – who is a friend of Matolcsy, and has been previously mentioned in this article – on one of his journeys in France.
Based on many pictures of Dániel Németh photojournalist, this exact same plane had been used many times by Bálint Somlai as well. In one of the photos, in May 2021, Somlai arrived at the exit of Budapest's General Aviation Terminal, alongside his wife, parents, and also his mother and father-in-law.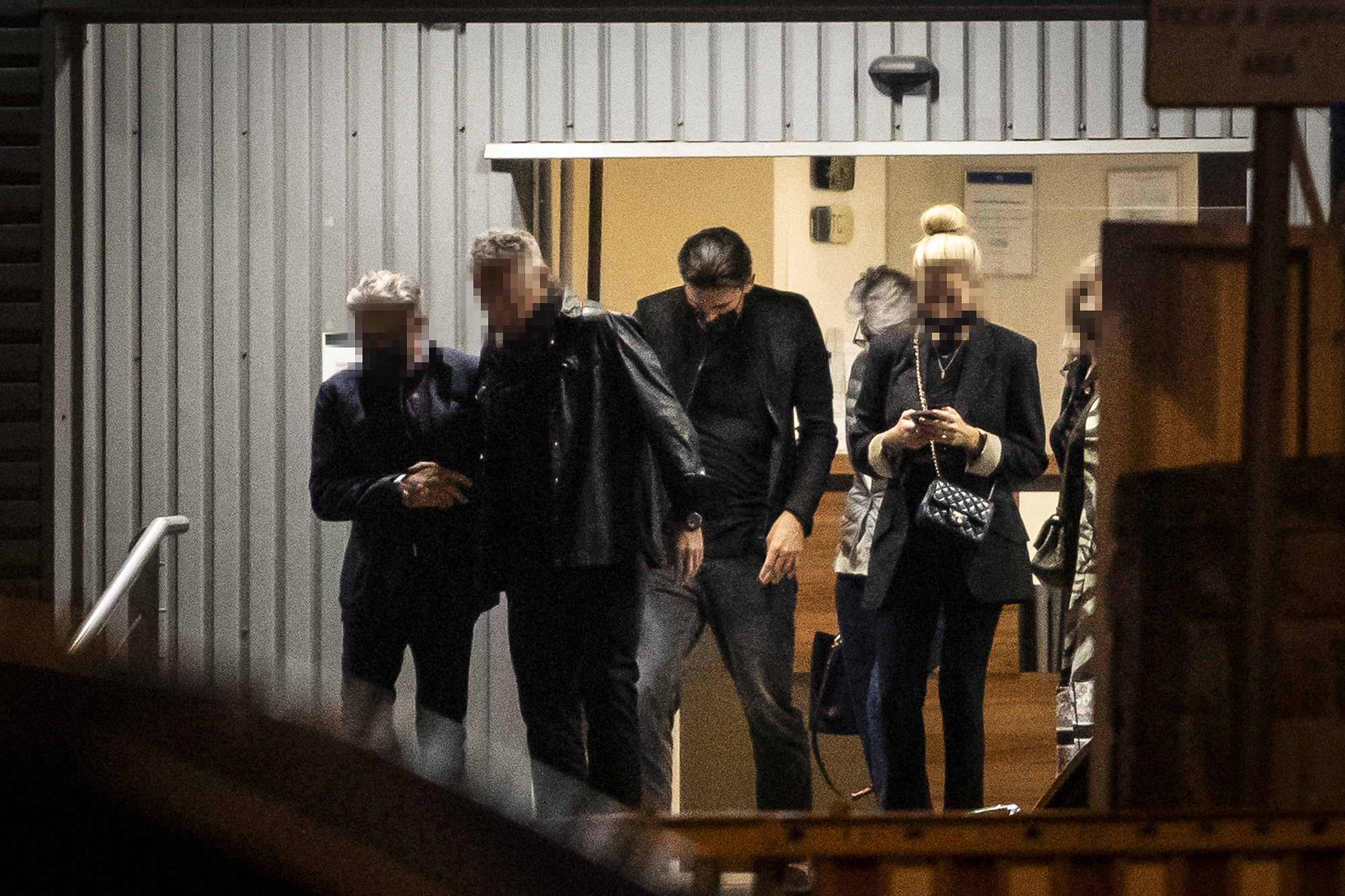 According to a plane-database called Icarus Flights, on that day the jet has just arrived back from Madrid, Spain. This is confirmed by many pictures uploaded to social media by Somlai's wife, that appeared on the platform barely a day after the landing, and where the tagged location was Madrid.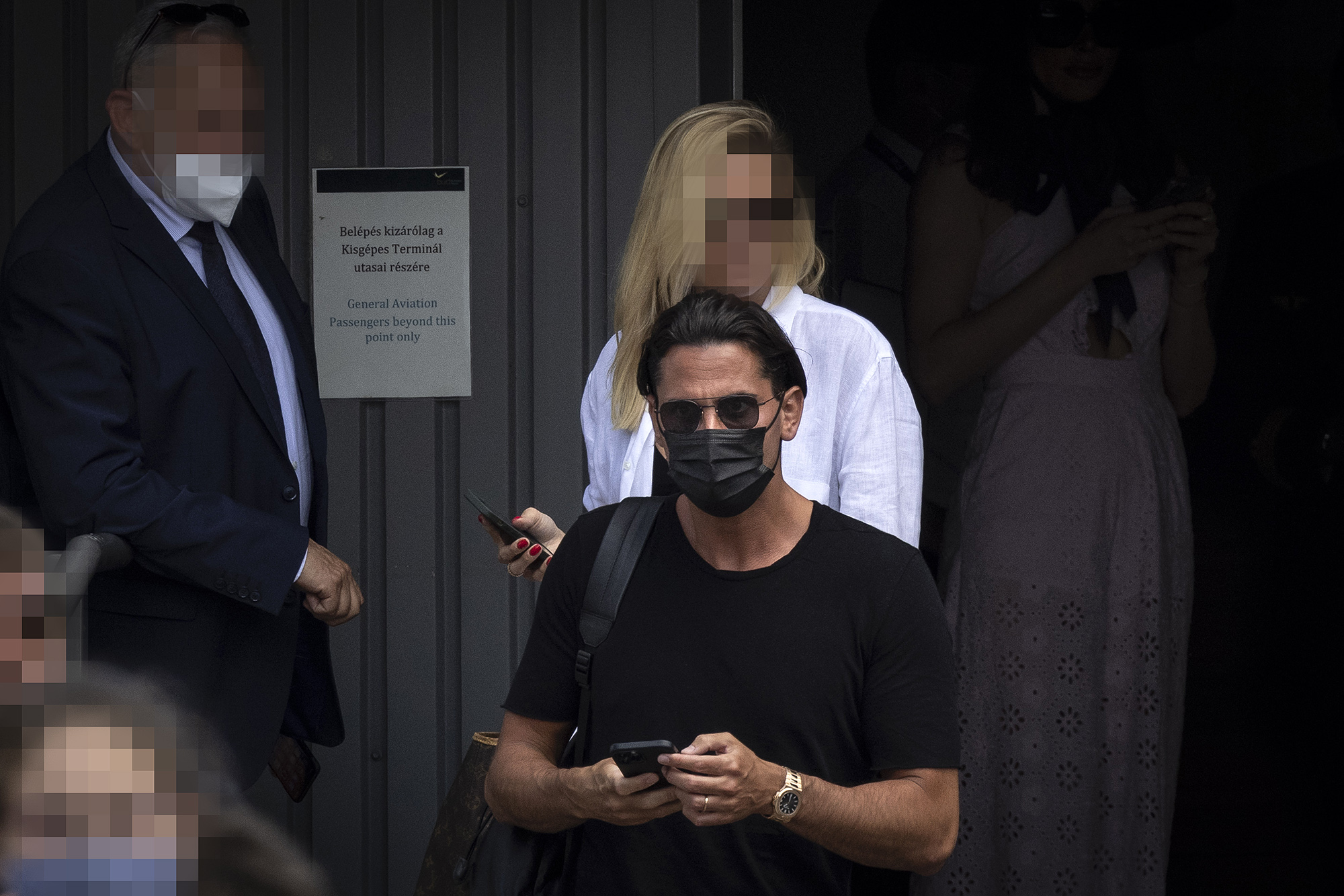 In another photo of Németh, Somlai and his wife are just leaving the General Aviation Terminal. Based on specific details of this photo it may be certified that at this time Somlai's family was using the jet T7-MNG with Ádám Matolcsy, and they arrived together from Mykonos to Budapest in the middle of June 2021. As it happened before with the connection to the Ferrari, this journey to Mykonos has also been confirmed by a picture on the social media profile of Somlai's wife. In the photo posted in the middle of June, where the tagged location is Mykonos, the young entrepreneur and his wife are smiling into the Greek sunshine, leaning onto a cliff, wearing sunglasses.