One of the boats anchored in the harbour of Šibenik, a popular tourist destination on the Adriatic coast, is Valery II, a catamaran with a market value of approximately 260 thousand euros. Groups as big as eight people can sail on it, since the 7-meter wide and 13-meter long yacht has four two-person cabins with separate bathrooms.
The yacht is owned by people close to László Puch, who has been an influential figure of Hungary's left-wing politics for the last two decades, formerly as the man in charge of the Socialist Party's finances and now as an investor trying to save left-leaning media. Since 2014, Puch's wife and adult children have been the majority owners of the boat through several family companies, Croatian records show. Puch had used the yacht even before that and had connections to its previous owners as well.
Direkt36 has found the yacht in an official database of boats registered in Croatia, which contains all relevant information about boats longer than 12 meters. With the help of an IT professional, Direkt36 analysed the whole database of 3714 boats and identified the individuals behind the companies owning these vessels. We found 155 such boats, which directly or indirectly (for example through other companies) can be linked to Hungarian owners. We identified 58 Hungarian private individuals, most of whom own one boat each, but there is also a person owning 24 yachts. These owners are mainly not widely known businessmen, only Valery II can be linked to a public figure.
Puch confirmed to Direkt36 that his family owns the boat through their companies. He also said that he personally uses the yacht a few times a year. Puch's passion for sailing is well known (last year he won in one of the categories of a Balaton sailing competition as part of an 8-member team), but so far it has been unknown that his family's assets include a valuable sailing boat.
The lawyer and the wife
Valery II is owned by a Croatian company called Sretna Adria Carter d.o.o., which was founded in 2007 by Gyula Dávid, a former Socialist politician close to Puch. Dávid was a Socialist member of parliament between 2002 and 2006, and he was a member of the supervisory board of the Socialist Party's foundation when Puch was the board's chairman. Dávid is currently working as a lawyer, and one of his clients is the Austrian company Horizont Handels und Industrie AG, of which Puch is a shareholder. Last year, Puch purchased Népszava, an emblematic left-wing newspaper, through this Austrian company.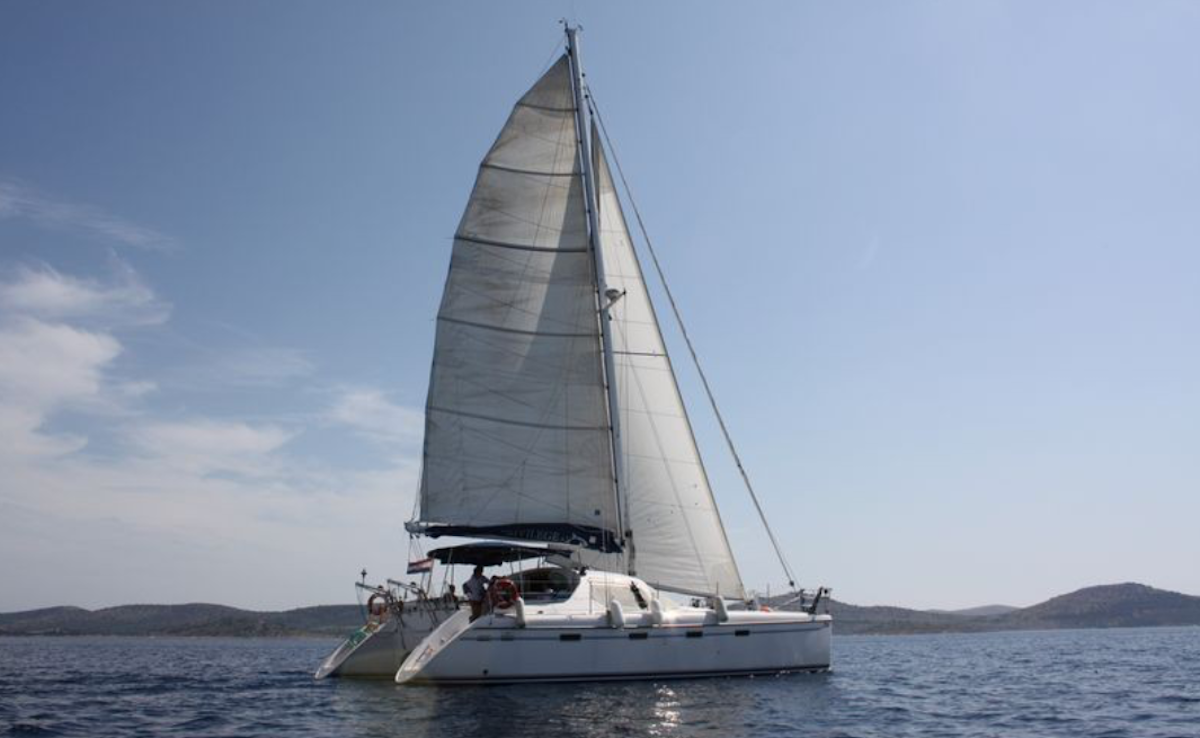 Dávid declined to comment, saying that he considers his investments a private matter, and that he withdrew from public life 11 years ago.
Dávid sold 75% of his shares in Sretna Adria Carter in 2008 to János Bazsantik, a businessman who took part in several sailing competitions in the recent years together with Puch. Bazsantik sold his shares in 2014 to a Croatian company called Dallos d.o.o., and this was when the boat became the property of the Puch family.
95% of Dallos' shares are owned by a Hungarian company called Halexa, which was founded by Puch's wife and two daughters. Later, the politician's son also became a member of the company.
In a telephone interview, Puch told Direkt36 that the family firm created Dallos d.o.o. in the beginning of 2000s with touristic purposes. They own an apartment building in Dalmatia, he said. In 2014, they took over Sretna Adria Carter through Dallos and together with the company they also purchased Valery II. Puch claimed that he could not say when exactly and for how much Sretna Adria Carter purchased the boat.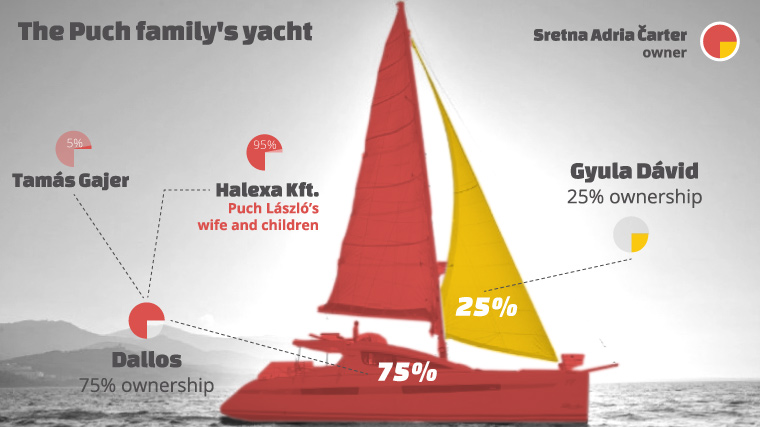 The last time Puch published a wealth declaration was in 2014, before he left the Hungarian parliament. According to the declaration, he personally owned six properties in the Hungarian countryside, one Suzuki car and savings in the amount of 170 million forints (550 thousand euros). The spouses' assets declarations are not public but Puch said that his wife declared only her interest in Halexa and did not indicate her ownership in the yacht because the declaration rules did not require that.
A yacht for rent
"Once in a lifetime one has to see how the sun sinks into the blue shining waves" – this is the slogan Valery II is advertised for tourists by the company of Sretna Adria Carter's director. According to company's site, Valery II can be rented between March and September, the renting fee ranges depending on the period between 2700 and 5000 euros. It can be rented for organized tours, with the boat leaving from the Marina Mandaline port in Sibenik, and then visiting Dalmatian towns (Primosten, Split, Dubrovnik) and various islands. The fee does not cover catering and the services of a captain.
The webpage presents Valery II in details with photos. It is an "Alliaura Marine Privilege 435" catamaran model, which was built in 2004 and is 13.4-meter long and 7-meter wide. It has four 2-persons cabins, thus it is suitable for the accommodation of eight people. Each cabin has its own bathroom, and the advertisement also highlights that DVD and CD players are also available on the boat.
An associate of Multiyacht, a company selling yachts, said that based on the available data Valery II can be considered a middle-high class luxury yacht with a current market price of approximately 250-270 thousand euros. The webpage of Yachtworld, one of the biggest distributors of yachts worldwide, offers a 2002 model for 303 thousand euros, and a 2001 model for 242 thousand euros. According to Multiyacht's associate, the original price of the boat could have been 500-600 thousand euros.
Puch considers the price of 250-270 thousand euros excessive and recalled that recently they tried to sell the yacht for 170 thousand euros but could not find a buyer. He said that a few times a year he uses the catamaran together with his friends. He added that he also has to pay the renting fee because of company regulations. He also said that he had used the boat even before his wife became a shareholder in the company owning the yacht. "This is not something new, sailing has been my hobby for a long time", he said. He added that he has been sailing at the Adriatic Sea since the early 1990s, even during the times of the Croatian war.
The treasurer
Puch has long been an influential figure in the Hungarian Socialist Party. He became the party's treasurer after the Socialists fell out of government in the 1998 parliamentary elections. His job was to secure the financial background of the party and proved to be a successful and powerful operator.
According to some former Socialist party members, such as former prime minister and party chairman Ferenc Gyurcsány, Puch managed to achieve this thanks to a close relationship with Lajos Simicska who played a similar role behind Fidesz, the current governing party. At that time, Puch responded to these speculations by saying that he did not have a direct connection to Simicska, there was only indirect messaging between the two of them.
He left the post of the party treasurer in 2008. After that, he led the county-level party organization where also his political career started. Last year, he left the post of the county party chair but kept his party membership. Puch again became the centre of attention last December when he announced that he would buy two left-leaning newspapers, Népszava, and Vasárnapi Hírek, another left-leaning paper.
László Tenki provided computer programming assistance to this story. For the Hungarian company data we used the services of Opten and Céginfo.
Cover photo by Tamás Szémann / Index
In collaboration with