One of the most powerful Hungarian politicians, Antal Rogán, and his wife were invited to attend an elegant party in September 2012. The then-mayor, now minister Rogán wore a sporty suit with an open-neck shirt, while Cecília Rogán chose a striped sweater decorated with pearls, its black and white colours perfectly matching with her shoes and bag. It was the opening night of the classy Hotel Estilo in the city centre of Budapest, owned by two Jordanian businessmen, Zuhair Awad and Sameer Hamdan, known to be among the biggest investors in the central 5th district of Budapest.
The two businessmen and Rogán built strong ties while the latter served as mayor of the 5th district. He sold them one of the most valuable buildings of the district and attended several of their parties. Zuhair Awad and Sameer Hamdan proudly said in an interview how open the politician was towards them. Publicly, their relationship remained official, however, in the background there is a more personal – yet indirect – connection between them: the company of Cecília Rogán is based in an office owned by a long-time business partner of Zuhair Awad and Sameer Hamdan.
The firm Nakama&Partners Ltd., funded by Cecília Rogán and her celebrity friend Kata Sarka roughly a year ago, moved to an office building on Naphegy last October. The building is owned by Ernő Váradi, who had been doing business with the two Jordanian partners for ten years. Now they co-own two real estate companies based in the 5th district.
All this is a coincidence according to Kata Sarka, partner of Cecília Rogán at Nakama&Partners Ltd. She claimed that they did not know about the owners of the office they moved into. "We looked at many offices and both Cili and me liked this one the most," she said, adding that they rent the office at market price. However, she did not say the exact amount of rent, and the owner of the building, Ernő Váradi also refused to answer our questions.
Antal Rogán did not wish to comment either, except for sending a message through his secretariat claiming that our questions "have nothing to do with the public activities of the minister." The two Jordanian partners claimed that they are unaware of things happening in the office building as they are not connected to it.
Security gate, pink blinds
Nakama&Partners Ltd. is co-owned by Cecília Rogán and Kata Sarka, who is currently getting a divorce from TV showman Péter Hajdú and organises beauty pageants. Nakama&Partners Ltd. is an advertising agency, according to the business registry. As Katalin Sarka told Index last year, they are selling advertising opportunities to companies on celebrities' Facebook and Instagram pages, and that they already had many business partners.
Nakama&Partners Ltd. changed its seat last year, moving from Törökbálint to Budapest, close to the top of Naphegy, in a rather elegant neighbourhood. Next to the security gate of the recently renovated office building, a board shows the names of every company headquartered there. It shows that Nakama&Partners holds the ground floor "studio" while other companies occupy offices on the upper floors. The office has a separate entrance, its window decorated with pale pink blinds.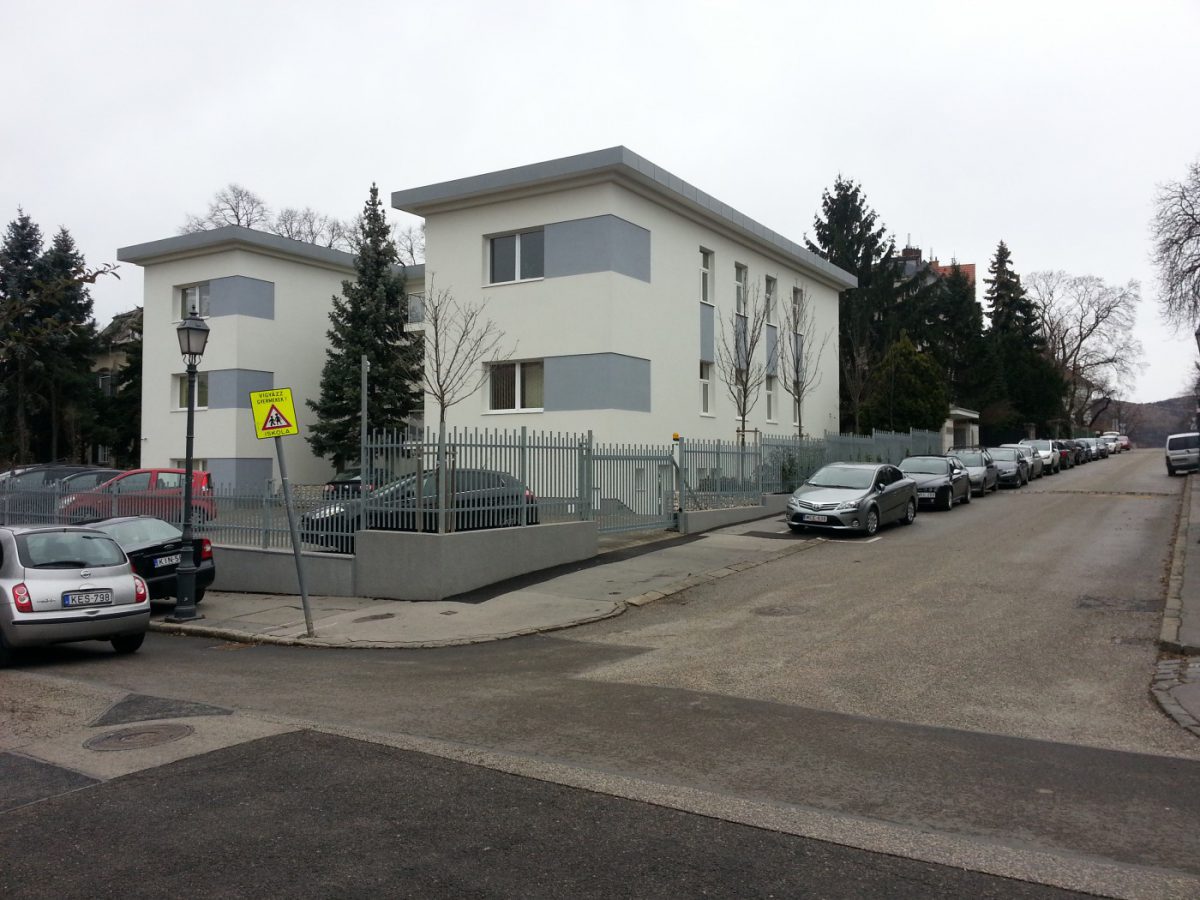 According to the land registry, the entire ground floor is 87 square meters, but the size of the office rented by Nakama&Partners Ltd. is unclear. Kata Sarka told Direkt36 that they rent the office "at market price". The rent of smaller offices on Naphegy usually costs 3000-4000 forints (10-13 euros) per square meter, László Balogh, senior marketing analyst at Ingatlan.com told Direkt36. This means that an 87-square-meter office can cost about 260-340.000 forints (850-1100 euros) a month. Direkt36 asked Kata Sarka how much exactly their company pays for renting the office, but she did not answer the question.
Billionaire landlord
Situated at 2 Derék Street, the office building is owned by EMBA Ltd. since 1999. The firm belongs to Ernő Váradi, a businessman in his fifties currently based in Dubai. Váradi has owned and led huge corporations for decades, and now runs dozens of companies in Hungary. In 2000, Playboy Magazine even listed him among the 100 wealthiest Hungarian men.
Váradi's business partnership with Hamdan Sameer and Zuhair Awad started in 2006, when they funded Anna 2006 Ltd. This firm and some other companies connected to it owned two illustrious old hotels in the 2nd district on Hárshegyi Street: Hotel Rege and Hotel Európa.
Although these hotels had to be given away due to financial problems, the three partners maintained the business relationship. Currently they are co-owners of two real estate companies – Váci 22 Invest Ingatlanfejlesztő Ltd. and Váci Invest Ingatlanhasznosító Ltd. – that are project companies behind two valuable buildings in the 5th district. One building is on central Vörösmarty square, and the other one is a hotel at 22 Váci Street, belonging to the Mellow Mood Hotels Group, according to Judit Blandl, general director of the group. Mellow Mood Group is the hotel empire built by Zuhair Awad and Hamdan Sameer. The general director added that neither of these buildings was bought from the municipality of the 5th district and that the supporting attitude of the municipality did not play a role in Mellow Mood Group being able to open its five hotels in the district.
How does Antal Rogán fit in the picture?
Hamdan Sameer and Zuhair Awad have been living in Hungary for 30 years, they gained citizenship in 2013. They have spoken publicly about their lives several times – last time this January to the Hungarian edition of Forbes. They started with fabric trade, money changing and hostel management, now they own or run 12 hotels in Budapest. Some of them are classy boutique hotels, others are five-star luxury hotels. Six of them are in the 5th district: one is under construction at the famous building called Párizsi Udvar, the others – Cosmo City, Promenade City, La Prima Fashion, Estilo Fashion, Buddha Bar Klotild Palace – have already opened.
The construction of Párizsi Udvar was declared by the government as a priority investment for the national economy, and was granted a nearly seven billion forint (22.6 million euro) loan from the state-owned Eximbank. The contract was signed by Eximbank's vice-president András Puskás, who used to serve as deputy mayor during Rogán's years at the 5th district. The building of Párizsi Udvar had been bought by a project company of Mellow Mood Group from the municipality of the 5th district for 2.1 billion forints (nearly 6.8 million euros). At that time, the municipality was led by Antal Rogán. The district council decided to sell the building behind closed doors.
[vimeo id="208273777″ align="center"]
It was not the first connection between Rogán and the two Jordanian businessmen. In September 2012, for example, he did not only attend the opening reception of the four-star Estilo Hotel, but he also gave a speech at the grand opening party of the luxurious Mellow Mood Hotel called Buddha Bar.
Zuhair Awad and Hamdan Sameer talked about their relationship with Rogán in the above-mentioned Forbes interview. They said that they were eager to build good connections with the municipality of the 5th district in order to make good investments in the city centre. When Antal Rogán became a mayor in 2006, he was the first mayor to meet them. "We had many businesses in the district way before Rogán, but no matter how hard we tried, we were not able to build any connections. Once, we sent an email to Rogán, telling him that we would like to discuss local problems and tell him about our plans. He answered instantly. We had just bought 83 Váci Street, turned it into a four-star hotel called Estilo. He was particularly happy to hear that finally someone comes to buy and to renovate that shabby old building."
There is no connection between the choice of office of the Nakama&Partners Ltd. and the Mellow Mood's 5th district investments, claimed Judit Blandl. "We don't even know what is happening to that particular office," she added. The fact that Rogán as a mayor attended several opening parties of their hotels is also natural, she said. Mayors always get an invitation, she explained.
The two Jordanian businessmen told Forbes that they got the opportunity to renovate Párizsi Udvar because after the successful refurbishment and opening of Buddha Bar, they had a reputation to keep their promises. The Eximbank loan had nothing to do with the former deputy mayor being a VP at the bank. A group of bankers made the decision about the loan, many conditions had to be met. They, however, admitted to know Puskás well as they had met quite often when he used to be a deputy mayor.
"We are in connection with many celebrities. Budapest is small. We live here, go to parties, do business," they told Forbes, adding that they were successful before 2010, too, and that they were not interested in politics. "Because we are businessmen. We do business with everyone."
In collaboration with