The career path of Sándor Börcsök, a 47-year-old Hungarian liquidator dealing with companies in default, has taken a huge turn within a few years. While in 2009 he had complained about not receiving lucrative assignments by now he has become the most important player on the market of liquidation. This seemingly boring industry involves trading with assets and properties of enormous value, of which some also attracted the attention of businessmen with close ties to the government.
Even though only a narrow circle of state-selected companies have the licence to be in the liquidation business – a process when the assets of a company are sold when it is unable to pay its debts – several among them have direct or indirect links to Börcsök. He also has a strong position in the state company responsible for the liquidation of strategically important firms where he is the one receiving the most significant assignments recently.
The state liquidation company began liquidating assets of approximately 262 billion forints, 41% of this falls under Börcsök's supervision, a Direkt36 analysis found. He is the liquidator of such huge-value businesses as the companies of Csaba Tarsoly involved in the Quaestor scandal, or the KÖKI Terminál shopping mall located at a terminal of Budapest's 3rd metro line.
A Direkt36 investigation has revealed that Börcsök is an old acquaintance of Miklós Seszták, the Hungarian minister responsible for the liquidation industry. Both Börcsök and Seszták confirmed to Direkt36 that they have known each other for a long time.
In a personal interview with Direkt36, Seszták said that his acquaintance with Börcsök has nothing to do with his success. He added that as a lawyer he has met several other liquidators too. He also stressed that he does not take part in the issues of the state liquidation company. Börcsök said that the minister had nothing to do with his success. He claimed that Seszták did not play any role in why he received a series of assignments from the state liquidation company.
The common past
The relationship between Seszták and Börcsök started years ago. Börcsök said that he knows Seszták from the times when the minister worked as a lawyer, but he could not recall when and how their relation started. Based on publicly available documents in 2008 they already had several common projects, in April 2008 the company called Ford-Tápl in Kisvárda, where Seszták's political and legal career started, employed Börcsök for the cessation of the company. Several public documents of Ford-Tápl contain the signature of both men. One document is about Börcsök requesting the legal assistance of Seszták.
Börcsök and his company probably hoped for doing more business in Kisvárda because they opened an office here in the same year. Börcsök's company called Economix rented an office from the real estate company, which was co-owned by Seszták's wife , Marianna Berecz-Seszták, and the rental contract documents also contain her signature. The record shows that Börcsök's company used the property as a "favour", meaning they did not have to pay for it.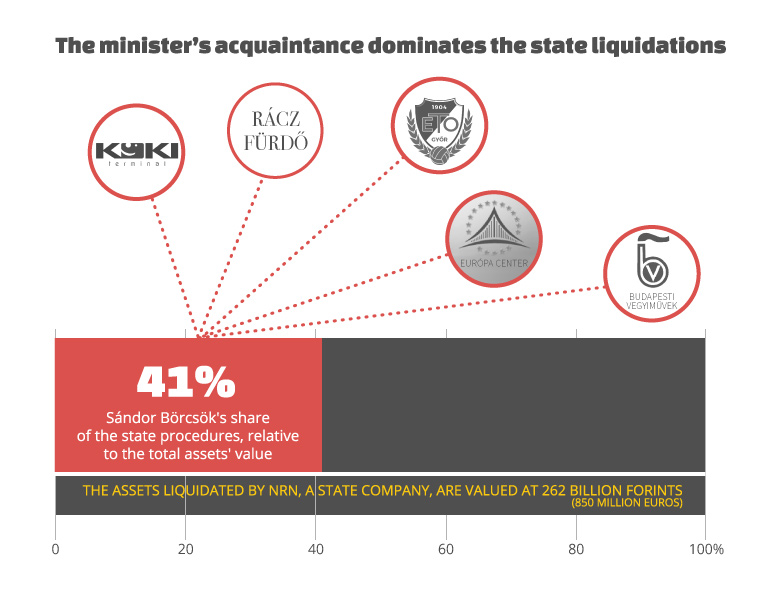 Another link between Börcsök and Seszták is a group of companies known as the Ramiris group, dealing with the sale of cars, computers and other products. Even though according to company documents Börcsök and Seszták did not work in the companies at the same time, both of them were active in them at several occasions.
Seszták was the legal representative of the Ramiris companies. Later, three of the companies were liquidated by firms linked to Börcsök. One of them is Ramiris Mobil where Seszták was not only the lawyer but previously he was also the business partner of the company's managers.
Seszták, in an interview that took place in his conference room in the ministry, told Direkt36 that despite these links, he has not been in a close relation with Börcsök. Regarding the rental deal in Kisvárda, he said that his wife's company did not check who the tenant was. Furthermore then there were only few real estate companies in Kisvárda where offices could have been rented. Seszták also said that the real estate company was trying to attract more tenants during the economic crisis by offering a free trial period and that is why Börcsök's company did not have to pay for the rent. He said that Börcsök's company moved out after the trial period ended.
Seszták claimed that during the cessation of Ford-Tápl his relation with Börcsök remained professional. He added that they did not meet during the liquidation of the Ramiris companies.
Börcsök also called his relation with Seszták "strictly professional." He said that it was just by chance that his company rented an office from the firm of Seszták's wife. Börcsök also mentioned that he liquidated several such companies which were not served by Seszták but other lawyers.
The successful man
Börcsök's career started in 1995 in the company called Economix. He overtook the management of the company at the end of 2004, and today he owns more than 80 percent of the company's shares. The company gave up several activities during the past years, and its main profile has become liquidation.
Even though Börcsök was described by one of his former colleagues as someone who really likes his job and as "a clever negotiator, target-oriented person", his company closed several financial years in the 2000s without any profit. In 2009, after his company produced a loss of 7 million forints in the previous year, Börcsök complained to the shareholders that they were not receiving significant assignments and there is no value in the companies liquidated by them. "These indebted companies do not have wealth in them, maybe only on paper," he said, according to public documents. Company value is one of the most important indicators in the liquidation business because liquidators get 3 percent from the sold company assets.
Then the tables turned, and Börcsök's company closed 2011 with the revenue of 16 million forints and profit of 1.5 million forints, and the year 2012 with an income of already 58 million and profit of 26 million forints.
One of the deals that was behind the rise of Börcsök's company had political implications as well. In 2009, Economix won the liquidation of Balaton Húsipar Ltd. The meat processing company was first bought by a bank, which in 2011 sold it to the Prime Minister's friend, the mayor of Felcsút, Lőrinc Mészáros. While in 2009 Börcsök advertised the meat processing company for 1.6 billion forints, in 2010 the price was lowered to 470 million forints. He explained the price decrease to Hvg.hu news site with the economic crisis. Public documents do not reveal the final selling price of the company , and Mészáros's company refused to tell the price. From the assets of the purchased meat processing company Mészáros created a new firm called Bakony Hús Ltd., which last year made a profit of 205 million forints and which he then sold in June 2016.
Börcsök's position strengthened significantly in 2014 when the liquidation rights were redistributed in a process organized by the government. Only those 130 companies can have licence for liquidation which were selected by the government in a tender. The applications were preliminarily evaluated by a committee led by Seszták, then a member of parliament. Several of the winning companies turned out to have good political connections. One of the firms is owned by Endre Hamar, a former business partner of István Tiborcz, the son-in-law of Prime Minister Viktor Orbán.
Even though the government promised to make sure that the licences will not be granted for a close circle, in the end the list of winners included several companies connected with each other. Apart from his own company, Börcsök is also linked to several other winners.
his wife's company "Insolvent" also won, as did Cég-Controll, the company of one of his close colleagues. In the latter, Börcsök is currently working as a liquidator. A fourth liquidation company, F1 Consulting, has an office in a building that is owned by Börcsök and where his companies' offices are.
F1 Consulting, currently based in Szigetszentmiklós, was founded by Börcsök and his wife but was sold before the licensing tender at the end of 2012. We asked F1 Consulting why they opened an office after the sale of the company at the address where Börcsök's office is also located, but they did not respond. Börcsök was still employed by the company last year when he was the liquidator of a holiday resort in Siófok, a town by lake Balaton.
Börcsök's success did not go unnoticed in his professional circles. When the liquidators' association wanted to elect a new president after the governmental tender in 2014, many of its members wished to see Börcsök in this position and nominated him. One of the liquidators explained this by saying that in professional circles it was well-known that companies related to Börcsök performed well in the tender, thus several members came to the conclusion that he must have good governmental connections. "Some of them thought that he may also help them with certain issues," he said. Börcsök explained the nomination with his professional past in the association and the network of contacts he built during his career. He wrote that he did not accept the position for family reasons.
So, the same president was re-elected and Börcsök became only a member of the association's leadership.
Billions go through his hands
 Börcsök might have refused to lead the association but he won a job with the state liquidation company last summer. The National Reorganisation Nonprofit (NRN) Ltd. was set up in 2012 by the government with the aim to liquidate "strategically important" companies in case of their bankruptcy.
Six months after Seszták's ministerial appointment, the NRN's supervision was placed under his Ministry. The explanation was that after the 2014 parliamentary elections, which was won again by the governing Fidesz party, there were changes in the state assets management which made the ministerial supervision of several state companies necessary.
Rules specifying which companies can be called strategically important are rather vague. A company implementing a "project with national economic importance," or which received a state loan or fulfils a public task could be listed as strategically important. Besides water or heat supply providers, high-value real estate companies and hotels were also named as strategically important by the government. Hotel Saliris in Egerszalók, where one of the close business partners of Lőrinc Mészáros appeared as a service provider, was also listed as strategically important, thus its liquidation is being carried out by NRN as well.
According to NRN's website, the state company has started the liquidation of 49 firms. This number may not seem high but the firms under liquidation have huge assets, 262 billion forints according to the calculations of Direkt36. The liquidation of 16 billion was already concluded, the rest is still ongoing. According to the association of liquidators, this is almost half of the total assets under liquidation.
Börcsök's position is the strongest among the 13 liquidators of NRN. "He is also strategically important," an owner of a liquidation company said. According to our analysis, 41 percent of the 262 billion forints under liquidation is supervised by Börcsök. Well behind him are the other liquidators of NRN, including Jenő Varga, one of the most influential liquidators of the past two decades. Varga, for example, is responsible for the liquidation of the former Hungarian airlines Malév, which began in 2012. As described by one of his colleagues, he was previously the one "blowing in the trade winds".
This is now more and more true about Börcsök, who is overseeing the liquidation of 10 strategically important companies. He overtook the liquidation of ETO Park and the company which owns a football team in Győr from Varga, and the liquidation of KÖKI Terminál and a logistical centre from other liquidators. He is also in charge of the liquidation of Budapest Chemical Works Company, known for its factory on Illatos Street, the scene of the most serious environmental pollution scandals of the past years. At the end of July, he was assigned the liquidation of Rác Baths, a spa facility, which was renovated for billions of forints but has been closed for years. In August, he also became responsible for the liquidation of Ajtósi University Property Distributor. The company is the owner of the venue of Dürer Kert, a popular beer garden in Budapest. But his portfolio also contains Európa Center and Royal Balaton & Golf, a golf resort, in Balatonudvari.
NRN did not answer our questions about why Börcsök has become the busiest liquidator of NRN. It argued that these details are part of the "internal work rules of the company". Minister Seszták claimed that it is not his competence to define which cases go to which liquidators of the state company. He said that he knows plenty of other liquidators besides Börcsök. When asked how many of them have become as influential as Börcsök, he said that he did not conduct this sort of analysis.
Börcsök has so far only sold the assets of a district heating provider to a local municipality. Until he sells the assets and properties of other companies, these must be operated, maintained, guarded, cleaned. NRN refused to provide details on these contracts, saying that in their opinion these data do not qualify as public information.
Neither did NRN reply to questions about Börcsök's employment, including about the fee he is paid. They only said that liquidators receive a fix amount and are not entitled for extra benefits for successful deals.
Those who know Börcsök say that despite becoming an influential person in the industry, he has remained a "quiet", "careful" and "discreet guy." Recently, he was assigned to liquidate the publisher of Figyelő, one of the oldest and best-known political weeklies, he personally is still avoiding publicity. Hardly any photos of him can be found online. Besides pictures from family gatherings, his Facebook wall contains also photos where he is posing in hunting clothes or smoking cigars while leaning back in satisfaction.
For data on the Hungarian companies we used the services of Opten and Céginfo.
This story was reported and published with the support of the Center for Independent Journalism. CIJ provided support in part of a project that is funded by the Open Society Foundations.
In collaboration with