A four-wheeled black Audi A6 was speeding down the M7 highway on October 11, 2009. The vehicle exceeded the allowed speed limit, which was recorded by the police who then contacted the rental company to which the car belonged.
The car fleet company identified the customer using the vehicle and a company employee wrote visibly on the police document next to the customer's name "Antal Rogán." Rogán, now serving as Viktor Orbán's chief of staff, has been one of Hungary's most influential politicians for decades. At the time of the police action he was the mayor of Budapest's central district and he did not have to deal with the police as the fleet management company took care of paying the fine.
Long-term car rental is a seemingly expensive service that is typically used by companies. It pays off for them due to tax rules but for private individuals there are other more favourable options, such as leasing. Long-term rental, however, has at least one advantage for them, too. It enables them to remain invisible – their names do not appear anywhere in the car's documents.
Antal Rogán used this option for several years
A Direkt36 investigation has revealed that starting from 2008, Rogán and his wife used several luxury vehicles operated by Mercarius Fleet Manager Ltd. Documents such as the invoices show that these included the Audi A6 model caught speeding in 2009 and an Audi Q5 SUV. Rogán did not list these cars in his wealth declaration (he only mentioned two long-term rental constructions for an Audi A3, a more modest model category).
There is no clear evidence of how much Rogán and his wife paid for these cars. It is difficult to estimate the amount as the price depends on the car equipment and details of the rent construction. Market experts told Direkt36 that monthly fees might differ by hundreds of euros. For example, in case of a Q5 – considering an average rental construction – the gross monthly fee could be between 770 and 1,500 euros. In addition, these long-term car rentals could also include large one-time payments. For example, the fleet management company issued a 12,300 euro invoice for Rogán's wife as one part of the first rental fee for the Q5.
The Rogáns' apparently costly lifestyle – their fancy apartment in Budapest's wealthy district, their expensive clothes and foreign trips – had drawn scrutiny even before these revelations. At the same time, Rogán's monthly salary – according to detailed calculations by Hungarian news site Index.hu – in the period between 2009 and 2013 was between 1,830 and 3,900 euros. It's unlikely that his wife, Cecilia Rogán was able to contribute to covering these costs, since according to her own statements she started working only in 2016 (at a PR company where she immediately became a co-owner) – long after they started using rented cars.
Other people with ties to Rogán and Viktor Orbán's government used Mercarius' cars too. Rogán's former deputy mayor András Puskás rented an Audi S3 from this company and Fanny Kaminski, former wife of PM Orbán's chief advisor Árpád Habony, who became known as the person managing the Facebook page of the PM, also used a Lexus SUV that was operated by Mercarius.
Mercarius has won several major public tenders in recent years. It received high-value contracts from state-owned electricity and railway companies, as well as the state company in charge of the Paks nuclear power plant expansion.
Mercarius stated that our questions "concern sensitive business areas" and responding them are not in line with "data management principles" and therefore did not wish to comment. Rogan and the company renting the car for Kaminski did not react and the rest of the people involved also did not provide a response in merits.
The 12,300 euros partial payment
Currently serving as PM Orbán's chief of staff, Antal Rogán's wealth had already been scrutinized by journalists and opposition politicians. His luxurious lifestyle came under spotlight before the 2014 parliamentary elections when new details were revealed about his apartment and the cars he used.
Although the articles from that time did not mention it, this rental company was Mercarius Fleet Manager Ltd. Photos by Hungarian media outlet ATV showed the name and logo of the fleet company on the license plates of the cars.
Multiple sources familiar with Mercarius' operations told Direkt36 that Rogán and his wife used several of the company's cars. This is also suggested by an invoice of 12,300 euros issued by the fleet company on November 17, under the name of Cecila Rogán-Gaál. According to the document, this was the second instalment of the first rental fee for an Audi Q5 luxury vehicle. It is common practice that at the beginning of a long-term rental, the customer pays a bigger amount usually 20-50 percent of the car's value. This serves as an advance payment and also as a warranty for the fleet. This advance payment also influences the amount of the monthly fee – in case the client is willing to pay a higher amount at the beginning, the following monthly rental fees will be lower.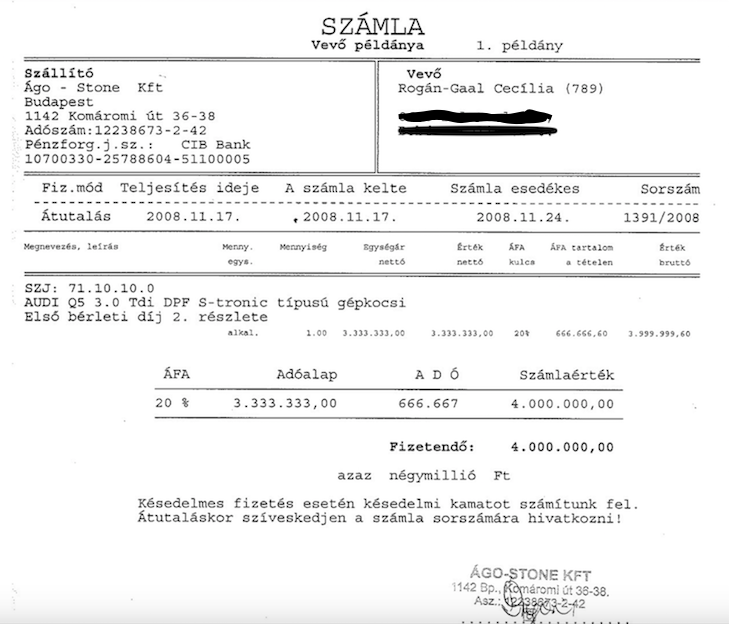 There have already been speculations – at that time unconfirmed – that the Rogáns had been using a Q5. A Facebook montage from 2013 depicted Rogán with his Louis Vuitton bag and listed his other alleged high expenses, including a 55.3-thousand-euro "full extra" Q5. Since the montage was shared by the Milla group supporting former PM Gordon Bajnai, Rogán accused Bajnai – at that time an influential opposition politician – of spreading lies.
Experts dealing with fleet management told Direkt36 that it was not possible to estimate the value of the cars used by the Rogáns without further knowledge about the equipment and the rental contract. The basic price of a Q5 currently starts at 39.4 thousand euros but, depending on the equipment, it could reach 92.3 thousand euros. The monthly rental fee also depends on the length of the rental period, the amount of the advance payment, and yearly mileage.
The Rogáns chose this construction despite the fact that long-term rental is one of the most expensive rental options for private individuals. It includes full service and full maintenance, rather designed for companies. For companies, this rental option pays off as they can partly reclaim the VAT paid on the rental, which can result in substantial savings in case a company rents several cars.
Private individuals, however, cannot reclaim VAT. Car lease is a better option for them, as at the end of the leasing period, the leaser becomes the owner of the car. According to car market experts – who asked for anonymity due to the topic's political sensitivity- it does not make for private individual to choose long-term rental.
Renting paintings in addition to cars
Others close to Rogán also used Mercarius cars. One of them was András Puskás, Rogán's former deputy mayor, who is currently the deputy CEO of the state-owned Budapest Bank. Rogán and Puskás maintain close relations – they led the V. Budapest downtown district together for years, both of them bought apartments in Pasa Park, a luxury residence area, moreover, their wives also bought together a third apartment in that area.
Puskás drove Mercarius' Audi S3, which is the sports version of A3. This was revealed from official claims declarations related to smaller traffic incidents that happened when Puskás was driving the vehicle in 2009. He listed an S3 in his wealth declaration and stated that he had used it in a long-term rental since 2007. He then bought the car in 2012.
The documents obtained by us reveal another, relatively unknown official linked to the local government in downtown Budapest. Gergely Molnár was a public safety officer during the times when Rogán was the mayor of the district. Molnár was also a supervisor at a company building the underground garage of the local municipality. He currently heads the public safety division of the local municipality. In December 2008, the fleet company issued an invoice for Molnár related to the monthly rental fee of an Audi S3. The amount of the payment including VAT was 775 euros.
Customers of the cars of the fleet company also include Fanny Kaminski, the ex-wife of Árpád Habony, the chief advisor to PM Orbán. Kaminski also worked in the press teams of Rogán and Orbán.
In this case, the rental took place through a company called Brand Lab. This company reportedly rented paintings from the Museum of Fine Arts, to be placed in a downtown Budapest apartment used by Habony. Habony's sister used to be one of the owners of the company. Later, the company was purchased by radio and TV presenter László Jáksó and his former wife Gabriella Halkó. (Jáksó, who maintains good relations with Habony, later left the company.)
According to a contract from September 2009, Brand Lab rented a Lexus RX450h luxury SUV from Mercarius for monthly 1,130 euros plus VAT. When one of the parking companies contacted the fleet management company in December 2009 with regards to a penalty, in addition to Brand Lab, Fanny Kaminski's name was also listed as a client. Kaminski, who became known as the person managing the Facebook page of the PM, was previously the wife of Habony, and also worked with Rogán. The 42.5-euro parking penalty was paid by the fleet company, which then charged Brand Lab.
With the help of state tenders
Mercarius fleet manager company was set up as a family business in 1996 and has grown into an important market player since then. The company, originally called Ágo-Stone Ltd., started a spectacular growth after the appearance of new co-owner in 2011. This was SCF Partners Hungary Ltd., which first acquired a 40 percent stake in the company and, in 2016, became the sole owner of the company. SCF has currently two owners: Róbert Koleszár, heading Mercarius and László Szűcs, who, according to his LinkedIn profile, has held leading positions in MET gas trading company previously involved in a controversial state transaction.
In previous years, Mercarius has won several major tenders from state-owned companies, including a contract from MVM electricity company in 2012. It also signed framework contracts with MÁV railway company in the amount of 42.5 million euros in July 2017 and with the state company in charge of Paks nuclear power plant expansion in the amount of 2.5 million euros in December 2017. After this, Hungarian news site 24.hu reported that the company was under Russian influence due to a mortgage from the Russian Sberbank. Direkt36 reported that Rosatom, which builds the new Paks blocks, was also probably renting cars from Mercarius.
Thanks to state contracts, the company has grown fivefold in the past years. Its income increased from 2.76 million euros 2011 to 13.8 million euros in 2017.
For the Hungarian company data we used the services of Opten.
In collaboration with